Birth
Alexander Pope, an 18th century English poet and satirist, was born on 21 May 1688 in a Roman Catholic family. His father, Alexander Pope Senior, was a linen merchant of Plough Court, and his mother was Edith(née Turner).
Pope's education was vastly affected by a series of English penal laws. These laws pressed various civil disabilities on Roman Catholics and nonconformists. These acts strengthened the status of the established church of England.
Early Life
Pope was taught to read by his aunt, Christiana, the wife of the famous miniature painter Samuel Cooper. He went to Twyford School in 1698 and then studied in two Roman Catholics schools. In 1700, a 12-year-old Pope moved with his family to a small estate at Popeswood in Binfield, Berkshire.
By this time, he had completed his formal education. He read the works of famous classical writers such as the satirists Horace and Juvenal and the epic poets Homer and Virgil and even read the English authors such as Geoffrey Chaucer, William Shakespeare and John Dryden. He was fluent in many languages and read works by many English, French, Latin, Italian and Greek poets.
From the tender age of 12 years, Pope suffered numerous health problems including Pott's disease which deformed his body and stunted his growth and left him a hunchback. This disease further caused respiratory difficulties, high fevers, inflamed eyes and abdominal pain.
He made many contacts friends in Binfield who would help him later in life. One of his friends was John Caryll (the future dedicatee of 'The Rape of the Lock'). He introduced the Pope to the playwright William Wycherley and to the poet William Walsh, who helped Pope revise his first major work, The Pastorals.
Writing Career
Around 1705, five years later, Pope came in contact with many famous writers and poets from the London literary society such as William Wycherley, William Congreve, Samuel Garth and many more.
In May 1709, Pope published his first work, The Pastorals. It was published in the sixth part of Tonson's Poetical Miscellanies.
Again, in May 1711, he published another of his work, An Essay on Criticism, which too, was well received. The poem, written in the heroic couplet style, was of a moderately new poetic form. It was a response to the debate on the question of whether poetry should be natural or written according to the rules inherited from the classical past.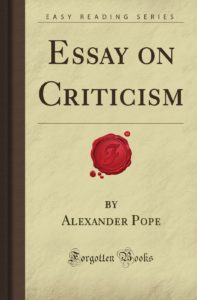 In the year of 1712, Pope published another of his famous poems, a mock-epic, The Rape of the Lock, with its revised version in 1714. It mocks the beau-monde, the fashionable world, of the 18th century England.
He befriended Tory writers Jonathan Swift, Thomas Parnell and John Arbuthnot and with them formed the satirical 'Scriblerus Club'. The purpose of the club was to satirise ignorance and purism through a fictional scholar Martinus Scriblerus.
In March 1713, Pope published Windsor Forest. In that, he had described the countryside around his house in Binfield, Berkshire which was close to the Royal Windsor Forest. It, too, published to great acclaim.
He befriended the Whig writers Joseph Addison and Richard Steele. This friendship of him with Addison led to the contribution in his play, Cato.
Pope made significant contributions in the writing of The Guardian and The Spectator. He also started translating the Iliad, the publication for which began in 1715 and ended in 1720.
LIVING
Between 1716 and 1719 Pope lived in his parent's house in Mawson Row, Chiswick. It is now the Mawson Arms and commemorates him with a blue plaque.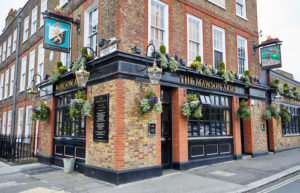 In 1719 he moved to a villa at Twickenham, where he created his now famous grotto and gardens. Pope published another one of his famous philosophical poems, An Essay on Man, written in heroic couplets between 1732 and 1734. However, he did not live to complete it.
Later life
Between 1733 and 1738, he wrote The Imitations of Horace, which satirized life under George II. As an introduction to the "Imitations", he added an original poem, An Epistle to Doctor Arbuthnot. The poem studied his own literary career and included the famous portraits of Lord Hervey, Sporus, and Addison, Atticus.
After 1738, Pope started to write less. His major works in the later years were revising and expanding his masterpiece, The Dunciad.
His health began to deteriorate gradually. On 29 May 1744, Pope had called for a priest and received the Last Rites of the Roman Catholic Church. The next day, on 30 May 1744, the morning of his death, when his physician told him that his health was improving, Pope replied, "Here am I, dying of a hundred good symptoms". He died at 11 in the night. He lies in the nave of St Mary's Church, Twickenham.