Sir Arthur Hughes is known for his painting and illustrations.
Birth: Arthur Hughes was born in London in January on the 27 th
Alma mater: Royal Academy of arts
His first picture was, Musidora. And many other was hung at the royal academy of art. Also, he took passion and interest in art and painting from the very beginning of his childhood and hence, he got to meet renowned personalities and famous painters as his teachers and mentors in his academia. Arthur Hughes decided to pursue his career in this domain of art and painting and hence, had his unflinching loyalty towards this field.
His basic motto that was reflected through 2 of his famous paintings was that of love, emotions and its complications rather hindrances; showing the beauty of love and many other facets of love as well.
April love
Long engagement
Are 2 of his most famous paintings that are well known across the globe. Here he conveys the contemplation of a couple and their lovemaking, emotional exchange. These are the signature paintings of Arthur Hughes.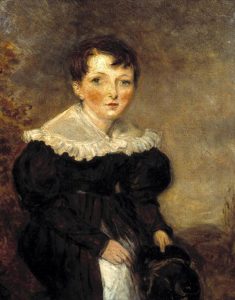 Sir Arthur Hughes – Illustrations of poems
Along with painting he was passionate enough towards illustrations of stories and poems and depicting those themes and reflections through his canvas and mirroring that storyline with his paintbrush. His majestic sense of shades, strokes and hues created a heavenly contrast upon the white canvas that did reflect the poem by John Keats – Eve of st. Agnes.
Also, in those days, illustrations were widely in vogue and hence, Arthur Hughes got the scope to flourish his talent with his strokes upon the papers. His way of imitating the stories or drawing oil paints and portraits was amazingly different in those days.
The speciality of Arthur Hughes and his works
Some notable features of his works especially his illustrations are:
Colourful and bright details
Intricacies depicted well
Storyline plotted well
Nitti gritty of the narrative is portrayed
Along with paintings, he did illustrate some of Macdonald's books also. His illustrations were quite accurate and one must look into his dedication and patience in illustrating a book per se. His illustrations were breakthrough in the societal currents. Also, he was a trendsetter in this arena of painting and illustrations of books and poems. The illustrations made by him did set up a different genre as a whole as never before this, had anyone illustrated books per se or poems and stories too.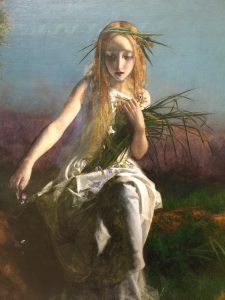 Notable works of Sir Arthur Hughes
Arthur Hughes is known to work upon more than 700 paintings and more than 750 illustrations in his lifetime. This proves that Arthur Hughes was really industrious in terms of quantitative measures. Also, he featured his wife in one of his paintings that are named: springtide. He did have the audacity to illustrate Shakespeare's work and hence, tried his hand upon, as you like it.
Death of Arthur Hughes
Arthur Hughes died in London and was buried in Richmond Cemetery.
Arthur Hughes died in 1915 on 22nd December