Heywood Hardy was a British painter best known for his 18th-century genre scenes and hunting.
Heywood Hardy Biography
Heywood Hardy, born on 25th November 1842 in Chichester, belonged to a family of artists and He began selling his work in age 17 and become a member of Etchers and The Royal Society of Painters of Portrait Painters.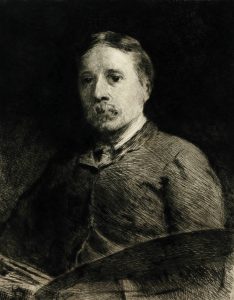 He also worked as an illustrator for many publications, including The Graphic Magazine and The Illustrated London News.
Heywood Hardy Work
Nowadays, his works are in the collections of the Manchester City Art Gallery, the Philadelphia Museum of Art, and the Bury Art Museum, among others. Hardy died in West Sussex in 1933, UK.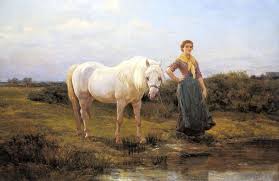 He was frequently invited to country estates where he was commissioned to paint portraits, scenes, animal studies, and sporting
Heywood Hardy Family
He was the son of James Hardy (1801-79), a respected landscape painter, and his elder brother, James Hardy Jr. (1832-89), was a painter of dogs, horses and hunting scenes of England and Scotland. 
Hardy and his family moved to St John's Wood, in 1870  London – an area then popular with artists
Heywood Hardy Hunting
Though Hardy is considered an artist mainly of animals, hunting, and sporting scenes, he also made genre paintings that depicted scenes and events from everyday life.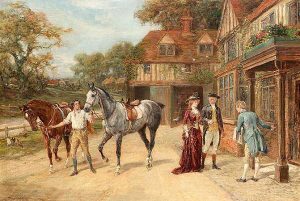 In addition, Hardy provided illustrations for many magazines such as the Illustrated London News and The Graphic, as well as producing his work.
Heywood Hardy's Life
Hardy moved to West Sussex in 1909 at the age of 83 and he painted the first in a series of 8-panel paintings.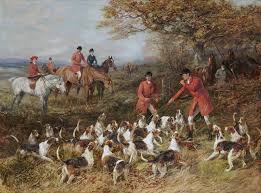 Throughout his career, Hardy exhibited in the Royal Academy, Suffolk Street, the British Institution, the New Gallery and the Old Watercolour Society. He was also an accomplished illustrator and contributed to the Graphic and the Illustrated London News.
More Info On- Frederick Daniel Hardy, Heywood-Hardy a Biography