A Nameless Grave Poem Text:
"A soldier of the Union mustered out,"
Is the inscription on an unknown grave
At Newport News, beside the salt-sea wave,
Nameless and dateless; sentinel or scout
Shot down in skirmish, or disastrous rout
Of battle, when the loud artillery drave
Its iron wedges through the ranks of brave
And doomed battalions, storming the redoubt.
Thou unknown hero sleeping by the sea
In thy forgotten grave! with secret shame
I feel my pulses beat, my forehead burn,
When I remember thou hast given for me
All that thou hadst, thy life, thy very name,
And I can give thee nothing in return.
A Nameless Grave Review
Henry Wadsworth Longfellow is a maestro when it comes to weaving words into stories that leave the readers wondering. This piece is a sonnet and how beautifully so!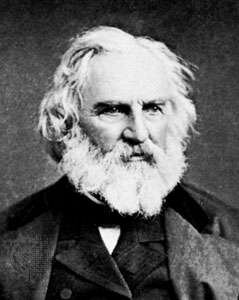 He enumerates a painful experience in this poem. He writes about a soldier who is buried by the sea, his grave bearing an ambiguous inscription. Longfellow wonders what kind of a soldier he could have been.
He could have been a sentinel or a scout and sadly, an information so basic was not mentioned anywhere on the grave. There was no name, no date mentioned. The only information that there was, was that he was a soldier of the Union. The poet began wondering how he must have died.
A Nameless Grave by Henry Wadsworth Longfellow
Maybe in a battle, in a disastrous situation, fighting like a fierce animal, all for the sake of his country and the people living in it. The poet imagines how the iron weapons must have pierced through his brave heart, how his battalion could have been erased along with him, or, how they must have paid their respects to his dead body.
It pains the poet how insignificant this soldier was. His name was not known, nor how he dies or when he died.
Henry Wadsworth Longfellow Facts
The poet is ashamed how he had no information about the man who was brave enough to give up all he had possessed – his life, his identity, for him and for all so many other people and the poet could do nothing in return.
This poem conveys a kind of unconditional patriotism that a soldier feels towards his country and a kind of ingratitude that the people he had died for often feels towards him. The insignificance of such a brave heart portrayed in this poem is devastating and heartbreaking and undesirable. These men deserve respect; a lot of respect.
More Info On- A Nameless Grave by Henry-Wadsworth Longfellow, Snow Flakes, The Rainy Day, Changed, Evangeline the tale of an Acadie, Aftermath, Daybreak, Daylight & moonlight, The book and the Wave