Albert Bierstadt, an American painter, was born on January 7, 1830, in Solingen, Germany. He was known for his lavish, extensive landscapes. Although he was very young when his family moved to the united states, he went back and spent several years studying painting in Dusseldorf.
He also was a part of the Hudson River School in New York, which was an informal group of painters having similar ideas and style. Albert Bierstadt was enthusiastic, most industrious and the American painter of the nineteenth century who was honored worldwide.
Birth and Early Life
Albert Bierstadt was born in Germany but migrated to the united states at the age of two. The family settled in New Bedford where his father established himself as a barrel maker. Albert's youth and early manhood passed in New Bedford.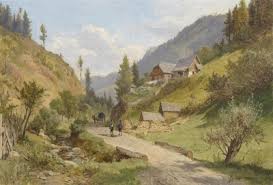 He advertised himself as an instructor in monochromatic paintings in 1850. He exhibited thirteen of his works and one drawing the same year in Boston.
Life and Career
Before devoting himself to painting completely, Albert taught drawing and painting briefly. In 1859, he traveled westward to see landscapes and he continuously used to visit American West during his career.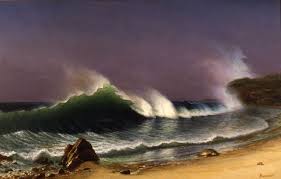 During the American civil war when he was drafted, he sent a paid substitute to serve in his place. He completed one civil war painting in 1862 which was based on his own experiences with the soldiers.
Albert Bierstadt Biography
In 1860, Albert was elected a member of the National Academy and received medals in Bavaria, Belgium, Austria, and Germany. In 1867, he visited London and unveiled two landscape paintings in a private reception with Queen Victoria.
As he wanted to spread his work overseas, he traveled through Europe for two years to cultivate social and business contacts.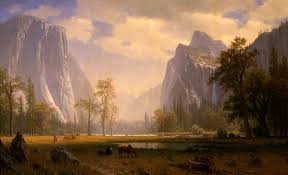 In 1876, when his wife was diagnosed with consumption and from that time to her death in 1893, Bierstadt spent time with her in Nassau in the Bahamas because of its warm climate.
In 1882, his studio in New York was destroyed by fire and this resulted in the loss of many of his paintings. By the time of his death, on February 18, 1902, the taste for landscape paintings had subsided and he was almost forgotten. He was buried at Rural Cemetery in New Bedford.
Albert Bierstadt's Style
Albert Bierstadt, the American artist, painted landscapes and gained tremendous popularity for his panoramic scenes of the American West. He was one of the last generations of painters who were associated with the Hudson River School and he covered vast distances in search of exotic subject matter.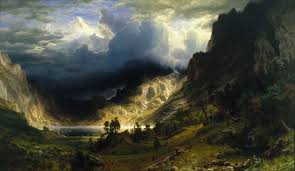 He gained his reputation through the great paintings he created after going on several trips to the Far West. The large works which were executed in the studio were not fresh and did not have the spontaneity that the small on-the-spot paintings produced.
They were enormous in scale and lavish in effect. It was because Albert freely altered details of the landscape to create that special effects of awe and lavishness.

He applied colors on the basis of his observation – luscious green vegetation, pale, atmospheric blue-green mountains and ice-blue water. The advancement from foreground to background used to be quite dramatic lacking the softness and delicacy of a middle distance.
Albert Bierstadt Facts
Bierstadt was a creative artist and completed over 500 paintings during his lifetime. Many of his works are in different museums in the united states. Many of them are available in prints. Original paintings come up from time to time for sale, but at ever increased prices.
More Info On- Antoine Louis Barye, Aubrey Beardsley, James Stark, Pierre Auguste Renoir, Empress Frederick