Alfred Duke: Alfred's reign as Duke of Saxe-Coburg And Gotha was from 1893 – 1900. He was the second son and fourth child of Queen Victoria and Prince Albert.
From 1866 he was known as Duke of Edinburgh till the time he succeeded his paternal uncle Ernest II in the German Empire as the reigning Duke of Saxe-Coburg And Gotha.
Early Life of Alfred Duke
Prince Alfred was born of the reigning British monarch, Queen Victoria and Prince Albert of Saxe-Coburg And Gotha.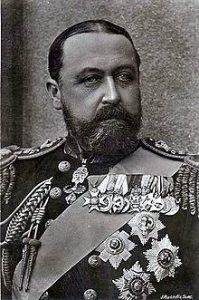 He was born on 6 August 1844 at Windsor Castle. Alfred remained the second heir to the British throne until his elder brother Edward had his first son, Prince Albert Victor.
He was demoted in the line of succession and as Edward continued to have children, this demotion continued.
Alfred's Royal Navy and the Naval career
At the age of 14, in 1856, it was decided that Prince Alfred should enter the Royal Navy and this was according to his own wishes as well. A separate formation was assigned to him with Lieutenant J.C. Cowell, RE, as governor.
In August 1858 he passed the examination and was appointed a midshipman. In 1860 he paid an official visit to Cape Colony in which his impression on colonials and native chiefs was favorable.

Prince Alfred remained in the Navy where he was promoted to Lieutenant on 24 February 1863. On 23 February 1866 he was promoted to captain and in January 1867 he was appointed to the command of the frigate HMS Galatea.
Alfred as Duke of Edinburgh
On May 24, 1866, Prince Alfred Duke of Edinburgh, Earl of Kent and Earl of Ulster. Parliament granted an annuity of £15,000. On 8 June he took his seat in the House of Lords.
The Attempt of An Assassination on Alfred's life
On his second visit to Sydney, Alfred was invited by the president of the Sydney Sailors' Home on 12 March 1868. He was wounded in the back when Henry James O'Farrell shot him just right to his spine.
He had helped to organize the picnic and was presented with a gold watch to do the work. However, Henry James O'Farrell was arrested on the spot, quickly tried and hanged on 21 April 1868.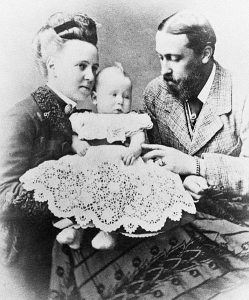 Alfred was able to recover from his injury and returned home in early April 1868 resuming command of his ship.
He was the first member of the Royal family who visited New Zealand in 1869 and the first European prince to visit Japan in September 1869. He visited India in December 1869 and the following year he visited Ceylon as well.
Alfred's Marriage
In 1874 on 23 January, Prince Alfred, Duke of Edinburg married Grand Duchess Maria Alexandrovna of Russia, who was the second daughter of Emperor Alexander II of Russia at Winter Palace, St Petersburg.
Their public entry was made on 12 March in London. Alfred was very fond of music and he took a real interest in establishing the Royal College of Music.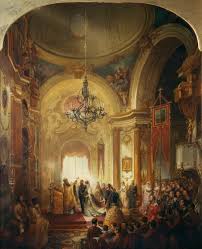 He liked to play the violin but had not so admirable talent. He was also a collector of glass and ceramic ware. All through his life, Alfred was devoted to his profession.
Alfred Duke of Saxe-Coburg and Gotha: Later years of life
Alfred's only son, the Hereditary Prince Alfred got tangled in a scandal in which his mistress was involved and he shot himself in January 1899. This happened in the middle of the twenty-fifth wedding anniversary celebrations of his parents.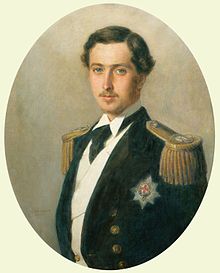 He survived but died two months later in Meran where he was sent by his mother to recover. Alfred was shocked and distressed by all this.
Death and legacy of Alfred Duke of Saxe-Coburg and Gotha
Prince Alfred, Duke of Saxe-Coburg died of throat cancer on 30 July 1900. He was survived by his mother, Queen Victoria because she outlived only two of her children. She died six months after Alfred's death.
Tristan da Cunha, a remote group of islands in the south Atlantic Ocean, was named after Prince Alfred because he had visited these islands in 1867. It was named Edinburg of Seven Seas.
Facts About Alfred Duke of Saxe-Coburg and Gotha
In 1868, when Prince Alfred visited Australia, Royal Prince Alfred Hospital was opened in Sydney, which remains one of the biggest hospitals in the city.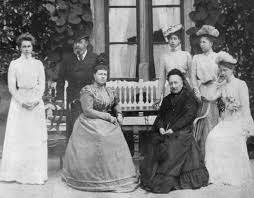 The prince himself laid the foundation stone of Prince Alfred College, a prestigious college that has the biggest Old Scholars Association in the Southern Hemisphere. It has educated many outstanding citizens.
A Prince Alfred street is found in Durban, Pietermaritzburg, Grahamstown, Queenstown, and Caledon. Gerzog Edinburgski, the Russian armor cruiser took its name from the Duke of Edinburg.
More Info On- George Frederic Watts, Alfred Lord Tennyson, Prince Leopold Duke of Albany, Frederic Edwin Church