Alfred's parents were French. He was born in Geneva. His family moved to England after his father became a professor at Royal Military College in Sandhurst. He was a Swiss portrait painter. Queen Victoria noticed and appreciated him for his exceptional painting skills.
Alfred Edward Chalon's Early Life
He along with his brother John James Chalon (1778- 1854) became an artist. In 1797, he entered the Royal Academy. He joined the Associated Artists in Water Colours. It was a group of Aquarellists. In 1812, he was elected as an associate A.R.A. In 1816, he became an academician.
Alfred Edward Chalon's Achievements
In 1808, Alfred became a member of Society of Associated Artists in Water Colour. He along with his brother John and six friends founded the "Evening Sketching Society". The meetings of this society continued for forty years. The full account of this can be found in T. Ewins's ' 'Recollections'. Information about the meetings can be found in C.R. Leslie's 'Recollection and Letters'. His first painting was exhibited in Royal Academy in 1810.
Alfred Edward Chalon's Famous Works
He became known for his portraits. Queen Victoria choose him to paint a gift for her mother. He drew the Queen in her State Robes, going to the House of Lords for her first official act. It was the Parliament session. This was on 17 July 1837. He was the first artist to paint the queen after she ascended the throne. After this, he received the appointment of a watercolor painter to the queen.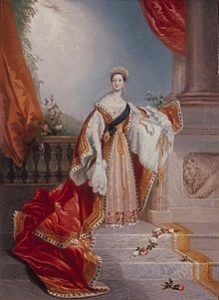 After this assignment, Alfred gained some celebrity and he was entitled to Portrait Painting in Water Colours for the Queen. Alfred painted drawings on historical subjects and drawing on Mythological themes.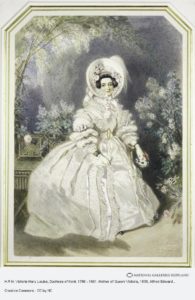 Alfred Edward Chalon's Style
His full length portraits were usually about fifteen inch high. They were full of characters. They were painted with dashing grace and a commonplace was never used. The accessories were drawn with elegance.
As a portrait painter, he had a unique style. He survived the fame that he got.
Alfred Edward Chalon's later life
The year after his brother John's death, in 1855 he exhibited his work and John's work at Society of Arts at Adelphi. But this didn't attract much attention. Though water colour was his best medium, he painted a lot of paintings in oil. He exhibited around three hundred paintings done in oil at the Royal Academy and other places in his lifetime.
His best pictures were "Hunt the Slippers" in 1831, "John Knox reproving the ladies of Queen Mary's court" in 1837, "Serena" in 1847, "Sophia Western" in 1857. He cleverly imitated other painter's style. He admired Watteau, a French painter, whose style he imitated.
Alfred had a large collection of his paintings and his brother's paintings. He had offered the paintings to the inhabitants of Hampstead with some endowment, for the maintenance of the paintings. But this did not work. Later he offered the paintings to the nation. But this too didn't work.
Later, he retired with his brother to an old house at Campden Hill in Kensington. He died there on 3rd Oct, 1860.