Alfons Maria Muchalls who was also known as Alphonse Mucha was born on 24 July 1860 in the town of Ivančice, Moravia. Not only was he a Czech Art Nouveau painter but also a decorative artist. He was best known for his distinct style. Paintings, illustrations were produced by him along with advertisements, postcards, and designs.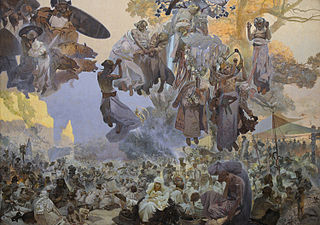 Alphonse Mucha's Early Life
Mucha became a chorister at the Cathedral of St. Peter and Paul, Bruno in 1871 and there he received his secondary school education. It is the place where he had his first revelation which was in front of the richness of Baroque art. During the four years that he studied there, he formed a friendship with Leoš Janáček.
Leoš Janáček became the greatest Czech composer of his generation. Mucha was able to continue his education through high school due to his singing abilities. Since childhood, his main hobby was drawing. In Moravia, he worked there as decorative painting jobs and mostly in painting theatrical scenery.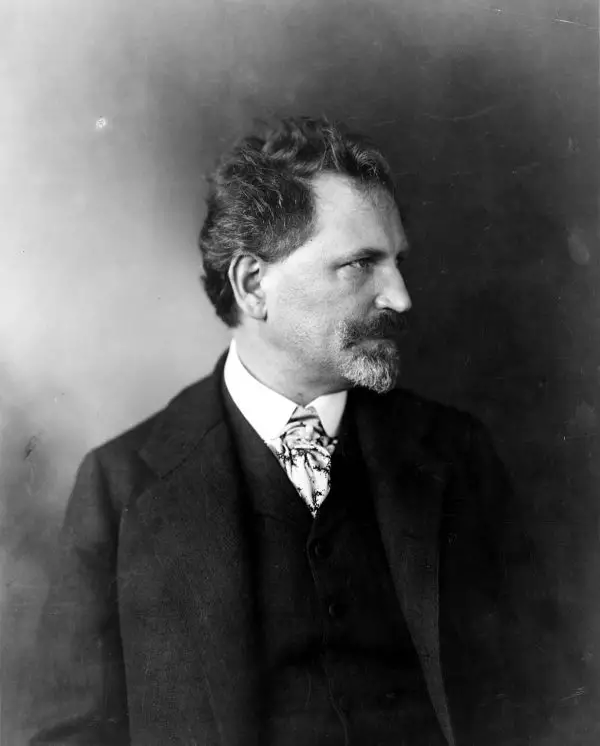 He relocated to Vienna in 1879 to work for a major Viennese theatrical design company, while at the same time he was informally augmenting his artistic education. During 1881, he returned to Moravia when a fire destroyed his employer's business and he started doing freelancing, decorative and portrait painting.
He was then hired by Count Karl Khuen of Mikulov to decorate Hrušovany Emmahof Castle with murals. He was impressed because Count Karl Khuen agreed to sponsor Mucha's formal training at the Munich Academy of Fine Arts.
Bernhardt was so satisfied with the success of this first poster made by Mucha that she started a six-year contract with Mucha. The style of Mucha was given international exposure by the 1900 Universal Exhibition in Paris.
Alphonse Mucha's Marriage
On 10 June 1906, he married Maruška Chytilová on 10 June 1906, in Prague. From 1906 to 1910, they visited the U.S. and during the time their daughter was born in New York whose name was Jaroslava. They also had a son, Jiří who was born on 12 March 1915 in Prague who later became a journalist, writer, screenwriter, author of autobiographical novels and studies of the works of his father.
Mucha Museum Prague
The Mucha Museum is the only museum in the whole world which is dedicated to the life and work of the Alphonse Mucha who is a Czech ART NOUVEAU artist. It was opened on 13 February 1998 in Prague. It is open for public and it remains open from 10 o'clock in the morning to 6 pm in the evening daily.
It covers an area of a 500-meter square. The Museum Shop present in this museum offers an exclusive selection of gifts & posters with Alphonse Mucha motifs.
The Seasons (series) by Alphonse Mucha
It was not only the first set of decorative panels of Mucha but also one of his most popular series. It became so popular that Champenois asked Mucha to produce at least two more sets which must be based on the same theme in 1897 and 1900. Therefore, there are designs for two more sets.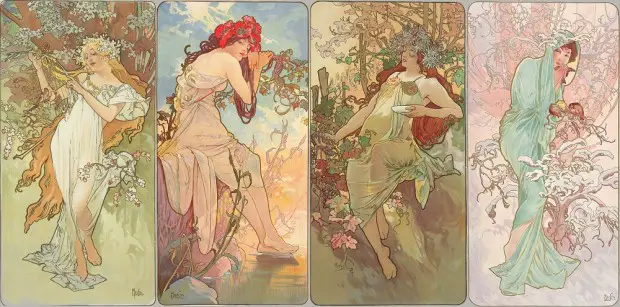 It was based on the classical theme on the seasonal views of the countryside and four panels are shown in this painting. Mucha was able and succeeded to capture the moods of the seasons which includes innocent Spring, sultry Summer, fruitful Autumn and frosty Winter. All these four seasons together represent the harmonious cycle of Nature.
Alphonse Mucha's Death
During the late 1930s, the rising tide of fascism resulted in Mucha's works and his Slavic nationalism being denounced in the press as 'reactionary'. Mucha was made a primary target of the Gestalt during Nahi occupation due to his Slav nationalism and Jewish roots.
During the spring of 1939, when German troops moved into Czechoslovakia,  the first to be arrested by the Gestalt was Mucha. During the time of his interrogation, the aging artist,  Mucha became ill with the disease pneumonia. Even though he was released eventually but due to this event, he may have been weakened. He died due to lung infection in Prague on 14 July 1939.
Today, it enjoys great popularity but at the time when Mucha died, his style was thought outdated. Author Jiří Mucha who was Mucha's son, he devoted much of his life to writing about him and bringing attention to his artwork. The new authorities of his country were not interested in Mucha. Finally,  Mucha museum opened in Prague which was managed by his grandson, John Mucha.