The French sculptor of Romantic Age Antoine Louis Barye is renowned for the work he produced as an Animalier. Though he is famous for his sculpture, he had, however, started his career as a goldsmith.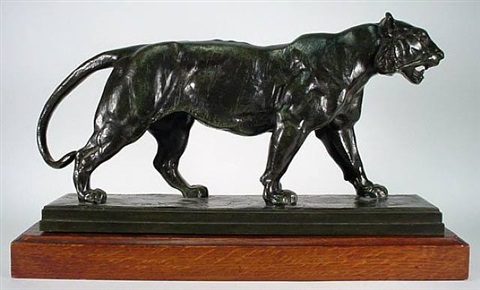 Many of the sculptors of his time had done the same and these had provided them with a lot of insights about working on a sculpture.
Early Life of Antoine-Louis Barye
He was born on the 24th of September 1796 in Paris, France. He is best known for his sculpture of animals. He started working with his father Pierre at a very early age. He even took guidance from Guillaume-Mertin Biennais around 1810.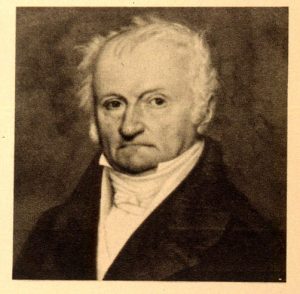 Guillaume-Mertin Biennais was a goldsmith to Napoleon Bonaparte. He had also mentored under the renowned sculptor Francois-Joseph Bosio till 1816 as well as the painter, Baron Antoine-Jean Gros.
Antoine Louis Barye Famous Works
He had received admission to the Ecole des Beaux-Arts in 1818. Antoine Louis had realized his real predilection only in 1823, when he was working with Emile Fauconnier, a reputed goldsmith, by observing the creatures in the Jardin des Plantes.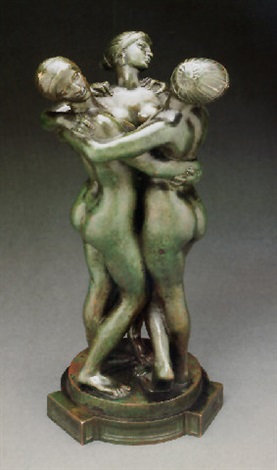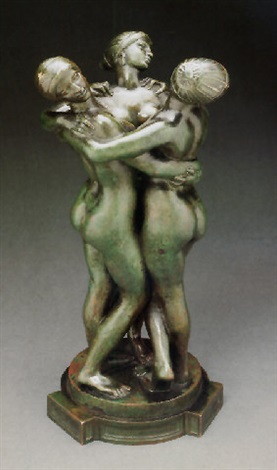 He could form the minute details of these observations in pencil sketch. These sketches were quite analogous to those created by Delacroix.
Antoine Louis Sculptures
Antoine moderated these sketch in beautiful sculptures on different scales, small and large. Barye was studying at the Ecole des Beaux-Arts in 1819 when he had sculpted a medallion named the Milo of Crotona Devoured by a Lion.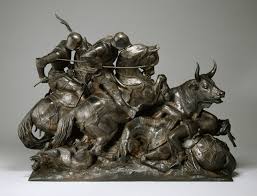 The medallion shows the lion biting into the left thigh of Milo. The theme of Milo was the official theme of the school for the medallion competition that was held in 1819.
Antoine Louis Barye Paintings
This was one of the first times when Barye had earned an honorable mention. He had even sculpted Hercules with the Erymanthean Boar in 1820. This sculpture shows the fourth Labor of Hercules,
Where he had the job of capturing a live wild boar from Mount Erymanthos. Barye was also quite successful in sculpting on small scales. He had the skill to create the sculpture that showed animals in the most familiar attitudes.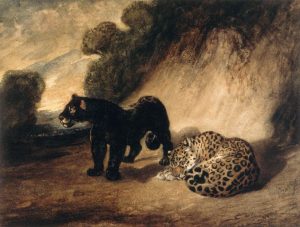 He was also the one responsible for creating the portrait medallion Young Man in a Beret in bronze in the year 1823. He also sculpted the Portrait of the Founder Richard in the year 1827 where only a head and a neck can be seen.
He had also created the larger sculpture of the Poised Stag in 1829. The height of the sculpture was as much as 48 cm and was about a third of the life-size.
Antoine-Louis Barye's Later Life
Antoine did not want to grow up to become a sculptor of small bronzes. What he really wanted to become was a sculpture Statuaire. He wanted to create large statues.
He had exhibited much larger statues like the Tiger Devouring a Gavial Crocodile back in 1831. The sculpture made of plaster was 41 cm high and as much as 103 cm long.
Antoine Louis Barye Serpent and Lion
The Lion Crushing a Serpent was made in bronze. It was about 138 cm high and 178 cm long. Barye had to struggle with want. However, he exhibited year after year the studies of animals. He had been revealed to have been inspired by a spirit of true romance.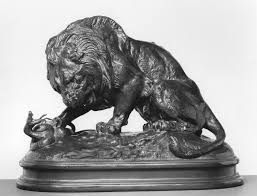 He had even had a love for the antique like the Theseus and the Minotaur which was produced in 1843. There are lots of minor works that are very highly valued in today's markets.
Antoine Louis Barye Lion
Jaguar Devouring a Hare, sculpted in 1850 and Palitha and Centaur, created in 1848, were exhibited at the Paris Salon of 1850. There are also other examples of large sculptures produced by Barye. One of them is the Lion of the Column of July.
The plaster model was cast in 1839. There were various lions and tigers in the gardens of the Tuileries. There were also similar works in similar groups, Strength, Order, War and Peace.
Though he excelled at sculpture, he was often financially burdened due to the lack of business knowledge that he had.
Antoine Louis Barye Biography
He was forced to declare bankruptcy in 1848 and all the molds and other work he had produced had to be sold to a foundry. The 125 models that were there in his inventory had to be sold to the Ferdinand Barbedienne foundry in 1876.
The Barbedienne catalog of 1877 portrayed all the models in bronze. Various sizes were available and the castings had superb quality. He could not enjoy fame until later in his life.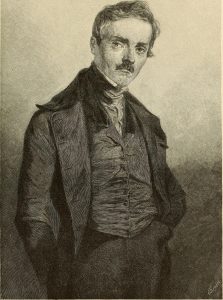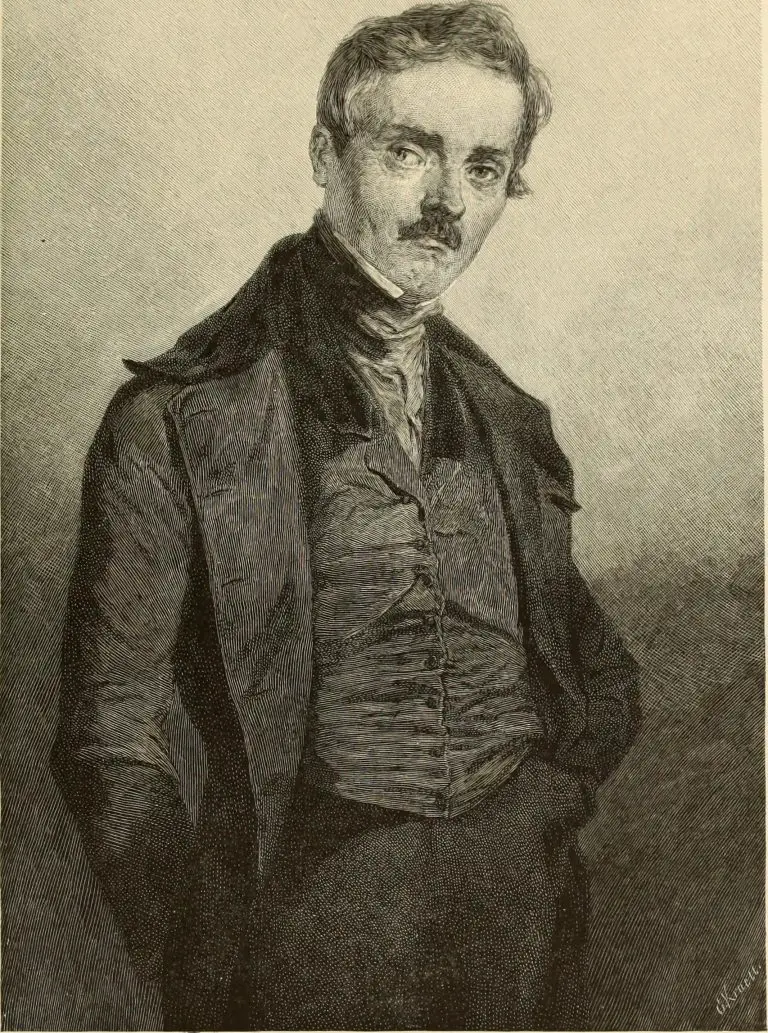 He earned a seat as a Professor of Drawings at the Museum of Natural History in 1854. Barye even got elected to the Academie des beaux-arts in 1868. No works had been produced by him after 1869. Antoine-Louis Barye left his final breath on the 25th of June, 1875 and
A public square on the eastern tip of Ile Saint-Louis in Paris was dedicated to him. He was a pioneer in the field of sculpture and had made significant contributions.
More Info On- John Keats Biography, Joseph Solomon, Eugene Boudin, Benjamin Robert Haydon