Arthur Hughes (1832-1915) was born in London. He became a well-known English painter who was associated with the pre-Raphaelite Brotherhood.
Early Life of Arthur Hughes
Arthur was born to Edward and Amy Hughes on 27th January 1832. In 1838, he was enrolled to Archbishops Tenison's Grammar School where he showed his prior talent for drawing. Later in 1846, he enrolled in the Somerset House where he learned under the master Alfred Stevens.in 1847 he entered Antique Schools at Royal Academy.
He won the Silver Medal in 1849 for a drawing from the Antique. His first painting "Musidora" was exhibited in the same year at the Royal Academy at the mere age of 17 years.
The year 1850 was the turning point in Arthur's life where he was introduced to Pre-Raphaelitism after reading the Short-lived magazine The Germ. There he met his future wife, Tryphena Foord, who was the mother of his six children and also the model for APRIL LOVE, his famous painting.
He also met Ford Madox Brown, Dante Gabriel Rossetti and Alexander Munro, consequently converting to their cause.
Famous Works of Arthur Hughes
His basic motto that was reflected through 2 of his famous paintings was that of love, emotions and its complications rather hindrances; showing the beauty of love and many other facets of love as well.
April love
Long engagement
Are 2 of his most famous paintings that are well known across the globe. Here he conveys the contemplation of a couple and their lovemaking, emotional exchange. These are the signature paintings of Arthur Hughes.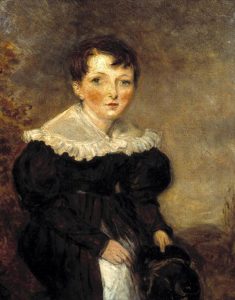 In 1852, Arthur exhibited his first pre-Raphaelite painting in Manchester City Art Gallery "Ophelia", where he met John Millais. He was also displaying the same painting but with brilliant colouring and more careful details. Arthur was Greatly Influenced by his work and took inspiration from him.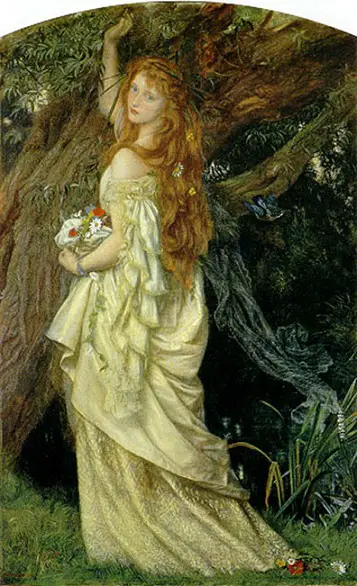 Arthur was only 19 years old when he painted this painting which found its basis from Shakespeare play Hamlet. Ophelia was driving herself mad by Hamlet's murder of her father and her love being rejected. It shows the last moment before she drowns herself and the same is depicted in the frame.
In the year 1856, he exhibited two of his best paintings at Royal Academy which were purchased by William Morris. The two Paintings were
The Eve of St Agnes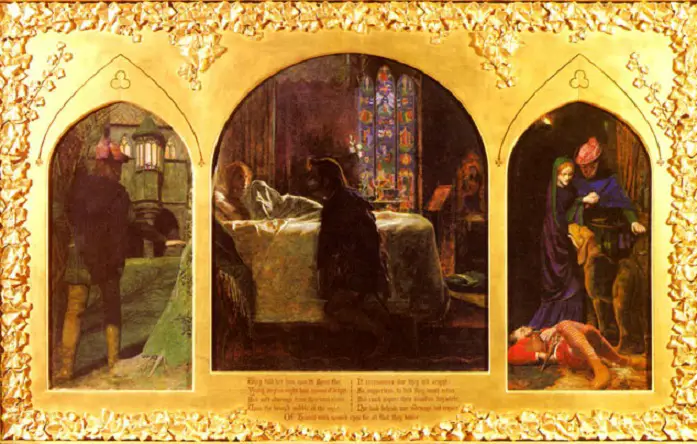 This painting took his inspiration from the poem of John Keat which was published in 1820. Hughes portrays three episodes from the poem and is taken from its fourth verse: Porphyro's reaches the castle where a splendid banquet is in queue; Madeline awakens from his dreams; the lover silently escapes into the night from the dark castle.
April Love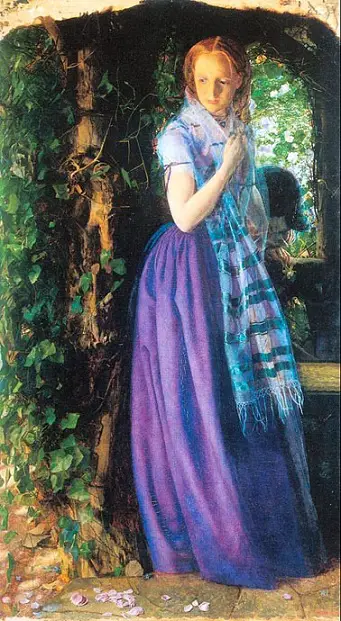 In this painting, he depicts a young woman looking at the fallen petals of rose when her hands are being kissed by a suitor. The petals illustrate the delicacy of young love and their courtship period. He used intense and brilliant colours to elevate the fierce painting emotions.  His wife was a model for this painting. The great critic John Ruskin Admired his painting as a symbol of dexterity.
His other known painting "The Long Engagement" also became well known depicting the beauty and love of troubled couples.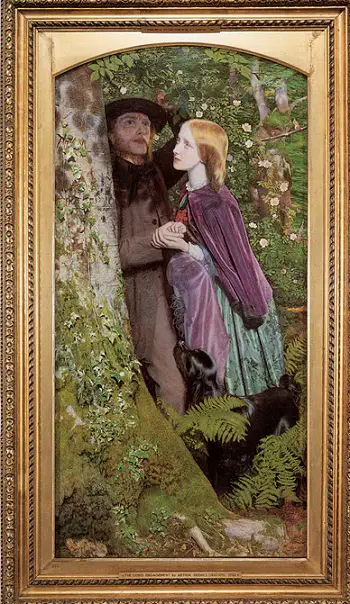 In the year 1857, he met Rossetti, William Morris and Burne Jones and joined them in painting the murals on the walls of Oxford Union Debating Hall. Hughes work was greatly influenced by this experience. He softened the tone of his colour and added mystical tone to his theme just like that of Rossetti.
Hughes then subject his choice to Arthurian legends and Religious themes. The works of Hughes were taken into consideration for his magical touch, brilliant use of colours and delicate graphics. He displayed ordinary life scenes in many of his pictures, but they were produced with many emotions and utmost delicacy.
Sir Arthur Hughes – Illustrations of poems
Along with painting he was passionate enough towards illustrations of stories and poems and depicting those themes and reflections through his canvas and mirroring that storyline with his paintbrush. His majestic sense of shades, strokes and hues created a heavenly contrast upon the white canvas that did reflect the poem by John Keats – Eve of st. Agnes.
Also, in those days, illustrations were widely in vogue and hence, Arthur Hughes got the scope to flourish his talent with his strokes upon the papers. His way of imitating the stories or drawing oil paints and portraits was amazingly different in those days.
The speciality of Arthur Hughes and his works
Some notable features of his works especially his illustrations are:
Colourful and bright details
Intricacies depicted well
Storyline plotted well
Nitti gritty of the narrative is portrayed
Along with paintings, he did illustrate some of Macdonald's books also. His illustrations were quite accurate and one must look into his dedication and patience in illustrating a book per se.
His illustrations were breakthrough in the societal currents. Also, he was a trendsetter in this arena of painting and illustrations of books and poems. The illustrations made by him did set up a different genre as a whole as never before this, had anyone illustrated books per se or poems and stories too.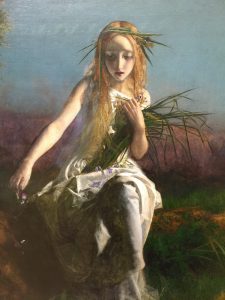 Notable works of Sir Arthur Hughes
Arthur Hughes is known to work upon more than 700 paintings and more than 750 illustrations in his lifetime. This proves that Arthur Hughes was really industrious in terms of quantitative measures. Also, he featured his wife in one of his paintings that are named: springtide. He did have the audacity to illustrate Shakespeare's work and hence, tried his hand upon, as you like it.
Personality and After Life of Arthur Hughes
Hughes had the main quality as his modesty and decency. Self –Esteem was his main characteristic. He had to suffer a lot due to many rejections and improper hanging of pictures at the Royal Academy. So he never became its associates.
Hughes was a very introvert type of person and refused to get introduced to a new artist every day. But he worked for illustrating some books of author George MacDonald and also displayed for the monthly magazine "Good Words" of Norman MacLeod's. He exhibited at the Royal Academy until the year 1908 staying in London.
Hughes after marrying in 1855 to Tryphena was very satisfied and a happy couple. Hughes died in London in Kew Green in 1915. He left behind around 700 paintings and drawings along with 750 illustrations of books.
After the death of his mother, Tryphena Hughes in 1921, their daughter Emily was forced to move to a small house. Because of the shortage of space, she could not preserve all her father's paintings, sketches and all his private correspondences and papers.