Below is a detailed article about the novel by George MacDonald – At the Back of the North Wind. George MacDonald was a Scottish author and poet. He was also a Christian Minister. Let us learn more about his writing and works below.
About the Author – George MacDonald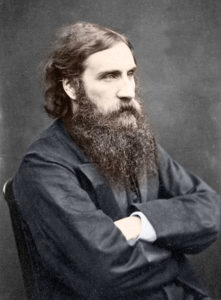 George MacDonald was a Scottish author and poet. He was also a Christian minister who wrote a lot of matter on Christian apologetics. He was born on 10th of December in the year 1824 in Aberdeenshire, Scotland. His writings have been a major influence in the literature on several English writers. Not only were they influenced but they also cited many of MacDonald's works in their own.
He was friends with famous writer Mark Twain who initially was not appreciative of George but later was influenced by him. His own influence of literature came from his uncle. The uncle was a Celtic scholar and collected literature from the Celtic era. He has contributed to many texts in the Celtic literature. He basically came from a family of learned men which plays an important factor in his influence of literature.
As a young boy, he was a victim of asthma, bronchitis, and tuberculosis. This is why he lived his whole life in places where the are was pure. He graduated from the University of Aberdeen in 1845 and acquired a masters degree in chemistry and physics. His first novel was published in 1863 and he was regarded as the founding father of modern fantasy writing. He gained success as he went on writing more. He was called to do a lecture even in the United States. He talked about writers such as Robert Burns, Tom Hood, and Shakespeare.
He was friends with John Ruskin – an art critic.
Plot of the Novel – At the Back of the North Wind
The story revolves around a young boy called Diamond. Diamond is a jolly little child. He strives to bring happiness into the family by fighting gloominess. One fine night, he encounters the 'North Wind'. The North Wind flows through his window. The story is written such that the North Wind is an entity that has powers to speak and do things.
Diamond and the North Wind are now friends. Diamond is a boy of values and the North Wind is a sweet entity who helps people. But she also does some bad things that might hurt people but eventually is for a good end result. The North Wind is basically a metaphor for Gods decision of inflicting pain for something good to eventually happen.
Influence of George Macdonald's personal life on the novel – At the Back of the North Wind
George Macdonald's son – Greville Macdonald was his biographer. He has indicated that the character Diamond quite resembles the son of George Macdonald – Maurice. It could also represent Jesus Christ who always tried to help and do good to others due to his highly recognized Christian faith.
The book was published in the year 1871 and the genre of the book is children's novel. It was published in English.