Berthe Morisot (1841-1895) was one of the influential painter of the 19th century French Impressionist School of art who painted on many subjects that varied from domestic scenes and portraits to landscapes and still art. Despite being very talented and having a subtle art style that led her to a lot of appreciation, she did not gain much International Recognition until her death.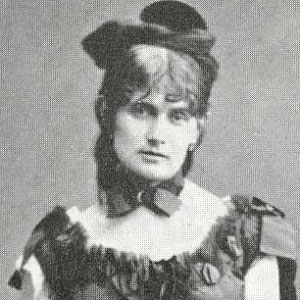 Berthe Marie Pauline Morisot was born in Bourges of France on January 1841. Her father Edme Tiburce was the senior administrator of the Cher Department. Her mother was Marie Thomas who was the niece of Jean Fragnord, one of the reputed Rococo painter. Berthe were four siblings all together with two elder sisters and one younger brother than her. Both her sisters were also engaged in the painting.
Facts about Berthe Morisot
Early Age Talent
Berthe moved with her family to Paris when she was only 10 and there she started taking the lessons of art from her first master Joseph Guilchard. She got highly influenced by the works of Jean-Baptise Guillement who was a classic French landscapes artist. Once her talent was known to her master, he stated that Morisot has a gifted art talent and she has the capability to become a professional painter and that would be "revolutionary" for that period.
 Exhibitions at Salon
Berthe was then dissatisfied with the teachings of Gulichard. Then she started studying with Camille Corot. In 1865 she first exhibited at the Salon of Paris. Cordot was so impressed with her work that he allowed her to sign her paintings with his name associated as "Student of Cordot". Then her painting exhibition shows at Salon continued in 1865, 1866, 1870, 1872 and in 1873.
Manet's Influence
In 1868, Berthe became the student of Manet and she was so influenced with his artwork that she left the classical form of her art and started learning the Manet's form of art known as "Impressionism". Both of them were impressed with each other's art and also appreciated them.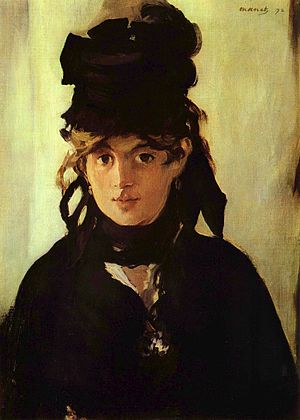 The famous portrait of Manet was "Morisot with a Bouquet of Violets" that was based on Berthe herself.
Being Unique
Morisot was the only woman who exhibited at the first exhibition of Impressionist in 1874. Her main works which were very light and soft were painted mostly in watercolors, pastels, and oils.
Female Empowerment
Although Morisot was circled by men most of the time, she hardly painted them. Her topics for painting depicted day to day life of French people that focussed mainly on women and children's. However, she never painted anything where respected women are not available like brothel scenes and train stations.
 Acceptance and Success
Her work was highly appreciated and was given space with the works of many renowned artists. Many celebrated painters like Claude Monet, Pierre- Auguste and Edgar Degas considered Morisot equivalent to them. Critics also reviewed her work very positively and they stated that she should continue to do so.
Technique of Morisot
Although she painted the impressionistic form of art, she had a unique style of painting it. The canvass is painted in all direction by applying a touch of paint by her. The result of this is a work with transparent quality. Many details that were not necessary to define the whole subject were skipped and hence a true form of impressionistic work was created by her.
Though she painted in various forms that included oils, pastels, and watercolors, she was well known as a great watercolorist. Using Pastel hue she incorporated the figures very well into her painting designs.
Marriage and Child
Although Morisot was highly influenced by Edouard Manet, she married her older brother Eugene in 1874. Her husband was a political activist as well as a writer who motivated to continue with her paintings.
They both bore a daughter named Julie in 1878. After her marriage, a focus on family life and motherhood was visible in her paintings.
Unprimed Canvass
In the 1880s, She started using and exploring the unprimed canvas that allowed her to show the area of the canvas and also integrate many blank spaces in her painting composition.
 Late International Recognition
Morisot continued to paint even after her husband's death in 1892 despite the fact that she never was successful commercially in her career of painting. But she sold her painting more than any of her colleagues that were engaged in impressionism.
Her first solo exhibition was in 1892. After 2 years of two exhibition French government purchased her oil painting "Young Woman in a Ball Gown".
She attained her International Recognition in 1905 much later after her death when 13 of her paintings were displayed in an exhibition of impressionism in London.
Death
Morisot died in March 1895 because of pneumonia when she was 54.
Works
Some of the famous artworks by Morisot are
The Cradle in 1872

The Cradle

Dans Le Ble in 1875

Dans le Ble

Young girl in a ball Gown in 1879

Young Girl in a Ball Gown

The Harbour at Nice in 1881

The Harbour at Nice

Reclining Nude Shepherdess in 1891

Reclining Nude Shepherdness