Dante Gabriel Rossetti was born to an eminent Italian scholar and a roman catholic, Gabriele Pasquale Giuseppe Rossetti and his wife, an Anglican, Frances Mary Lavinia Polidori, in London, on 12th May 1828.
Early Life of Dante Gabriel Rossetti
The artist was called Gabriel by his family and friends but when his work started getting published, he put his name "Dante" first in the honor of Dante Alighieri. He had three siblings namely, Cristina Rossetti, William Michael Rossetti, and Maria Rossetti.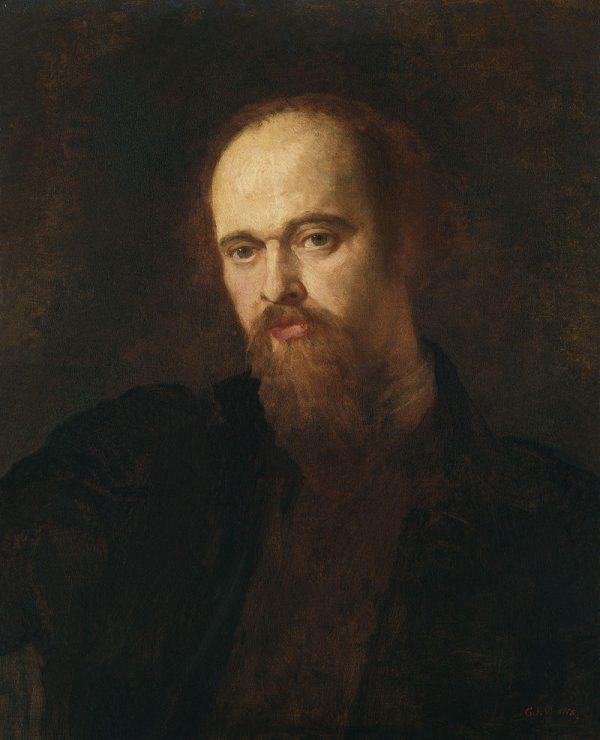 In his childhood, Gabriel was baptized and practiced Anglican religiously. He was educated at home and took interest in reading the Holy Bible regularly. His other interests included reading the works of Shakespeare, Lord Byron, Sir Walter Scott, and Dickens and he often took inspiration from them.
As young he was very passionate, articulate and charismatic and like his other siblings, he wanted to be a poet and a painter. Gabriel attended King's College School, London and showed immense interest in Medieval Italian art.
Dante Gabriel Rossetti Paintings
In the beginning, Dante Gabriel Rossetti paintings were in oils with water-color brushes on canvas. His paintings were mesmerizing and displayed the qualities of Pre-Raphaelite movement.
Some of his famous paintings are- Girlhood of Mary Virgin (1849) which portrays the Virgin Mary as a teenage girl along with Ecce Ancilla Domini (1850). Many well-known personalities like William Bell Scott remarked on his techniques and uniqueness of the paintings.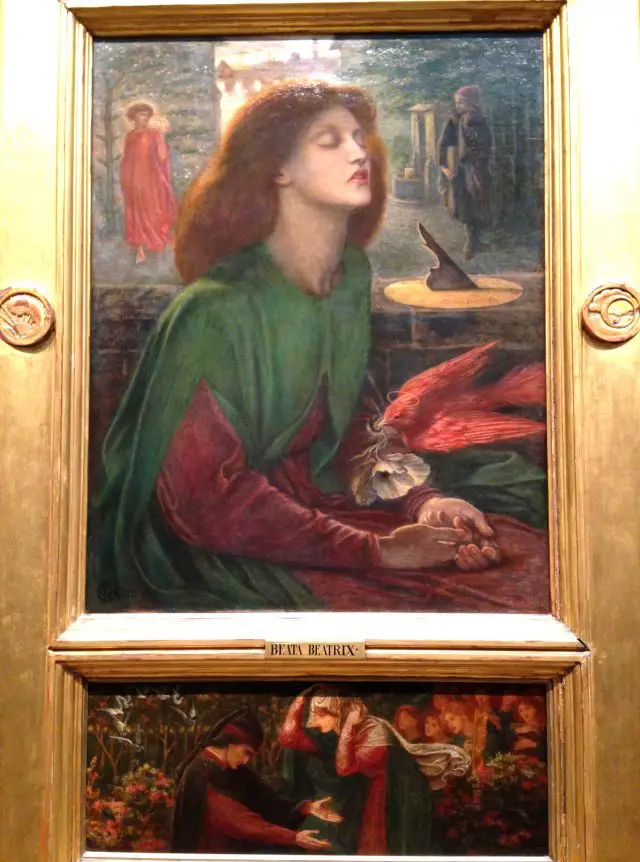 In that period of time, his artworks were admired by the people who greeted Pre-Raphaelitism which brought him recognition, although Dante Gabriel Rossetti artworks were rarely exhibited.
D. G Rossetti did not have the technical proficiency which was evident in his artworks, but, he put in great effort which when combined with his intense imaginative power, gave birth to the brilliant pieces of art with simple watercolor.
Dante Gabriel Rossetti Beata Beatrix
Dante's Dream (1856), Wedding of St. George (1857) and Princess Sabra (1857) were all the masterpieces by him produced with small watercolors in the 1850s. The paintings of D. G Rossetti of 1850s had Elizabeth Siddal as his model who later turned into his loving wife.
Sadly, after two years of marriage, Elizabeth was struggling with depression and thus, killed herself. D. G Rossetti produced his most deeply felt masterpiece, a painting of Elizabeth Siddal after her death, Beata Beatrix (1863).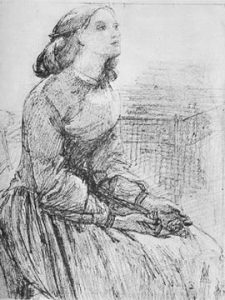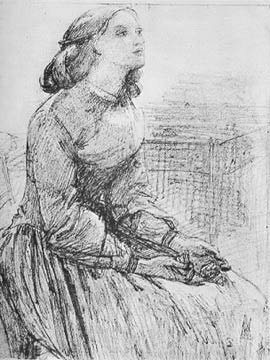 After this masterpiece, his symbolic, female portraits started becoming poor in quality as his interest in painting was gradually decreasing. Beata Beatrix (1863): The painting by Dante Gabriel Rossetti and Elizabeth Siddal as his model.
Dante Gabriel Rossetti the Blessed Damozel
Writing poems was just a form of relaxation from painting for Rossetti, initially. Gradually, it became important for him and soon he wrote poems which had strong Pre-Raphaelite influence in them like "The Blessed Damozel" and "The Portrait" which has a connection of spirituality and passion with his paintings from the 1850s.
Dante Gabriel Rossetti Poetry
Manuscripts of his beautiful poems were recovered from his wife's coffin which got published a year later in 1870. When he started focusing less on painting, his interest in poetry increased, thus, his poetry improved in his later works like, "The White Ship" and "Rose Mary".
With the use of rich words and great expressions, Rossetti won the hearts of the people in no time.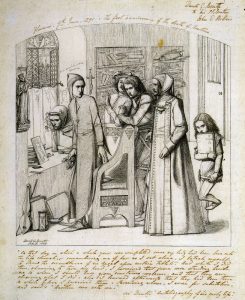 His techniques were not professional, as mentioned earlier, but his imaginative power brought him great fame and honor which also earned him a high rank among the best artists in the society.
The most distinctive feature of Rossetti's artworks was that they were known as "double work of art" where he produced pictures along with texts. He had pictures with the literary works to illustrate and interpret the texts.
Dante Gabriel Rossetti Proserpine
This constant use of pictures with the textual materials which could be simple poems composed by him usually rhymed with the pictures showing two pieces of art in one frame.
Rossetti took great interest in exploring and gaining more knowledge on the style of the Titian and Venetian art forms.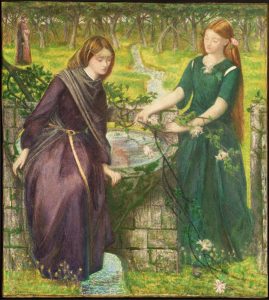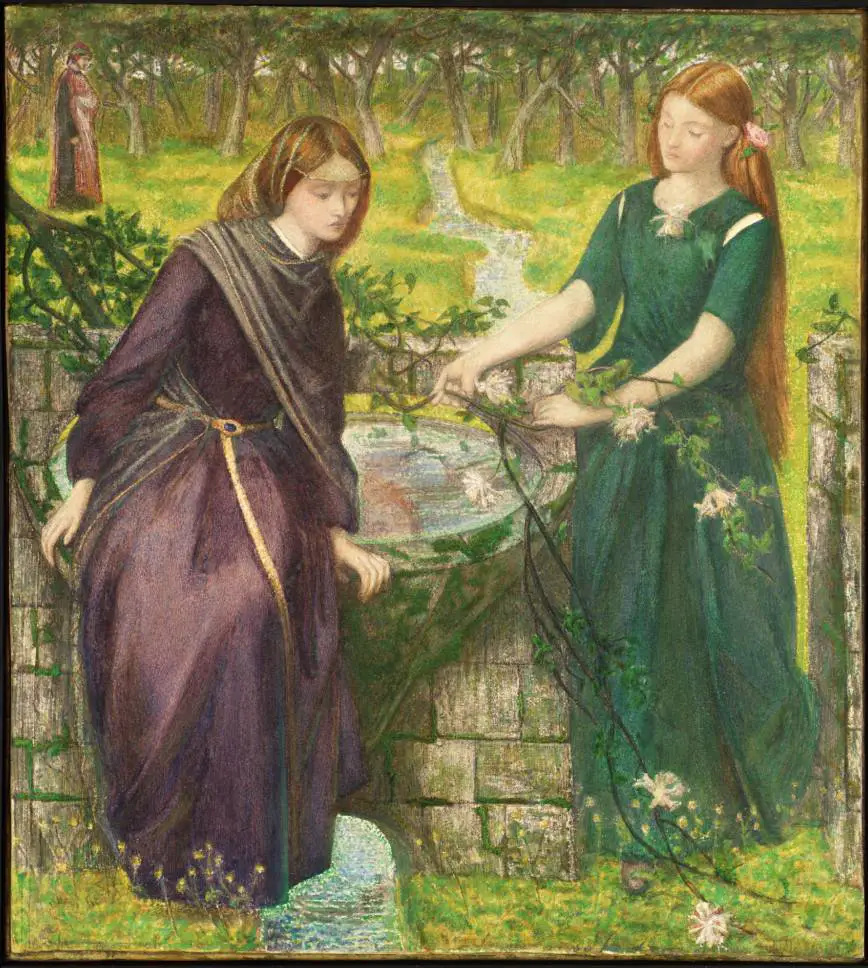 An example of his learning from the Titian art is seen in his Bocca Baciata (1859) which also marks the emergence of the "Rossetti Woman".
His last period consists of the famous works like Proserpine, Astarte Syriaca and Mnemosyne which were erotic and thus, disturbed many as well.
The Decline of Dante Gabriel Rossetti
Rossetti was depressed after the critics reacted harshly to his collection of poems in 1872, thus, he kept himself drowned in whiskey and chloral. That was the starting of his decline when slowly he was sinking into a state of drug addiction which led to mental instability.
Dante Gabriel Rossetti died on Easter Sunday, 1882, at a friend's house of a disease in the kidneys that made him suffer for quite a long time. He is still admired and loved by people for his achievements and life's work, all over the world as he keeps inspiring young artists even today.