Born on February 5, 1811, Thomas Creswick was an English painter most famously known for his landscape paintings and illustrations of the same. He was a student of nature and the same was reflected in his works throughout his career as a renowned painter from a very young age.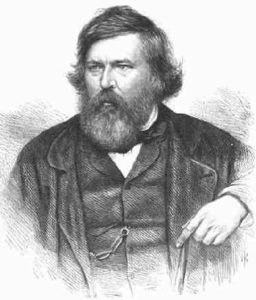 Early years of Thomas Creswick
Thomas was born in present day's Sheffield and Derbyshire back in 1811. He got his name from his father, Thomas Creswick. His mother was Mary Epworth and received his basic education at Hazelwood, close to Birmingham.
It was in Birmingham that he began to paint at an early age. His first painting was put forward in an exhibition at the Society of British Arts in London in 1827.
In the following year, he sent two of his works, the Llyn Gwynanat Morning and The Carnarvon Castle to The Royal Academy.
Simultaneously he got settled in London in 1836 and bought a house in Bayswater.
It took him a short period to gather the attention of the people and be known as a landscape painter. He later got elected as an assistant of the Royal Academy and later got full membership also. This was of great importance and honour because back in those days not everyone got the full membership at the Royal Academy. It was additionally special as he was mainly a landscape artist and the number of these memberships for this branch of art were very few even until his death.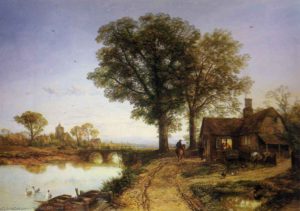 Thomas rises as a painter
In his early years of practice as a landscape painter, he did set an example of his work and standards also. This was mainly because for creating quality works of the landscape through colours it requires one to have done a deep study of elements of the scene. These elements included doors, details of weather and sometimes he even captured nature in his paintings.
One of the best works of Thomas as a painter which keeps him still alive among the generations of painting was the Birmingham School of a landscape.
Famous works of Thomas Creswick
Although the list is enormously long for the quality works done by Thomas for landscape paintings, yet there were a few which gathered more attention than the rest. Some of these are:
Home by the Sands and a Squally Day in 1848, England completed in the year 1847, Passing Showers which got completion in 1849, a First Glimpse of the Sea, The Wind on Shore and Old Trees-all of them in 1850, the Changeable Weather in 1865, A Mountain Lake and the Moonrise in 1852, and also the London Road, a Hundred Years ago.
There were some more which are worth a mention among his works: The Weald of Kent, a Shady Glen, the Valley Mill which was a Cornish subject, the Shade of the Beech Trees, the Windings of a River, the Wharfe, the Course of the Greta, Glendalough and other Irish subjects which were given the certificate of completion from 1836 to 1840.
Thomas Creswick and his other interests
Apart from being an artist, there were other interests which kept Thomas Creswick occupied. These were mainly English and Welsh streams and have retained the status of being his favourite throughout his life. Other than these there was British scenery comprising of rural areas which he considered cheerful with elements of calm and pleasurable objects.
He captured these as well through means of his art. Towards his old age, he was more inclined to the use of grey in shades of tint says his work during that time. Yet through the experience that he had in painting all these years, his art was still able to capture attendance from his followers, new or old.
Though the painting was what kept him busy for the major portions of his life yet some of it was attracted by the skill of writing as well. Thomas Creswick was prolific and industrious as well.
In his young years, he was described as a dark and bulky man was who friendly but his charm lost its effect as he was approaching old age.
Thomas leads a normal life all in all and enjoyed success in whichever field he chose to work for. He died in Bayswater at his house on 28th December 1869 after being sick for quite some time and then declining health.
His paintings are now distributed among the famous galleries throughout the globe and the most well-known ones are enlisted with British Collections including Canterbury, Sheffield, Derby Art Gallery and the Northampton Gallery.