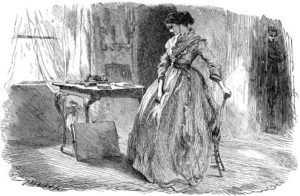 The Boofer Lady is a wood engraving by artist Marcus Stone for Dicken's novel Our Mutual Friend. It was the first illustration for the tenth monthly number of the book, chapter fourteen titled "Strong of Purpose" in the second book, "Birds of a Feather".
Stones illustration recalls the scene of adopted orphan Johnny dying from respiratory disease, in a children's hospital. The moment chosen by Stone to illustrate is the end of a passage in part 10 (a monthly number for February 1865). Johnny refers to Bella Wilfer as the Boofer lady, asking her for a parting kiss as he dies in the hospital.
Betty Higden, who was also present at the hospital when Johnny died, recalls these lines as spoken by a little kid who was not able to pronounce 'beautiful'. Stone, in his illustration, focuses on the introspective moment that Bella undergoes just afterwards.
John Harmon watches her from the door of the drawing-room, Bella looks at the objects that signify her affluence, the books on the writing table and the portfolio drawing; but actually, she ponders over her drawbacks; her interest for material riches and trying to decide whether it was wise to reject John Harmon's offer of marriage.
The illustration thus supplements Dicken's text. While the author's focus is on the point of view of John Harmon (the Secretary), the illustrator focuses on Bella's consciousness. The illustration thus prepares for an important lot ambit – the eventual marriage of John and Bella.
Such single – subject illustrations were rare in Stone's series of sketches particularly for Our Mutual Friend, as well as in nineteenth-century fictions illustrations in general. He preferred two-person scenes. However, revolutionary illustrators aimed at challenging the status – quo and study the psychology of important characters from the texts.
It distinguished them from the older generation of illustrators, such as George Cruikshank, John Leech, George Cattermole etc, who only focus on the physical poses, postures and gestures of the characters in correspondence to their contexts.
Dickens personally explained to Stone the character trajectories and probably informed him that this is a key moment of for Bella where she experiences a spiritual awakening, wondering what she really feels for John. She finally negates her idea that only wealth can provide true happiness.
Reading just the text, without any illustration might thus make the reader overlook that this is a point of psychological turning for Bella, and hence the point when the reader can start to relate with her.