Marc Gabriel Charles-Gleyre was a Swiss artist who was born on 2 May 1806 in Chevilly, near Lausanne. From an early age, France is his resident. In 1843, he took over the studio of Paul Delaroche. Charles Gleyre was a great artist.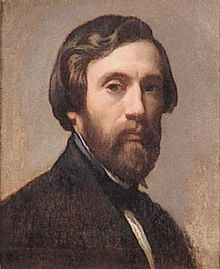 Here, he taught several young artists who became prominent, including Claude Monet, Pierre-Auguste Renoir, Alfred Sisley, and Louis-Frederic Schützenberger, James Abbott McNeill Whistler and Auguste Toulmouche. He even studied with Auguste Toulmouche.
Early Life of Marc Gabriel Charles Gleyre
He was brought by an uncle in Lyon, France after his father and mother died when he was eight or nine years old. His uncle sent him to the city's industrial school. Before moving to Paris, he started having his formal art education in Lyon under Bonnefond where he enrolled at the École des Beaux-Arts under Hersent.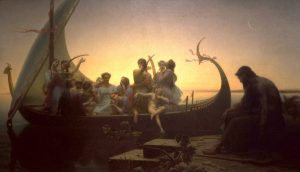 In his late teens in Paris, he spent four years of his life in intense artistic studies. The following four years were spent by him in Italy in meditative inactivity and there he became acquainted with Horace Vernet as well as Louis Léopold Robert.
The recommendation of Vernet made him chosen by John Lowell Jr. who was an American traveler for accompanying him on his journeys around the eastern Mediterranean where they needed to record the scenes as well as ethnographic subjects they met with.
Charles Gleyre Detailed Biography
In 1834, during the spring season, they left Italy and spent his six more years in Greece, Turkey, and Egypt. They stayed here together until November 1835 and then Lowell left for India.
But Gleyre did not stop here and he continued his traveling around Egypt and Syria and then he finally returned to France in 1838.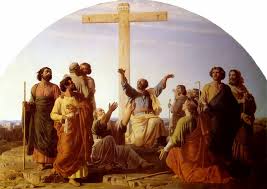 He was attacked by ophthalmia or inflammation of the eye in Cairo and in Lebanon he was also struck down by fever and then he returned to Lyons in a shattered health.
He went to Paris after his recovery and there he established a modest studio in the Rue de Université. Gleyre started implementing the ideas which were slowly shaping his mind.
Works of Gleyre
Mention has two decorative panels Diana leaving the Bath and a Young Nubian and they were seen as the first fruits of his genius but they did not receive any public attention. But Apocalyptic Vision of St John made him gain attention by practically opening his artistic career and this work of his was sent to the Salon of 1840.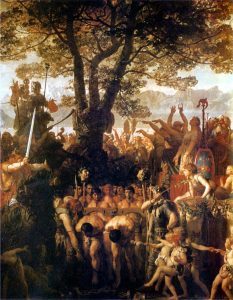 In 1843, his another work 'Evening' received a medal of the second class and later, it became popular under the title Lost Illusions. His work shows a poet seated on a bank of a river with his head drooping which is sleeping from his careless hand and this poet is sadly watching a bright company of maidens.
Charles Gleyre's Artistic Idea
The song sung by maidens is slowly dying as their boat is borne slowly from his sight. In spite of achieving the success of his first ventures, he soon retired from the public competition and devoted the rest of his life to his artistic ideals.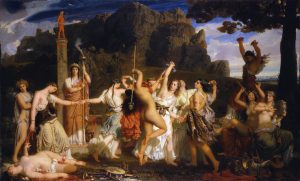 He exhibited the Separation of the Apostles in 1845 but he contributed nothing to the Salon but in 1849, he did and that was the Dance of the Bacchantes. But he kept on working steadily and that turned productive.
Charles Gleyre Journey as Teacher
He became influential as a teacher in 1843 after he took over the studio of Paul Delaroche – then the leading private teaching atelier in Paris. Jean-Léon Gérôme, Jean-Louis Hamon, Auguste Toulmouche, Whistler and some Impressionists: Monet, Renoir, Sisley, and Bazille were some of his students.
He did not take any fee from his students. But aCharles Gleyret the same time, Gleyre expected him to contribute to the rent as well as the payment of models. Not only this, students were given a say in the running of the school.
After his retirement, he took interest in politics and was a voracious reader of political journals. Earthly Paradise was left unfinished by him. He never married and finally he died on 5 May 1874.