The Cornhill Magazine (1860-1975) was a literary journal and also a Victorian magazine that was named after the founder and publisher Smith's resident address which was Elder & Co. at 65 Cornhill in London.
History of Cornhill Magazine
This magazine was first founded by George Murray Smith, a British Publisher in the year 1859. The first issue was laid out on January 1860 which continued till 1875. The first series in 1860 was followed by the second series in 1883 and third series in 1896. This series does not have any copyright renewals. The publication was suspended between years 1940-1943.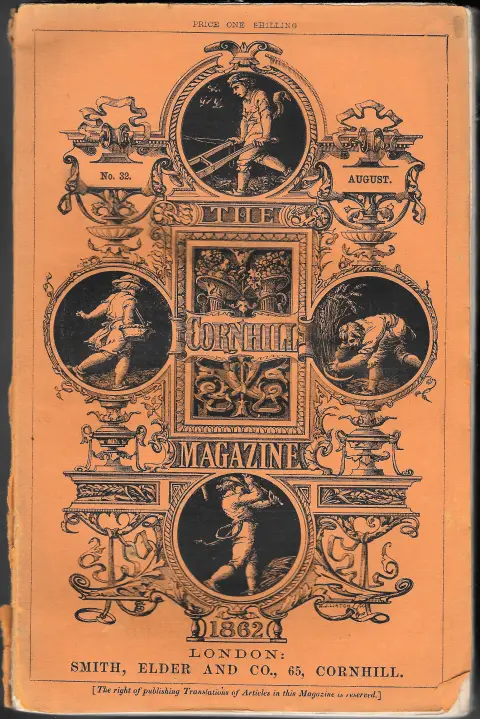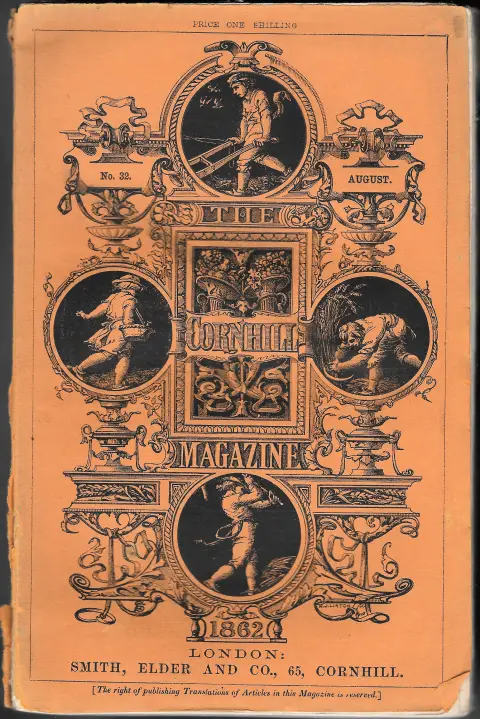 Cornhill was a literary magazine that selected its articles with diversity in subjects and gave chance to serializations of many new novels. George Smith wanted to gain the same amount of readers as achieved by another periodical of that time "All the Year Round" that was basically owned by Charles Dickens. He wished that readers enjoy them thoroughly. For that, he hired William Thackeray as the editor of the magazine who was the greatest rival of Charles Dicken at that time. He edited it from 1860 to 1862.
Contributors to Cornhill Magazine
The magazine offered a policy by providing serialization of two novels in each issue which gained huge sales very soon. George Eliot, Wilkie Collins and Anthony Trollope were among the first few contributors in the early years of the magazine. During the year the 1870s when Leslie Stephen Edited the magazine, Henry James and Thomas Hardy supplied the serialization of novels.
The editorship ended in 1882 due to the declined standard of literature but later under the guidance of Reginald John Smith as an editor from 1898 to 1916, the magazine rose again. During this period Edmund Gosse, Julian Huxley was among the contributors for criticism and essays. From 1917, John Murray of Albermarle Street published the magazine.
The Cornhill gained its high reputation after the First World War because of its marvelous piece of essays on biography, criticism and literary history. Although in 1930 it became a little inactive under Lord Gorell's editorship such that it got closed in 1839, it developed again under the editorship of Peter Quennell as a quarterly magazine.
During the last decade of the magazine, it published many important works by Philip Larkin, Robert Graves, Laurie Lee, and many others. However, from 1955, its declination started due to continuous fall in its circulation which was now irreversible. The publication was then ceased in 1975.
Prominent Works Published in Cornhill Magazine
Some of the important works that took serialization in the journal are noted below
Statement by Arthur Conan Doyle
Washington Square by Henry James
Romola by George Eliot
Far from the Madding Crowd by Thomas Hardy
Armadale By Wilkie Collins
Daisy Miller by Henry James
Framley Parsonage by Anthony Trollope
Tithonus by Alfred Tennyson
Unto This Last by John Ruskin
Emma by Charlotte Bronte
Analysis
Cornhill Magazine was based on a particular article that was produced in a particular space, time and Sociocultural context. It was such a context-based magazine that its functions can be understood by its historical setting. Rather than aiming at a certain class of readers, it aimed at a certain type of readers. The magazine content embodied this orientation and it also offered refined material that focused on the audience safety.