The Crystal Palace was one of the most impressive structures built during the Victorian Era and continues to represent it in the eyes of many. It was built in 1851 to house the Great Exhibition, the first Worlds Fair.
Prince Albert and the other organizers of the event knew that such an impressive event needed to be housed in an impressive structure. To that end, they contracted a gardener named Joseph Paxton to design an enormous building out of glass a wrought iron. Paxton had already designed several large greenhouses, but in this project, he received engineering help from Charles Fox.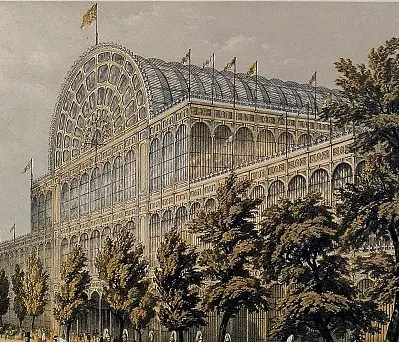 The building was designed to be impressive and in that, it succeeded magnificently. It stood over one hundred feet tall, four hundred feet wide, and 1800 feet long. It was built with the help of over 5,000 workers using over 900,000 square feet of glass.
As a gardener, Paxton made sure to put live elm trees and waterworks inside the building itself. These waterworks were so extensive that two water towers were built on either end of the building to store all of the water they needed. It truly deserved the nickname Crystal Palace that Punch magazine bestowed to it.

The Exhibition itself was extremely popular, featuring attractions from all over the world. As many as 6,000,000 people, about one-third of Britain's population, went to the Crustal Palace to see it. With so many visitors, the Exhibition not only paid for the 150,000 pound construction, but turned a profit of over 180,000 pounds. This money was used to found several of Britains most popular museums.
The building itself long survived the Great Exhibition for which it was built by being moved to another London park. The cost of relocating such an enormous building was great, however. It cost close to 1,300,000 pounds.
An exponentially larger sum than that of its original construction. The owners of the company were never able to repay this debt despite the thousands who visited the structures permanent exhibit daily and the many events it housed.
The building was bought by the British government in the early 1900s and was used as a naval training station during World War I. After the war, it housed the Imperial War Museum until the building was destroyed in a fire in 1936. All that remained were the two water towers which were eventually removed from the property.
The Great Exhibit set up a series of World Fairs which brought humanity many of its most ingenious inventions. The Great Exhibit, for example, had the first public toilets in the world which over 800,000 fascinated visitors paid one penny each to use. The Crystal Palace itself has come to represent the Victorian Era and continues to inspire architects today.