Daniel O'Connell (1775-1847) was an Irish statesman who was involved in the creation of the modern Irish Nationalism. He was also called as a liberator or the Emancipator. He was one of the most successful champions of the democracy of Europe in his time.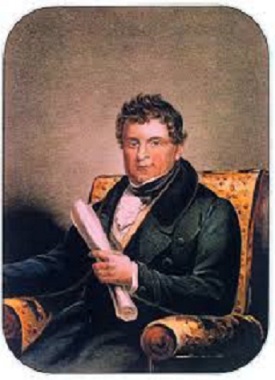 Daniel O'Connell Statue
The statue of Daniel O'Connell is considered as one of the marvelous pieces of work by John Henry Foley which is located in the city of Dublin on the main thoroughfare of the city's O'Connell street. As Daniel was also known for the campaigning of the Catholic emancipation, the statue is also said to be in honor of "Great Catholic Emancipator".
The design and sculpting of the statue were done by John Foley himself while Thomas Brock, his assistant gave great finishing to it. The first display of the statue was in August 1882.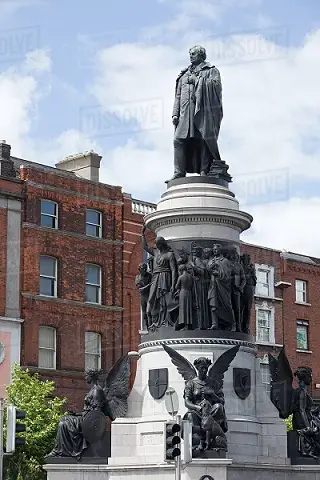 The statue is made of three sections of bronze which are separated by a plinth of Granite. At the top of the statue, Daniel himself is being displayed. The base of the monument has winged victories in number four each of which depicts the main virtues of Daniel which are Patriotism, Fidelity, Courage and Eloquence.
What are Famous Quotes by Daniel O'Connell?
Some of his very popular quotes are
"Nothing is politically right which is morally wrong,"
"Gentlemen, you may soon have the alternative to live as slaves or die as freemen."
"The altar of liberty totters when it is cemented only with blood."
"Good God, what a brute man becomes when ignorant and oppressed. Oh, Liberty! What horrors are committed in thy name! May even virtuous revolutionist remember the horrors of Wexford!"
"Every religion is good-every religion is true to him who in his good caution and conscience believes it."
"Whoever commits a crime strengthens his enemy."
"No man was ever a good soldier but the man who goes into the battle determined to conquer, or not to come back from the battlefield. No other principle makes a good soldier."
Family Tree of Daniel O'Connell
Daniel O'Connell was born on August 1775 in the Cahersiveen of the Country Kerry.
Parents: Father was Thomas Morgan O'Connell and Mother was Catherine O'Connell
Siblings: They were 17 siblings in together which included Daniel Patrick and Mary McCartie as liberators. Maurice, Ellen, Sir James, Alicia were also among the other siblings.
Wife: He married Mary O'Connell in June 1802 in Dublin of Ireland.
Children: Daniel bore  11 children out of which only 7 survived. The children were Maurice O'Connell, Morgan O'Connell, Ellen Bridget Fitzsimon, John O'Connell and Daniel O'Connell.
Uncle: Count O'Connell who was an officer of the French Army in the Irish Brigades was Daniel's Uncle.
Aunt: Eibhlin Dubh Ni Chonaill was the popular aunt of Daniel.
Daniel O'Connell Speech
Daniel gave many speeches that were turning points of many acts, reforms, and politics. However, his first speech that he gave at the Royal Exchange in January 1800 was highly remarkable. The speech was based on the rebel against the union of Ireland with Britain.
The union happened when some of the Irish parliament members were bribed by the British members and they instead offered minority seats in the union parliament. The aim of Daniel through his speech was to bring awareness and secure more British control on Ireland.
Another speech he made was on February 1836 in the House of Commons that was based on the call for equal justice. This speech of him was very remarkable.
Why was Fredrick Douglass was so Impressed with Daniel O'Connell?
Fredrick was born as a slave in Maryland which was not acceptable to him. So he fled away to the US and then he traveled to different countries bring awareness on anti-slavery and its abolition.
During his journey, he visited Ireland for 4 months where Daniel was a liberator. His experience there was very transformative after meeting Daniel. He wrote in his autobiography " The Narrative Life of Fredrick Douglass, An American Slave" that when he went to visit the house of Daniel, his servant informed that a colored man wants to meet him.
Listening that Daniel rushed to the entrance and embraced him saying that this American slave does not need any introduction to me. What impressed him further was that Daniel was amongst the few politicians who were against slavery very strictly and also delivered a long speech about the same. Fredrick was then referred to as "The Black O'Connell".
Daniel O'Connell House
Derrynane House is the home of Daniel which he inherited from his uncle. It is located at one of the most serene places at the tip of the Iveragh Peninsula in Co. Kerry.
Derrynane house is his ancestral house where he had spent most of his childhood. Most of his summers were spent in this house. This house has been his country residence when he traveled during his career. His wife and children were also resident in this house lifelong.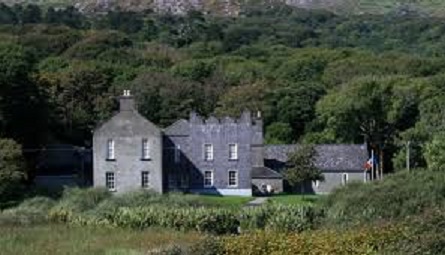 The house is now converted to a museum and attracts thousands of visitors every year. The house was opened to the public in August 1967 with a statue installed of Daniel. The surrounding 300 hectares of land of Derrynane along with this house now commemorates to Derrynane National Historic Park.
Where did Daniel O'Connell Die?
Daniel was on his journey to Rome when he died due to softening of brain tissues, a condition called Encephalomalacia at the age of 71 on May 1847. As per his last wish, his heart was taken to Rome while his body was carried back to his home in Ireland. He was deceased in Glasnevin. His resting place is marked by a pillar-tower above it.
Daniel O'Connell Junior
One of the sons of Daniel was Daniel O'Connell junior. He was the youngest among the four of his sons. He was also involved in politics like his father. In 1846 he became a member of the British parliament for a year. Then in 1847 for a year, he was a member of parliament for Waterford City. He also served as a member of parliament in Tralee from 1853 to 1863.
He was also a brewer being successful to some extent for production of the brand "O'Connell's Ale" which competed with the famous Guinness for short duration.