The poem "She Dwelt Among the Untrodden Ways" is a three-stanza poem which written by Victorian Era's Romantic English poet William Wordsworth in the year 1798 when William was 28 years old. This poem is best known of William Wordsworth's series of five works which comprise his "Lucy" series and was a favorite amongst early reader.
Dwelt Among the Untrodden Ways: Year Published in – 1798
She dwelt among the untrodden ways
Beside the springs of Dove,
A Maid whom there were none to praise
And very few to love:
A violet by a mossy stone
Half hidden from the eye!
—Fair as a star, when only one
Is shining in the sky.
She lived unknown, and few could know
When Lucy ceased to be;
But she is in her grave, and, oh,
The difference to me!
A poem celebrates a young woman (a "Maid") or admired girl by associating her with the beauties of nature. Both in its method and topic, this poem is a prototypical representative piece of Romantic writings. Other Romantic traits of this work include its straightforward language, relatively simple; its concern with rural life; its emphasis on the personal, emotional expression of a particular speaker; its freedom from references to classical mythology and its short, lyric formate.
About the Poet
William Wordsworth was a romanticist poet in the Victorian Era, he has given the world of English literature some of the most beautiful writings. And William served as the leader of the romanticism movement.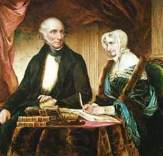 William Wordsworth is known for his notion 'Return to Nature' as William strongly believed in the idea that all poets should look for inspiration in their environment and that all poetry comes from nature. Although his poetry is strictly subjective, Wordsworth is considered as one of the best poets of all times.
More Info On- Three Years She Grew, Upon Westminster Bridge, Tables Turned William Wordsworth, Expostulation and Reply