Edward Armitage (1817-1896) was a highly dignified 19thcentury English painter who was a historical, biblical and classical painter of Victorian-Era. He worked during the period when Britain's Social fabric was transforming by the revolution of the Industrialist and Genres art were more favoured by the middle-class people.
Family Background of Edward Armitage
Edward Armitage was born on 20th May 1809 in London to Old Yorkshire Industrialist who were known to be wealthiest in that time. Edward was born to be the eldest son of the seven siblings of James Armitage and Anne Elizabeth Armitage.
James, the Great- grandfather of Edward purchased Farnley hall from Sir Thomas Danby in the year 1799. Then in the year 1844, four Armitage brothers including Edwards father James co-founded together Farnley Ironworks which utilizes iron, coal, and fireclay from their estate.
Thomas Rhodes Armitage, brother of Edward established the Royal National Institute of the Blind.
Art and Study Training
He commenced his early education in England and then completed it further in France and Germany. He had to take a stand against his father to pursue his career interest in art. After deciding his career as a painter, he enrolled himself in Ecole des Beaux Art in Paris in October 1837.
He studied under the famous history painter Paul Delaroche and Edward was one of the four students who was selected to assist the professor with the fresco "Hemicycle" in the amphitheater of the Palais des Beaux-Arts. He there was modeling for the head of Masaccio. He exhibited his art "Prometheus Bound "in the year 1842 in Paris, which was commented by critics as well drawn piece of art but viciously energetic.
Competition at Westminster
Armitage returned to London in the year 1843, where he enrolled in a competition for the decoration of the new palace of Westminster which previously was the old Houses of Parliament that was destroyed by fire. The Royal Commission was appointed to regulate and oversee this project. Provisions were such that decoration should be made in fresco which should demonstrate the issues from the history of British times or the works related to Shakespeare, Milton or Spenser. The competition was open then for suitable designs or cartoons with a large number of artists assigned to take part.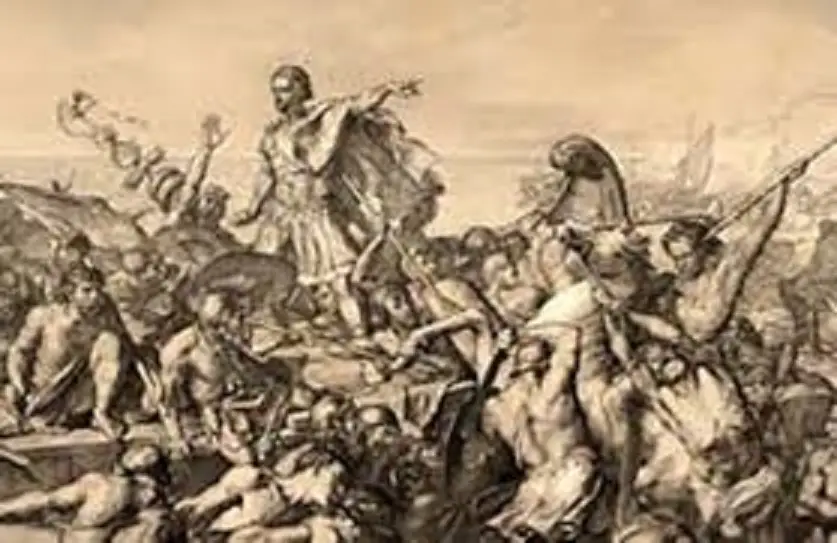 Armitage was among the winner of the first three prizes of about $300 for his cartoon "The landing of Julius Caesar in Britain". In 1845 he again won the next Westminster competition for his cartoon "The spirit of Religion". None of these two cartoons were executed in frescos but then he painted "The Thames and its Tributaries "and "The Death of Marmion" in fresco and exhibited them in the upper waiting hall of poets gallery.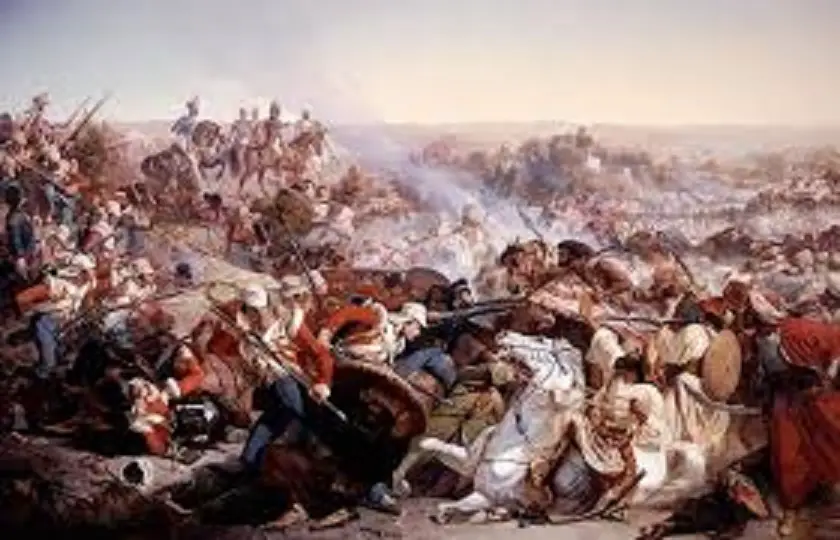 In 1847, Armitage won one of the first class premiums for his oil painting "The Battle of Meeanee" which was then bought by Queen Victoria herself. This painting became a controversial subject as it didn't justify the war and expressed many doubts for all.
Arts at Royal Academy
Armitage first exhibited in 1848 at Royal Academy with his paintings "Henry VIII and Catherine Parr" and "Trafalgar". He maintained to contribute to the Royal Academy until his death.
His other significant painting at Royal Academy are
Retribution in 1858
Esther's Banquet in 1865
The Remorse of Judas in 1866
Herod's Birthday in 1868
A Deputation to Faraday in 8171
Julian The Apostate in 1875
Pygmalion's Galatea in 1878
Meeting of St. Francis and St. Dominic in 18182
Faith in 1844
The Siren in 1888
The late T.R Armitage in 1893 which was the portrait of his brother
In 1867, Armitage was elected as an associate of the Royal Academy, in 1872 he became a full member and later in 1875 he was appointed as lecturer and professor of painting. His lectures that were given at the Royal Academy were then published as "Lecture of Paintings" in London and New York.
Marriage
Armitage married Catherine Laurie Barber who was also a known artist. They both lived in St John's Wood where they were socially active and also involved as a part of the local artist. They were among the first artist to settle there and later joined by other artists in the neighbourhood.
The Crimea
Armitage was sent to Crimea by art dealer Ernest Gambart in 1855 for making on the spot sketches of the battle which included "The Stand of the Guards at Inkerman" and "The Heavy Cavalry Charge at Balaclava" which were also presented at Gambart's French Gallery in London. His other painting "Athenaeum of 24 may 1865" was considered to be one of his drawing that spoke about the monstrous whispers of the war than all the speeches ever made on peace. He returned from Crimea in September 1855 visiting other places like Scutari and Bursa completing his other sketches from there.
After Life
Armitage spent most of his time at Royal Tunbridge Wells for the betterment of his health after being retired from the Royal Academy in 1894. He died on 24th May 1896 due to exhaustion and apoplexy followed by pneumonia at Mount Edgcumbe house. His burial took place at Hove Cemetery, Brighton. His wife also died a year after.