Below is the biography of Ed Moran which is short for Edward Moran. Ed was an American artist. He specialized in maritime paintings. He is best known for his maritime paintings of the 13 important historical times in the maritime industry of the United States.
Early Life of Edward Moran
Edward was born in Lancashire, England to Thomas and Mary Higson on August 19, 1829. Thomas Higson was a weaver by profession. Edward too learned how to work o a handloom at a tender age.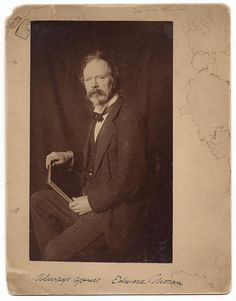 However, he was usually found with a charcoal, drawing figures of things around him on the white fabric that was given to him for weaving. He was a good sketcher at a young age due to his practice and perseverance.
He 1845, his family moved to Philadelphia, United States. This was when he decided to give shape to his dream of becoming an artist. He worked as an apprentice under landscape artist Paul Weber and James Hamilton. It was Hamilton who recognized Moran's niche and encouraged him to go with maritime paintings.
Edward Moran's Career as an Artist
Edward Moran became a known painter during the 1850s. He worked in the same studio as his brother Thomas Moran – famous landscape artist. Edward earned commissions from academies and exhibitions. He also got involved in lithographic work.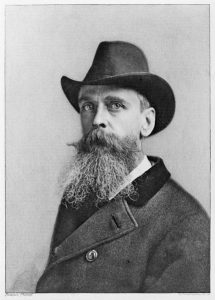 He traveled to London in 1862. He joined the Royal Academy as a member. He apprenticed his second wife under her own rights in landscape paintings. He displayed an exhibit called the "Land and Sea".
Edward Moran Paintings
There were 75 of his landscape and marine paintings in this exhibition. He donated the proceeds of the exhibition for the relief of the Franco – Prussian War. He also donated the proceeds out of his painting 'The Relief Ship entering Havre'.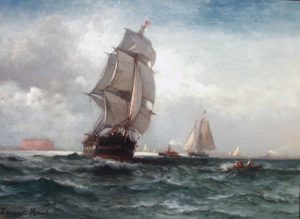 In the year 1885, he came up with his most famous collection of marine paintings that portray 13 different and important events in the maritime history of the United States. He chose to paint thirteen so that the significance of the thirteen colonies, thirteen stars and thirteen stripes on the flag of the United States of America was signified.
Subjects of these paintings include sailors and naval officers like Christopher Colombus, Leif Ericcson, Hernando de Soto, Henry Hudson, and Admiral Dewey.
Edward Moran Arts Collection
This collection was displayed at the World Fair in Chicago in 1893. The American art was celebrated at this fair. The fair began on the 1st of May, 1893 and went on until the 30th of October, 1893.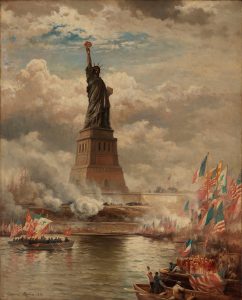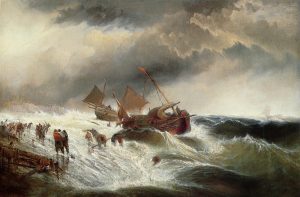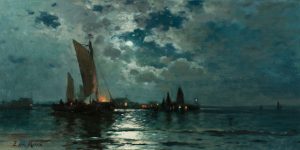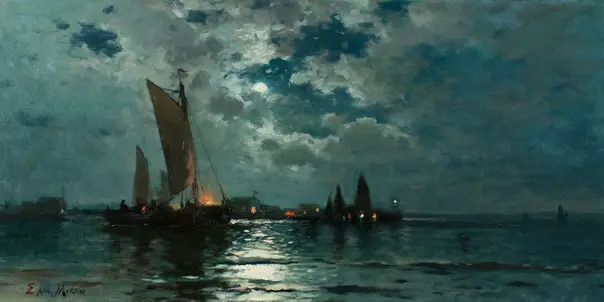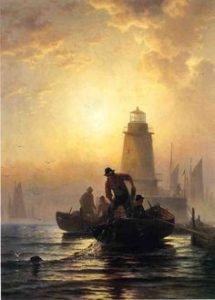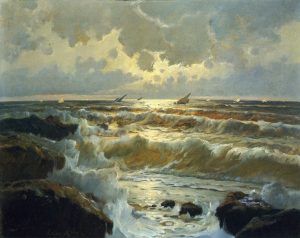 Personal Life of Edward Moran
When in London at the Royal Academy, Edward married the second time to Annette Parmentier. His children – Edward Percy Moran born in 1862, Leon Moran born in 1864 and nephew – Jean Leon Gerome Ferris became prominent artists while Edward Moran was their mentor.
Legacy and Death of Edward Moran
Edward fame was overpowered by his brother's. Thomas Moran was considered to be an excellent landscape artist and was at the peak of his career. However, it was Edward that helped him climb the ladder.
Moran died in New York City on 8th of June 1901 of old age.
More Info On- Thomas Moran, John Philip, George Goodwin Kilburn