Below is the brief biography of Edward William Cooke, a British landscape artist, and a marine painter. He is also known for the unusual quality of gardening.
Early Life of Edward William Cooke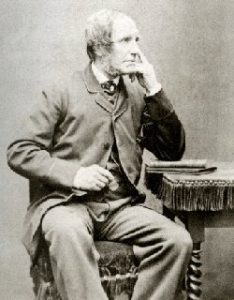 Edward William Cooke was more commonly known by his middle name 'William'. He was born on 27th of March 1811 in Pentonville, London. His father was a famous line engraver – George Cooke. 'Line engraving' is painting or printing engraved images on paper. George had a brother – William Bernard Cooke who was also a notable line engraver. Therefore, William Cooke was highly surrounded by artists and grew with a flair for art.
At an early age, he displayed his artistic side which turned him into a skilled engraver. He was also involved in accurate marine painting at the same time. At the tender age of 18, he published a series of engravings 'Shipping and Craft' in the year 1829.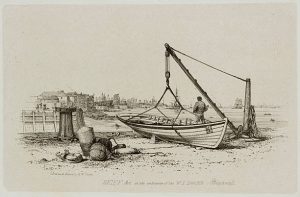 This excellent achievement at such an age was possible due to his fathers' many associates that helped and adviced him and also motivated him. One of his fathers associate was Clarkson Stanfield, who William Cooke primarily followed as a marine artist.
Art Career of Edward William Cooke
In the year 1833, William Cooke began painting using oils under the formal training of James Stark, an English landscape painter. His first exhibition was at the Royal Academy in 1835. He also exhibited at the British Institute.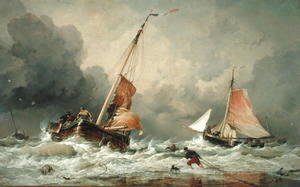 One of his first paintings 'Honfleur Fishing Boats' and 'Hay Barge, off Greenwich' were exhibited in the Royal Academy. Until the year 1879, at least one more painting was definitely exhibited at the academy.
He traveled across Europe and supported himself financially with the income he made out of paintings. He was keen on learning the Dutch style of marine painting in the 17th century which is why he visited the Netherlands lived there until the next 23 years of his life.
He went there and developed his styles of marine painting by learning and applying the effects of coastal lights and landscaping. He became skilled and highly successful. His paintings are found in the National Maritime Museum in London. His painting 'Beaching a Pink at Scheveningen' was exhibited at the Royal Academy in 1855.
In 1851, he became an Associate member of the Royal Academy. After 7 years, he was elected into the National Academy of Design as an Honorary Academician.
Many of his marine paintings are held at the South Kensington Museum, which is now very commonly known as 'Victoria and Albert Museum', in London today.
Interest in Natural History and Horticulture
He also showed major interests in natural history and geography since he was a Member at the Linnean Society, a society that dissemination of evolution and taxonomy. He was also the member at the Zoological Society and the Society of Antiquaries. He also designed gardens at Staffordshire for his friend James Bateman, a garden full of orchids and rhododendrons.
Notable Works of Edward William Cooke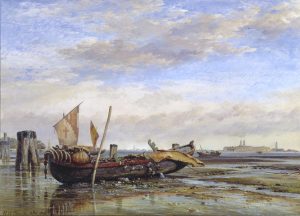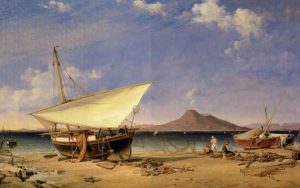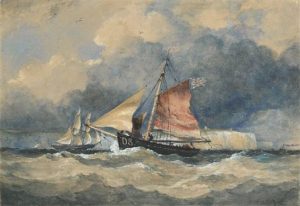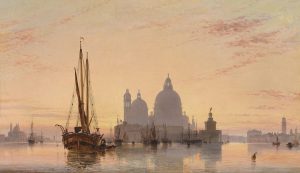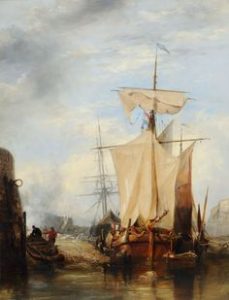 Death and Legacy of Edward William Cooke
Edward William Cooke died on the 4th of January 1880. He is remembered for his excellence in marine painting and the diverse life he lived with the many skills he excelled at. His contribution to horticulture and geographical science is the niche factor he carries as an 18th century Victorian Artist.