The Edwardian Era in the United Kingdom is marked by the reign of King Edward VII. The period ranges from 1901 to 1910 which is often conveniently extended to 1912, the year Titanic submerged. Unlike his predecessor Queen Victoria, Edward was a man of his times, fashionable, extrovert and elite who set new standards of art and fashion in the society. He was a keen traveler.
Changes in clothing during Edwardian times
He created an entirely new set of norms in the British society breaking the shackles of conservatism. Excluded groups especially women were getting more and more politicized. It was from here that the Feminist movement picked up in England. Generally a class based stratified society, most British men embraced sports. Leisure sports more so, mostly upper-class elite men. More subtle development rapidly took place in fashion. A flexible dressing was preferred.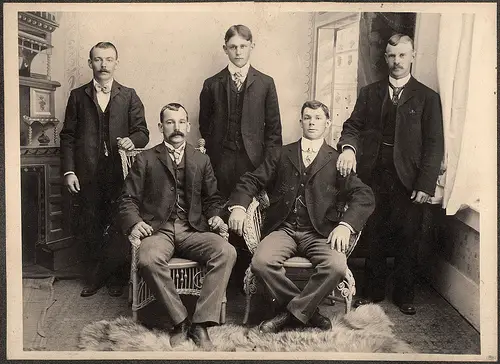 Tight body hugging corset or bodices were modified as per convenience and later its daily usage was slowly abandoned. Due to the kind of society then, the conservatism of British society was broken. There were talks of granting women's suffrage. One might say that the men were trying to accommodate women in their social lives as something much more than their bed partners. At the brink of the Modern times, Edwardian men were open in their thinking.
Much later in the 1960s, the Edwardian movement made a comeback. In the year 1966, its effect was felt the most. The fashion of the yester years came back in demand. Brian Jones of Rolling Stones popularized Double breasted suits in velvet which were sported with brocade waistcoats, shirt, frilled collars. And men grew longer hair contrary to their previous shorter hairstyles. They had a dandified look about them, using a variety of colors in different tints and shades with more of stripes and different patterns.
It was in this time that Nehru jacket also became popular and has become synonymous with the clothing of Edwardian men. The Ivorian Sack suit somewhat loose and baggy was much in fashion. Formal shoes like boots and pumps usually go well with them and were thus worn. Men wore shoes called pumps which were specially designed for the tough job. The attire was complete with gloves and hat. A different gentleman from the Victorian times, an Edwardian Man had a tinge of Modernity about him. There have been many books and plays written about the Edwardian times and the way of life than to give a clear insight of their society.