Named after King Edward VII, this era broke the traditional shackles of conservatism and gave rise to a new lineage of pre-modern human beings. It was in this monarch's reign that the pillars for the modern world were laid. Worth mention here is the demise of child labour following strict measures by the judiciary and executive.
Edwardian servants were expected to be very disciplined and reliable. If not for the servants, the big houses of the Edwardian era could never have functioned smoothly. The servants stayed in servants quarters which were usually downstairs and were not expected to be seen at ease by the owners.
A butler was the most important servant of an Edwardian house and acted as the liaison between the servant and his master.
He was responsible for allotting work to the servants and making sure that all his masters instructions were followed closely by the servants. The butler was very much like a team leader who led his team for the successful maintenance and operation of the house. He was one of the few servants who worked directly under his master. The lower servants didn't expect any interaction with their lords and had to act invisible to them at all times.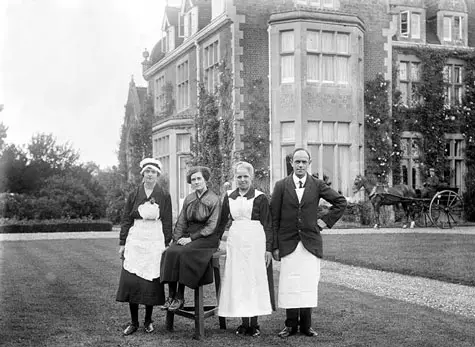 to be done in the Edwardian era
Leading a servant's life was not the easiest thing to be done in the Edwardian era as you had numerous do and don't to abide by. One had to be at the best of his/her discipline in front of their masters. The servants could never let their voice be heard to their masters lest it would sound unruly. Generally they weren't expected to start a conversation with a lady or a gentleman.
Talking to another servant in the presence of your mistress was considered ill mannered and so was calling from one room to another. Punctuality was another virtue required in every Edwardian servant. The use of abusive languages and swearing was severely punishable. Gambling was another activity strictly forbidden to servants. Also no servants were supposed to have visitors in their masters house.
An Edwardian ladies made was addressed to as Miss irrespective of her being single or married. She was expected to stick close to the mistress at all costs and get all the work allotted to her done by all means. Personal attendants to their ladies they occupied a respectable position amongst the servants.