Edwardian weddings were rich, elaborate and luxurious affairs. So high profile weddings were that they were published as newspaper articles.
During the Edwardian times, it became a popular trend to hold the wedding ceremony at 2:30 in the afternoon. For this reason, special permission had to be obtained from the church. Otherwise, it was the norm to hold wedding ceremonies in the morning.
The Wedding Gown And The Grooms Wedding Dress:
The wedding gown was a vital part of the Edwardian wedding process. The traditional wedding gown was either white or cream colored dress, usually made out of satin. The Edwardian wedding gown was decorated with lace. The dress also had a wreath made of orange flowers.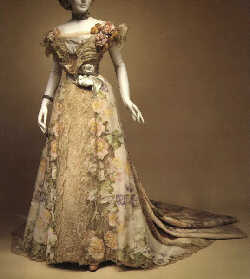 The gown had a train attached. The waste was sometimes cut open. Sometimes the Edwardian wedding gown had a low neck. The sleeves of the gowns were either short or they were elbow sleeved. The wedding gown was made out of very expensive materials.
A bride could wear till 6 months from her wedding date and attend parties that required full dresses. The train of the gown was really long. It generally measured 80 inches. Those who were tall brides wore trains till 90 inches long.
The Edwardian Wedding Ceremony
The wedding was an elaborate issue. The father of the bride took her to the church. Her friends and relatives waited there for her. The bride was then ushered by the bridesmaids and was escorted to the church by her father. The bride walked down the aisle with her father. The bride and the groom then kneeled down before alter where the wedding ceremony used to take place. Rings used to be exchanged between the couple and the priest used to declare them man and wife.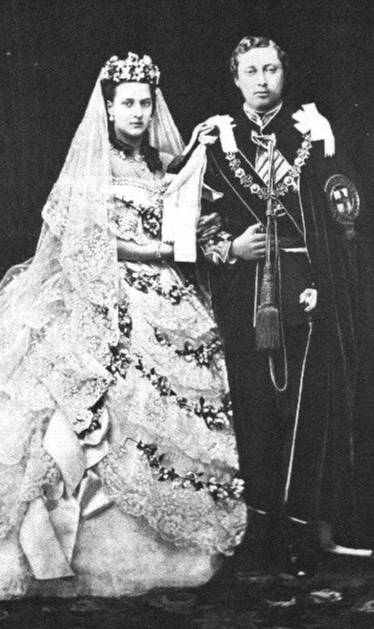 After completion of the wedding process, the bride and the groom hurried to the car and were driven home. In Edwardian England, a breakfast was held before the wedding. This was attended by the friends, relatives and guests of the couple. The guests used to feast on bread and champagne and cheer for the couple. In America however, this practice was not followed. There was a grand reception after the wedding had taken place.
However, those who were widows or those who married for the second time did not have such a grand wedding. Their wedding was considerably simpler.