Edwin Austin Abbey is one of the foremost figures in painting on the Shakespearean and Victorian subjects.  He flourished at the beginning of Golden Age of illustration.
Edwin Austin Abbey Hamlet
He is an American muralist with accuracy and attention to detail being his fort. His famous work of murals includes the Quest for the Holy Grail which adorns the Boston Public Library.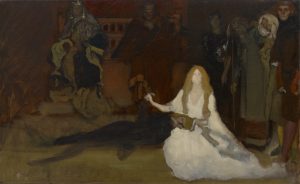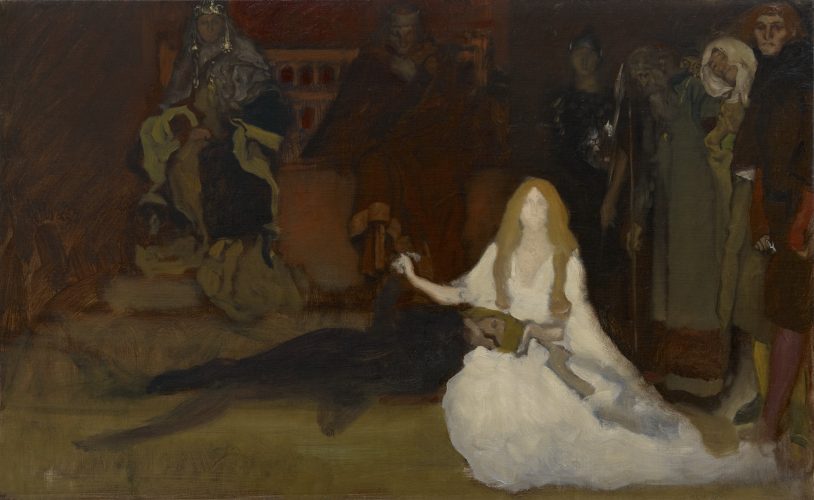 This great muralist did an excellent job in La Reine Dans Hamlet, Dans la Crainte, The Play Scene in Hamlet, the Queen in Hamlet, King Lear: Cordilleras farewell,  Fair is my Love, The Lady Anne, Who is Sylvia?, Anne Hutchinson on Trial, She Stoops to Conquer, etc.
Recognition and fame for Edwin Austin Abbey
Edwin began his works as an illustrator. It was the time of Golden Age of illustration. He produced a number of illustrations. His illustrations are greatly influenced by the French and German Black and White art.
Austin's illustrations began to appear in Harper's Weekly and Scribner's Magazine at an early age,  even before he was twenty.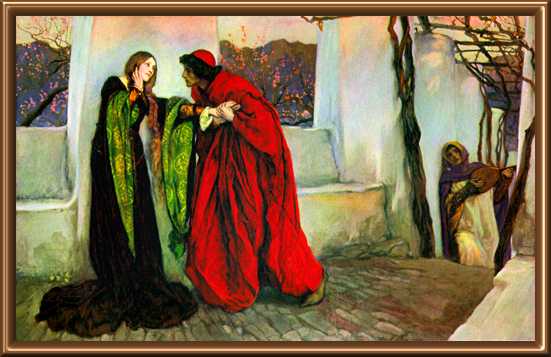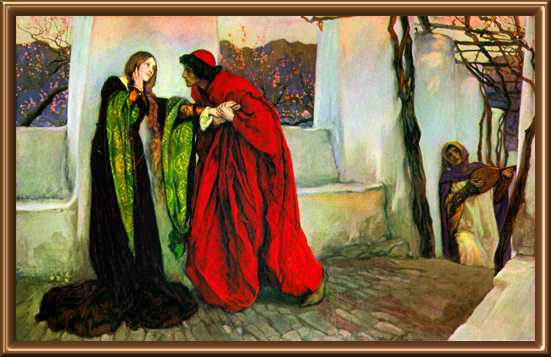 His also created sketches for Harper's Weekly initially. Abbey illustrated Selections from the poetry of Robert Herrick, Christmas Stories of Charles Dickens and Goldsmith's She Stoops to Conquer.
The Deserted Village by Oliver Goldsmith and even the four volumes of Comedies of Shakespeare from Harper & Brothers. His Shakespearean illustrations were executed on different media like a pen, oil, watercolor, and pencil.
Edwin Austin Abbey's Life
Austin was born on 1st April 1852. He hailed from Philadelphia in Pennsylvania. He was also a student of art under Christian Schuessele at Pennsylvania Academy of the Fine Art. He worked as a staff at the publishing house in Harpers.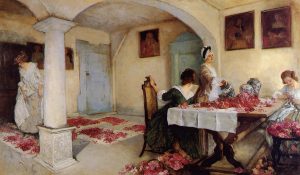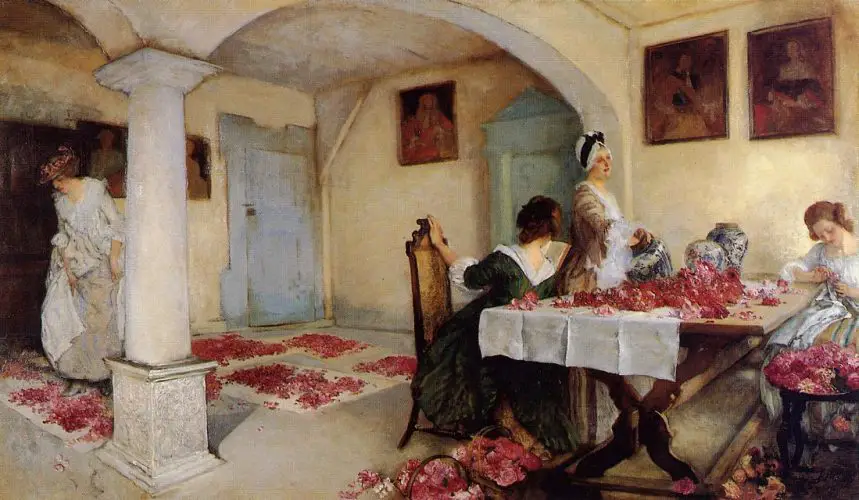 He achieved much success and recognition at the relatively young age of 19. In spite of that, he pursued a freelance carrier at the age of 22. He came to England in 1878 due to the accuracy of his drawing in Harper's Poem and settled there in 1883.
Edwin Austin Abbey Paintings
He got elected to the Royal Institute of Painters in Water Colours. He even received critical appraisals by S.G.W. Benjamin, the America author. His power of work was stunning from this period.
He even worked great with his pen. He used the pen as an artistic tool. When he was living in England, he had been inspired by great English and French artists of the days. He had built up a friendship with J.S. Sargent.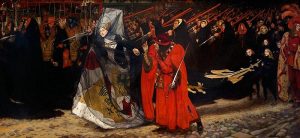 However, he likes to spend most of his time in his studio on Broadway. The two even worked together on certain occasions. In 1902, Edwin Abbey became the elected president of the Royal Birmingham Society of Artists. He traveled to Italy in search of more research.
Abbey got his second great mural commission at the new Capitol at Harrisburg, Pennsylvania to paint the coronation of King Edward VII. He passed away on August 1, 1911, in London, England at an age of 59.  He could not finish the work and it was still in progress.
Two of the rooms of the capitol was unfinished. The job was completed by Violet Oakley, who had completed the commission from the start to the finish using her very own designs. Austin maintained a prestigious stature in England as well as in the United States.
Edwin Austin Abbey King Lear
The rare combination of qualities that he possessed is enough to surprise people and attract them at the same time. He was practically self-educated and built up his own qualities.
Abbey visited many studios and galleries in Europe during his life. This contributed to his regular art education and helped him grow.
His inexhaustible creativity, clear and vivid conception, poetic perception are really admirable All of these qualities make him one of the greatest artists the world has ever exhibited.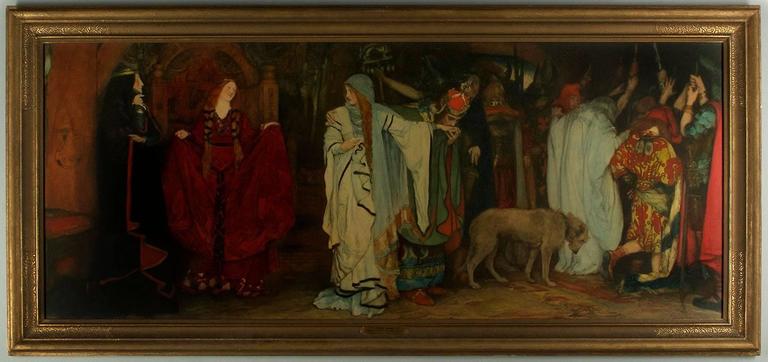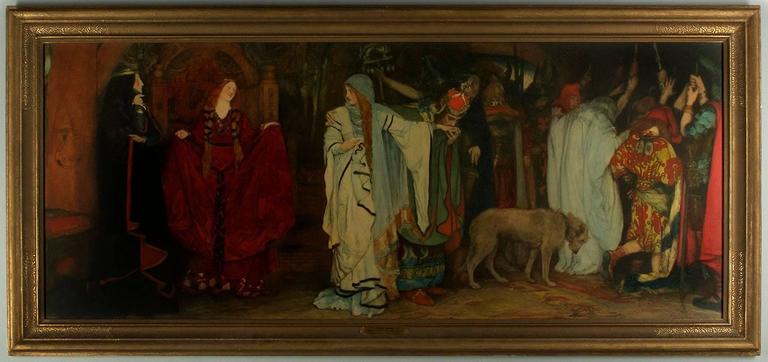 His composition of Tennis Match, Idyll in Central Park and the Young Girl with Blue Bow are designed with the help of pastel, pencil, and paper.
The others are created with watercolors. Abbey had also composed pen and ink illustrations in many books. Abbey had been elected to the National Academy of Design in 1902.
Edwin Austin Abbey's Styles
He was also elected to be a part of The American Academy of Arts and Letters. The publications were produced prolifically and his work had influenced the successive generations of illustrators.
He had married Gertrude Mead, who was the daughter of a wealthy merchant. She provided him with all the encouragement and helped him secure ambitious commissions.