Below is a detailed biography about George Stephenson who is regarded as the 'Father of the railways', after he built the world's first railway (including the Manchester-Liverpool line) and changed the face of the Victorian society and eventually of the world.
Early Life of
George Stephenson
George was born on the 9th of June in the year 1781 in Wylam, Northumberland. His parents were Robert and Mabel Stephenson and grew up with his siblings. His father was a simple breadwinner of the family that worked as a fireman and could barely afford to educate his children.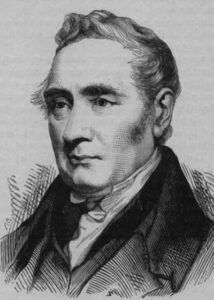 At the age of 17, George became an engine man at Water Row Pit who sponsored his education that he had to pursue at a night school. He was a quick learner and could read and write as soon as the age of 18 years. He was also solving arithmetic soon after.
Later, he continued work as a 'brakeman' and was controlling the winding gear at the pit. 
In the year 1811, after going through a lot of turmoil in his life, he moved back to Killington with his father and son. Here, he continued to work as a brakes man when the High Pit had dis-functioned. George offered to fix it, and did a good job, impressing all the high officials who decided to promote him. He was now responsible for the repair and maintenance of all colliery engines. 
Soon, he became an expert in steam driven machinery.
Personal Life of George Stephenson
George married Frances Henderson in the year 1802 when both of them were quite young. He moved to Willington Quay with his wife. During these days, he was mending clocks and shoes along with his hard engineering work to supplement his income.
Together, they had a son named Robert and moved to Killingworth where he took up another job as a brakesman. In 1805, they had another child, a daughter who died an infant.
In the year 1806, George's wife Frances passed away of tuberculosis. He then decided to move to Scotland with his son. He came back to England in a few months to move back in with his father and unmarried sister. 
George Stephenson's Safety Lamp
In the year 1815, George decided to come up with a safety lamp that didn't cause an explosion in a gaseous atmosphere, much like most of the safety lamps present in the time. Many scientists were also working on the problem. However, despite of his lack of knowledge in science and technology, with his skills of observance and experimentation, he devised his version of a safety lamp.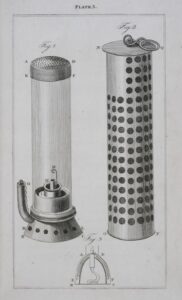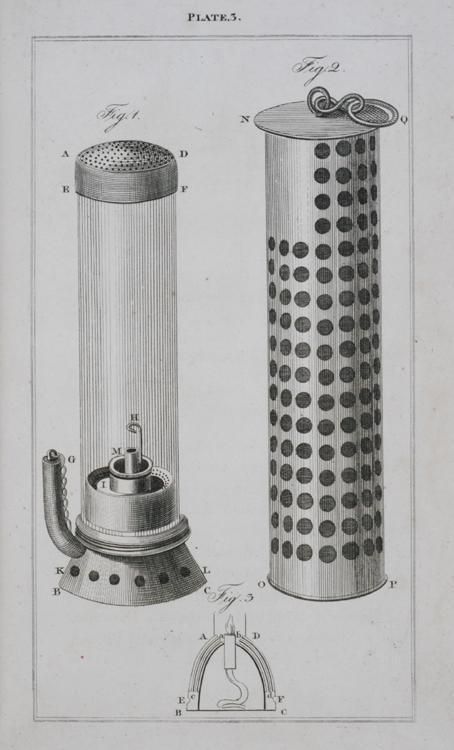 The mechanism behind this were tiny holes through which the air entered but the flames of the lamp could not pass. This revolutionary device was presented to the Royal Society along with Humphrey Davy who was presented his work. Both prototypes were seen, however, Davy's design and devise were found more efficient.
Davy was awarded 2000 pounds for his invention. Stephenson might have had to face defeat here as he was not a scientist or had a sufficient degree of education. After a few years, a local committee gathered together to analyze the situation and proved that George has been working separately. Due to massive support, he was awarded 1000 pounds for his invention.
It can be concluded that the Davy lamp gave more light but the Geordie lamp was a safer option.
Early Locomotive designs by George Stephenson
Stephenson designed his first locomotive in the year 1814, however, a similar design was already made by a Cornishman a couple of years before. This was mainly to transport coal. With the support of a Prussian General, the construction of this locomotive began under the leadership of George Stephenson. 
Successfully built, this locomotive could haul up to 30 tons of coal up a hill at a speed of 6.4km/hour. It was the first successful flanged wheel adhesion locomotive.
It certainly did not stop here for George Stephenson as he is said to have built at least 16 such locomotives. He kept upgrading his versions of the locomotive with each new which allowed him to analyse the effect of the locomotives on the railroads. 
This is why he partnered with William Losh and also contributed to improve the design on the cast iron edge rails. This resulted in the reduction of breakage and better quality ironworks. He practiced the concept of 'distributing' weight in equal rate. He suffered losses too but did not stop the game until he succeeded and got his design patented.
Major Railway Projects b
George built the 8 mile Hetton colliery railway in the year 1820. This was inaugurated in the year 1822. He also built a locomotive in the year 1817 called 'The Duke' for the Kilnaroon and Troon Railway. It was completed in 1824.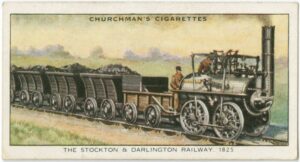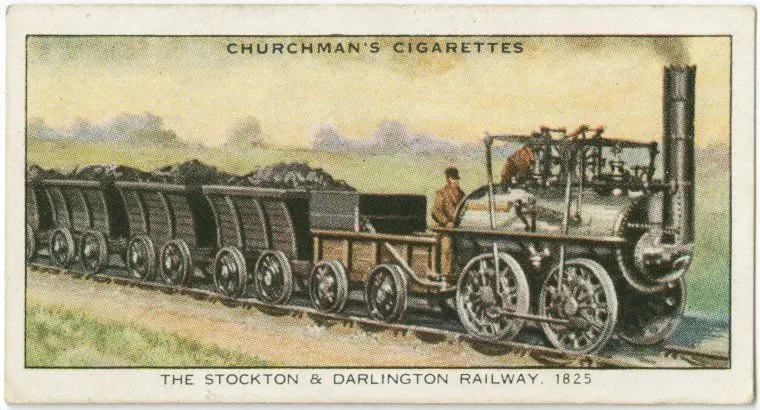 One of his major works also includes the Stockton and Darlington Railway. It was 25 miles long and passed Darlington on the way. Robert, son of George Stephenson, who was 18 years old at the time worked as an assistant to Edward Pease on this project. Pease and Stephenson together opened a manufacturing plant for locomotives and supplied them for this project. It was called Robert Stephenson & co.
The railway opened in September, 1825. 
As he went on developing new railway projects, he learned and developed new concepts around the constructions and drew various conclusions. It was more of learning from experimentation. He used pre-learnt knowledge in new projects as he did on the Liverpool and Manchester Railway project. It involved complex cuttings and embankments at different levels. The project approached completion around 1829. 
Later Career 
There were a lot of railway promoters that approached him toward the end of his career. The first American railroad projects were asked to be run through him. He was much faster in terms of calculating costs and paperwork.
His company did experience competition toward the end of his however, his flow of income kept increasing. He worked on the North Midland railway from Derby to Leeds and also on the Sheffield and Rotherham among the many.
Consulting Stephenson was an act of assurance more than the technical aspects of the railway project. 
Legacy 
George Stephenson played a major part in the Industrial Revolution by means of his contribution to railway. This led Britain to lead the development of railways across the world. Much of his work was later assistant by Joseph Locke who also played a major role in this industry.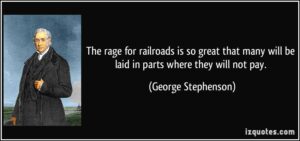 He was named one of the "100 Greatest Britons" by BBC UK and was placed at no 65. Victorian Biographer – Samuel Smiles published his first biography in the year 1857. By the year 1904, 250000 copies were sold worldwide. 
His birth anniversary was celebrated at the Crystal Palace by 15000 people. There is a George and Robert Stephenson Museum in North Shields after the two of them. Plenty of his cultures can be found all across Europe and the world.