Parentage
The Grossmith brothers were born in London, growing up in Hampstead and St. Pancras, London. Their father, George Grossmith, worked for 'The Times', among other such newspapers, as the chief court reporter. Their mother was Louisa Emmeline Grossmith née Weedon.
George Grossmith
George Grossmith was born on December 9th, 1847, in London. He was an English singer and comedian, while also being the creator of multiple of the primary characters in the original productions of Gilbert and Sullivan light operas at Savoy Theater.
He gained an education at Massingham House, in Hampstead, at the North London Collegiate in Camden Town and at Simpson's School.
Before starting his career as a public entertainer, he worked in the field of journalism. However, in 1870, he began working on songs, sketches, and recitations, in order to entertain the masses.
His extended and important association with Gilbert and Sullivan started in the year 1877, in London, at the Opera Comique, in the comic opera" The Sorcerer".
He then went on to create multiple characters in their comic operas from 1877 to 1889, characters such as including the Major-General in The Pirates of Penzance (1880), Sir Joseph Porter, in H.M.S. Pinafore (1878), and Ko-Ko in The Mikado (1885–87).
In 1889 George parted with the Savoy and started his work as an entertainer again. During this course, he travelled to all the major cities of the US and UK. His performing career lasted for more than forty years. He, being a writer and composer, creating around 100 musical sketches, 18 comic operas, around 600 songs and piano pieces, among other works.
He wrote an autobiography called A Society Clown co-authored, with his brother Weedon Grossmith, the Diary of a Nobody.
He died on March 1st, 1912, in Folkestone.
Weedon Grossmith
Walter Weedon Grossmith was born on 9th June 1854 and died on 14th June 1919. He was better known as Weedon Grossmith. He was an English painter, playwright, actor, and writer, famous for his co-authorship of The Diary of a Nobody (1892) with his brothers.
As he was interested in art, he got training as a painter at the West London School of Art, the Slade and the Royal Academy. His ambition was to become a portrait painter; however, he could not achieve is a dream, however, he went on to become a notable figure in the performing arts.
He had portraits hung at the Academy, such as the full-length portrait of his father, at the Grosvenor Gallery and elsewhere. However, his career as an artist did not soar as successfully as he had expected.
Although he got training as a painter, but could not use his gifts to sustain himself, he couldn't make a living, and therefore went on the stage primarily for monetary reasons. He turned to be quite successful as an actor and impresario and went on to write multiple plays.
He redefined his characters so much so that they were identified with him, and the "Weedon Grossmith" act became a regular act for the theatre, and still is till this day. His characters were primarily comedy centric, typically being harassed and prone to scheming.
George and Weedon Grossmith's Diary of a Nobody
The Diary of a Nobody is the magnum opus of the Weedon brothers. It is a comedic novel written by the brothers, with illustrations by Weedon.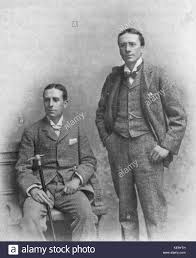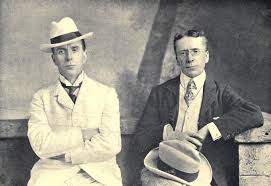 It originated as a serial in Punch magazine for a year, from 1888 to 1889, with having its first appearing in book form, and later integrating extended text and illustrations, in 1892.
The Diary is a record of the daily events of the lives of Charles Pooter, a clerk residing in the suburbs of London, including Carrie, his wife, William, his son, and multiple friends and acquaintances for a period of 15 months.
This book, often considered as a comic masterpiece entails the daily life of the preposterously pompous and unfortunate Charles Pooter, deriving humour from the nasty situation life puts him into, and as he deals with them, the readers find a source of delight and humour.
The book inspired many noteworthy writers, such as Helen Fielding, J.B. Priestley, Sue Townsend, and Evelyn Waugh.
The book's initial reception was quiet, however, that was not for long, soon the Diary started to gain attention, eventually coming to be considered as a classic work of humour by public and critics alike, causing it to never ho out of print. The book also aided in establishing a genre of humorous fiction centred on lower, or middle-class ambitions.
The Diary has been adapted into several stage and screen adaptations, such as a four-part TV film scripted by Andrew Davies in 2007, a stage version in 2011, and Ken Russell's "silent film" treatment of 1964.