Francis Danby was born on 16th November 1793 in a small town of South Ireland. Danby's father was a farmer and owned a small land near Wexford. Francis' father had done two marriages and Francis was a child of his father's second wife. Francis had one twin brother, Thomas Danby and one sister Frances Olivia. Thomas Danby died in his Childhood.
In 1798, when there was Irish Rebel, Danby's family had to migrate to Dublin. Francis started his studies in Dublin Society's school. Francis' father died in 1807 when Francis was just a school going boy. After the death of his father he decided to take art as his bread and butter.
He took the lessons of drawing in the classes of the Royal Dublin Society after which he had a strong passion and desire to be a painter. Under the guidance of James Arthur O'Connor he began painting landscapes. Another painter George Petrie also guided Danby for his paintings and was a good friend of O' Connor and Danby. This is when the Danby started his journey of becoming one of the legendary painters of Romantic Victorian Era.
Danby's first painting 'An Evening Landscape' was exhibited at Dublin in the year 1812 and got sold for 15 Guineas. O' Connor and Danby shifted to London with Petrie in 1813. However, Petrie left them soon. After this their funds ran short and they had to start a return journey back to their home. On their walking journey to their home they halted at Bristol. There Danby made his livelihood initially by painting and selling two sketches of Wicklow Mountains to a Stationer Mintron for Eight Shillings.
Danby decided to stay at Bristol. This decision was taken by Danby under the influence of Mintron's Son. O' Connor however returned to Ireland. Danby was patronized by Bristol city. This influenced him to make a hasty and indiscreet decision of getting married.
In 1817 he visited Norway and Scotland. At Scotland he got a chance of exploring his skills and with his artistic view he was able to make his first art contribution to Royal Academy. After recognizing his strengths and powers, he  made a milestone contribution of three paintings, famous as 'The Upas Tree' exhibited at British Institution in 1820, 'Disappointed love' exhibited at Royal Academy in 1821 and 'Clearing up after a Shower' again exhibited at Royal Academy almost after a year that is in 1822.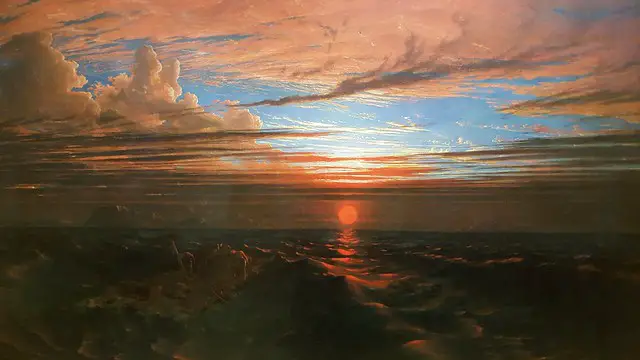 Year 1824 was another milestone for Danby when his grand marine painting 'Sunset at Sea after a Storm' got sold at very high price. Sir Thomas Lawrence purchased it for a high price.
In 1825 Danby shifted back to London for some span of time. Though he shifted to London his Artistic nature was busy in some new pictorial creations like 'The delivery of Israel out of Egypt'. This is one more historical painting by Francis Danby. Further he also made another poetic painting of similar style known as' The opening of Sixth Seal'. It is well known for engravings. This painting was purchased by Beckford.
The year 1825 was like a turning point for Francis Danby as after exhibiting his painting 'The Enchanted Island' Danby was elected as an Associate of Academy.
Like everybody's life Francis also faced some domestic and personal difficulties in his own life. To Francis' guilt, his' marriage fully collapsed. His wife married with Bristol Artist Paul Falconer and left London. This scandal was unforgettable for people and him. Due to this incidence, Danby abruptly moved to Paris in 1830.
After moving from England, Francis was living on the Lakes of Geneva till 1841. Here he was making his livelihood by yachting and boat building. Along with this he was also selling his drawings which he executed for Albums. These years were hard for Francis and he could contribute only two Pictures to Academy, which failed in getting the importance from Art lovers and Academy. However his one of the paintings namely 'The Deluge' was separately exhibited in 1840.
In 1841 also he exhibited one of his paintings known as 'The Sculptors Triumph' and some other pictures at Academy. He then returned to England and resided at Lewisham. Further in 1847 he shifted to Shell House. From 1841 onward he was consistently contributing Academy with his Poetic Landscape art work. However his domestic difficulty stopped him from getting a title of Honours from other geniuses. He stopped painting the pictures of Martin style and concentrated only on Poetical Landscapes.
These landscapes were having the effects of Sunset and Early Mornings. During this period some of his paintings got a success and they are famously known as 'The Fisherman's Home', 'The Evening Gun' painted in 1848, and 'The Wild Sea Shore' of 1853. He also made two ambitious and classical Landscapes known as 'The Departure of Ulysses from Ithaca' of 1854 and 'Venus Rising from the Sea' of 1860, just before one year of his death. There were some more landscapes painted by him and were exhibited at British Institution namely, 'Calypso Lamenting the Departure of Ulysses' and ' The Grave of the Excommunicated'.
Francis Danby ended his journey of life on 10th Feb, 1861 at Exmouth. 'A Dewy morning' was his last picture that was found on easel after his death. In his 63 years of life he exhibited only 46 paintings. Most of his paintings were imaginative and had no direct relation with real nature. They were completely poetic. He limited his range and was famous in public for his glowing sunsets and was more recognised as poetic painter.
Danby's paintings were many times formal or theatrical. 'Bristol Daily Press' described Danby as warmth of Friendship. It is also said that he was very kind and helpful to young artists and was famously known among them at Exmouth for same. He was not only a good artist but also a good friend and guide for young talent. He maintained his friendship with Petrie for lifelong.
In spite of his domestic difficulties he continued painting landscapes and contributing to the world of art. He was a true artist.