Frank Bramley (1857-1915) is considered the forefront of British Impressionism. He is one of the most important Victorian times English post-impressionist genre painter of the Newlyn School, the group of artists who settled in Newlyn, Cornwall during the 1880s and 1890s.
Frank Bramley Biography
Bramley was born in Sibsey, near Boston, in Lincolnshire and was trained at Lincoln Art School, later at Verlat's Academy in Antwerp, from where he went to Venice in 1882-83, where his painting was executed.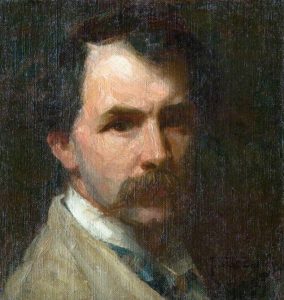 His first painting was shown at the Royal Academy in London in 1884. Bramley established himself in the Newlyn School artist colony after returning from England after 1884.
Frank Bramley Early Life and Career
Soon Along with Walter Langley and Stanhope Forbes, he was considered to be one of the "leading figures" of the Newlyn School.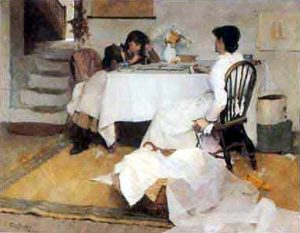 Bramley married fellow artist Katherine Graham in 1891. He regularly exhibited at the Royal Academy from 1884 to 1912. Bramley was elected an associate of the Royal Academy in 1894, being elected a full member in 1911.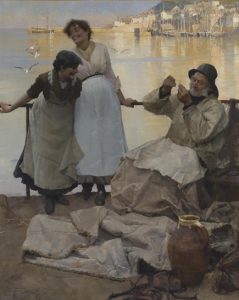 His last years were spent in a London flat, straining his days under the pressure of a painful illness. He died in 1915 aged 58 and an honorable obituary in The Times described him as a modest, quiet, sweet and gentleman.
Frank Bramley's Style Of Painting
Bramley specialized in interiors and worked on combining natural and artificial light in his paintings. He was the pioneer of the 'square-brush technique'.
In this technique he used the flat of a square brush to lay the paint on the canvas in a jigsaw pattern of brush strokes, giving a particular vibrancy to the paint surface. An example of Bramley's use of the square brush technique is his painting Domino.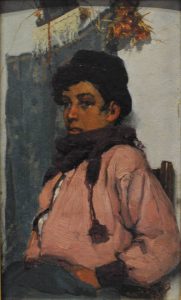 In the early 1890s, his palette became brighter and his handling of the paint looser and more impastoed, while his subject matter narrowed to portraits and rural genre paintings.
Frank Bramley'S Works
A Venetian Market Girl, 1883.
Primrose Day, 1885.
Everyone His Own Tale, 1885.
Domino, 1886.
Eyes and No Eyes, 1887.
A Hopeless Dawn, 1888.
Saved, 1889.
Such is the Kingdom of Heaven, 1891.
Old Memories, 1892.
After Fifty Years, 1893.
Sleep, A Portrait of Mrs. Bolitho, 1895.
After the Storm, 1896.
Friends, 1907.
More Info On- Antoine Louis Barye, John Pettie, Dickinson Lowes Cato, Rudyard Kipling