Frank Stone (22 August 1800 – 18 November 1859) was an English painter who despite having no formal training in painting, attracted the attention of Public as well as other established London artists.
Frank Stone Biography
He was born in Manchester. his father was a cotton spinner. He attended school at Manchester and later at Prestbury, Cheshire. Until the age of 24, he worked in his father's firm.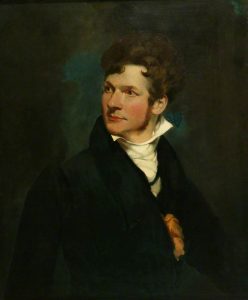 After which he retired taking a small share in the business leaving a secure position in his family's textile firm in 1824 to become a free-lance artist. He was entirely self-taught.
Frank Stone Painter
He was elected an Associate of the Society of Painters in Water Colours in 1833 and Member in 1843; and an Associate of the Royal Academy in 1851.
In the mid-19th century, Frank Stone also served as the principal fine arts reviewer for the influential literary journal Athenaeum.
He was a vocal opponent of the Pre-Raphaelite style and published several unfavorable and critical reviews of the works of the Pre-Raphaelite Brotherhood.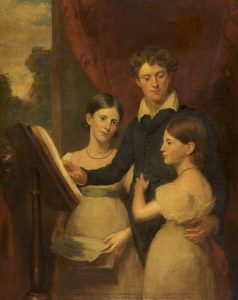 Charles Dickens first became acquainted with Frank Stone, one of the founding members and Secretary of the Shakespeare Society, in March 1838.
Although the society lasted from 1837 to 1839, Stone was often a member of Dickens's subsequent amateur theatricals.
Early Life And Career Of Frank Stone 
They worked together on many projects afterward. After 1851 Stone became a neighbor as well as a close friend. They mutually helped each other, when Stone was returning To Manchester for the first time since 1824, Dickens agreed to write a speech for him.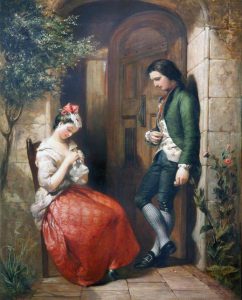 At age 59, Frank Stone died suddenly of an aneurysm, and was buried in Highgate Cemetery; Charles Dickens fulfilled all his duties of a friend and made all the funeral arrangements, counseled the family.
Frank Stone Facts
He even provided the artist-son, Marcus, with letters of introduction, and taught the other son, Arthur, short-hand in order to equip him for employment as a journalist or court-reporter.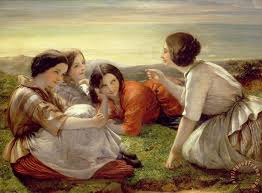 Marcus illustrated Great Expectations and Our Mutual Friend for Dickens. later on, Marcus gave up book illustration and became an accomplished painter.
Frank Stone's Style Of Painting And Works
Frank Stone is considered one of the most graceful English painters. His subjects have common sentimental character and are distinguished for their delicate presentation of the gentle passion,
And his portrayal of young women seems very lovable. In later years he turned his attention much to French subjects, illustrating local manners and customs.
Some of his works include The Legend of Montrose,1840
Stolen Interview between Prince Charles and the Infanta of Spain,1841
The Last Appeal, 1843
The Course of True Love, 1844
Ophelia and the Queen, 1845
The Impending Mate,1845
Mated,1847
The Gardener's Daughter, 1850
A Scene from the Merchant of Venice, 1851
The Old Old Story,1854
Bonjour, Messieurs, 1857
Missing Boat, 1858
More Info On- John Brett, William Lamb, Mary Shelley