George Augustus Moore was born on 24th February 1852 in Ballyglass, County Mayo, Ireland.  The Irish novelist, short-story writer, poet, art critic, memoirist and dramatist was an influence in the late 19th century.
George Moore: Short Biography
He is remembered as the propagator of Naturalism in English and Irish literature. He was also a Modernist in his rebellion against Victorian mores and conventions.
Early Life
George Moore's came from a Catholic family of Irish landholders. His family had lived in Moore Hall, near Lough Carra, County Mao for a century. As a child, Moore cherished the works of Walter Scott, which his father read to him. He spent most of his time with his brother, Maurice George Moore, and befriended the young Willie and Oscar Wilde during the summer holidays.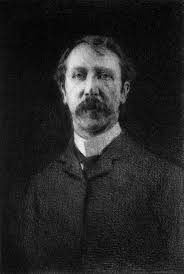 Moore's education started at St. Mary's College, Oscott, a Catholic boarding school near Birmingham. He was a rebel who refused to study and spent time reading novels and poems. Eventually, Moore was expelled by the summer of 1867.
Art Student
In 1868, George Moore's moved with his family to London. He unsuccessfully attended the School of Art in the South Kensington Museum. Moore handed over his family estate to his brother Maurice when their father died in 1870.
He was in search of an artist who would accept him as a pupil. A shepherd and circus masked man, Monsieur Jullian, took him as a pupil on for 40 francs a month.
Paris
At the age of 21, George Moore left for Paris. He self-published his first book, a collection of lyric poems called The Flowers of Passion in 1877. Moore also described the Café Nouvelle-Athenes and the impressionist painters who visited it in Reminiscences of the Impressionist Painters.
Moore befriended Édouard Manet, who sketched three portraits of him. He was forced to return to Ireland in 1880 to raise £3,000 to pay debts sustained on the family estate due to his tenants refusing to pay the rent and the drop in agricultural prices.
London
While in Ireland, George Moore decided to abandon art and move to London to become a professional writer. His first novels,  A Modern Lover and A Mummer's Wife, introduced a new note of French Naturalism into the English scene. He published his second poetry collections Pagan Poems.
He introduced the younger generation in England to his version of fin de siècle, his first autobiography, Confessions of a Young Man.  The Modern Library chose it in 1917 to be Included in the series as "one of the most significant documents of the passionate revolt of English literature against the Victorian tradition."
Moore had an interest in tackling issues such as prostitution, extramarital sex, and lesbianism. Because of this, he had to face controversy in his career.
Legacy
Esther Waters (1894), deals with the plight of a servant girl who has a baby out of wedlock; it is a story of hardship and humiliation illumined by the novelist's compassion, is still his best work.
Moore died at his home at Ebury Street in the London district of Belgravia in 1933, leaving a fortune of £70,000. Moore's contribution to the Irish Literary Renaissance and to the development of the Irish National Theatre is unmatched.