George Peter Alexander Healy born on 15th July 1813, in Boston, the United States to William Healy, an Irish navy captain and his wife Mary Hicks. He was the founder of the Art Institute of Chicago.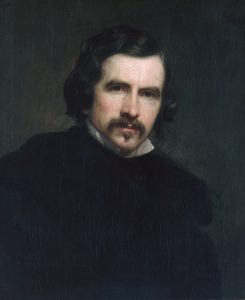 Healy was elected as an as an Honorary Academician into the National Academy of Design in the year 1843.
George Peter Alexander Healy: Early life as an Artist
After the death of William Healy, it was his responsibility to support his family at an early age. He ambition was to be a painter since the age of sixteen. Jane Stuart, daughter of Gilbert Stuart helped Healy by all means, even loaned him a Guido's 'Ecce Home', allowing to make prints and sell them.
She made him acquainted with Thomas Sulley. In 1830, he started his career by opening a studio in Boston as a portraitist after receiving words of encouragement from him.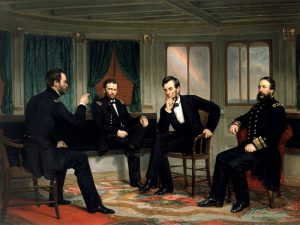 Initially, the commision was at sparse but he soon gained recognition having Mrs. Harrison Gray Otis, a leader in Boston society as his patron, who further recommended his talents to other potential patrons. This led him to become successful within a short span of time.
In 1834, Healy went to France leaving his mother with enough fortune. He stayed in Europe for the next sixteen years where he studied with Baron Antoine-Jean Gros and Thomas Couture.
He won a third-class and a second-class medal in 1840 and 1855 respectively after he exhibited "Franklin urging the claims of the American Colonies before Louis XVI" in the Paris Salon.
George Peter Alexander Healy's Later life as an artist
Healy met his wife, Louisa Phipps in 1839 in England and was soon married. Soon after his career was thriving, painting a minimum of 50 portraits in a year. Healy returned to Washinton D.C in 1842, to paint President Tyler.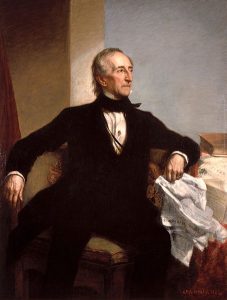 His commisions flooded in after he painted many eminent personalities which includes Daniel Webster, John C. Calhoun, Henry Clay, Henry Wadsworth Longfellow, Chief Justice Roger Brooke Taney, and a series of U.S. presidents from John Quincy Adams to Ulysses S. Grant.
George Peter Alexander Healy Biography
Healy kept going back and forth to all his studios in Paris (1834–55 and 1873–92), Chicago (1855–67 and 1892–94), and Rome (1867–73) over the years. After receiving his medal in Paris he traveled back to Chicago. He made it his base of work in Boston, Philadelphia, New Orleans, and other cities.
During the Civil War, he often painted military figures and cabinet members, until 1867 when he returned to Europe to fulfill his commissions.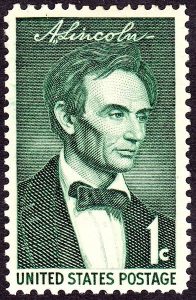 He along with his wife and one daughter finally settled in Chicago in 1892 where he penned down his autobiography. "Reminiscences of a Portrait Painter" was published in the year 1894. He passed away the same year on June 14, 1894.
Among his many portraits, Lincoln's portrait was used as a model for the stamp, issued on his 105th name day. His style of painting may have gone out of fashion, but it surely holds an influence on the history of art.
More Info On- John Philip, John Leech, Richard Dadd, Henry Nelson, William Powell