Hunter Colin was a sea painter born on 16 July 1841 at Glasgow. Some critics felt that his style of using oil paints was heavy and lacked flow and flexibility,
But the fact is that his drawing was effective, robust and possessed a poetic apprehension of specific effects of light as well as atmosphere.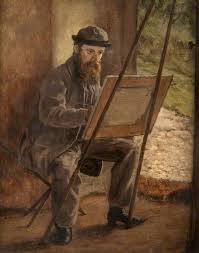 He closely studied nature and carefully wrought the scenes in his paintings.
However, he produced some of the excellent landscape paintings later of which the best is "The pool in the wind" which was displayed in 1897 in the Liverpool Gallery.
Hunter Colin Early Childhood
Hunter was brought up at Helensburgh beside the lovely sea lochs and hills. However, it was only by the end of the 1860s that he took sea-scape seriously. He showed the first picture, "Taking in the nets" at the Royal Academy in 1868.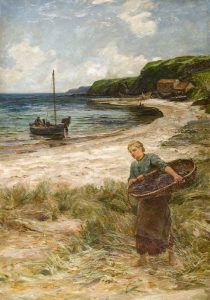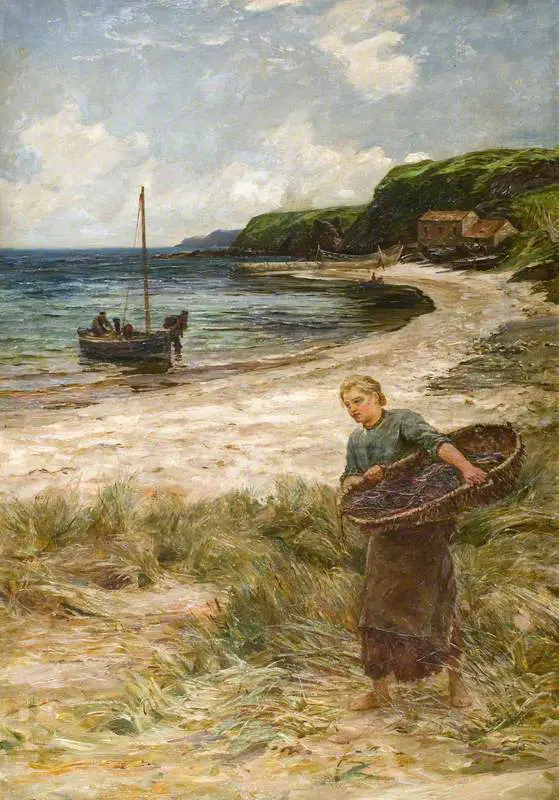 After having a studio for three or four years he left Edinburgh for London although he had achieved a considerable level of appreciation as a sea painter by then.
However, within a year when he displayed "Trawlers waiting for darkness" in Burlington House, the strength and originality of his work got absolute recognition.
Best Paintings and Specific Style
Hunter Colin's best pictures showed some seafaring or fisher life and at the same time reflected the pathetic sentiment of sunset or the dusky afterglow.
Talking about the characteristic features of Colin's paintings, we can say that they were low in tone and somewhat sad in feeling.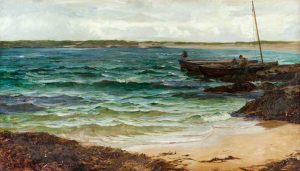 He occasionally used watercolors with vigor and freshness. He was also a member of the Royal Scottish Water Colour Society.
His further deep feeling and original observation supported his finer achievements making them more significant and memorable. Hunter has a quality of his own and his style left him without a rival.
Hunter Colin Biography
He considered sea as a beautiful quivering mirror instead of just a mass of moving water. That is the reason why his sea paintings had expression and feelings reflected in them.
He presented sea with its marvelous fluidity and change of color in different conditions of the atmosphere. Colin was considered as the master of collaborative and harmony of effect.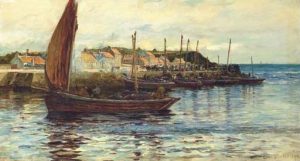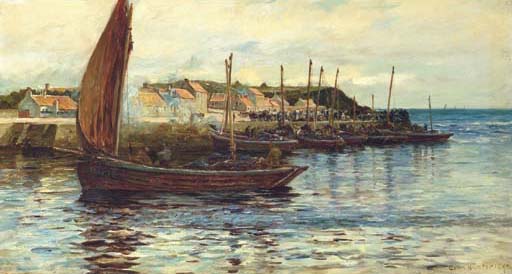 He had a keen perception of some poetic qualities of light and atmosphere which can be seen reflected in his paintings. In his paintings, a glamour seems to lie on land because of the way he presents the entire minute details of the atmosphere.
You can feel that the air is filled with a suggestion of mystery. He concentrated on displaying bright daylight with sun running on the curling waves, but they were less successful.
Later years
Colin Hunter's health failed and he was attacked with paralysis due to which his right hand got paralyzed. On 24 September 1904, he died at Lugar and was buried at Helensburgh.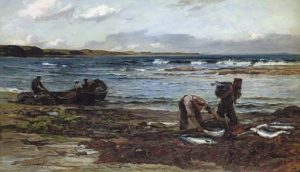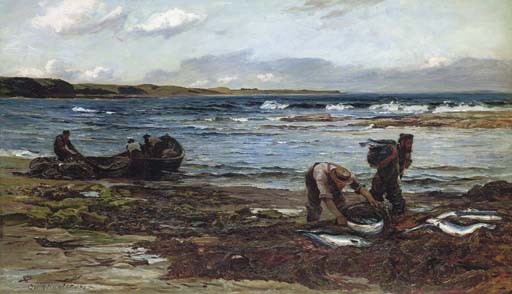 His marriage took place on 20 November 1873, in Glasgow with Isabella, who was the daughter of a surgeon-dentist, John H. Young. He was survived with wife, two daughters and two sons. His eldest son, Mr. J. Young Hunter became an artist.
More Info On- Patrick Branwell Brontë, John Wesley, Rudyard Kipling, Dickinson Lowes Cato, John Everett Millais, John Pettie, Victoria Princess Royal