Jacques Joseph Tissot was a French painter. He was born in 1836 and died in 1902.
The early life of Jacques Joseph Tissot
Jacques Joseph Tissot was the son of Marcel Theodore Tissot and Marie Tissot. His family was well flourished and had a business of their own and also used to design hats. His father was not too enthusiastic about his son in becoming a painter. But later when he saw his son's talent he finally agreed.
In the year 1856, Tissot went to Paris to learn the subject painting. He went to Ecole des Beaux-Arts and was guided under the famous painter, James McNeill Whistler. During this time he also became friend with Degas, another celebrated painter. Tissot, like several other painters like Alma-Tadema and Edward-Burne-Jones, he changed his name to James.
After this, he started traveling to a lot of places. He started traveling to Italy and then to London.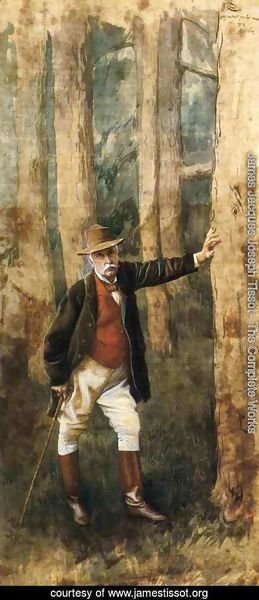 Achievements of Jacques Joseph Tissot
Tissot exhibited his paintings in the Paris Salon for the first time. He had showcased five paintings which depicted the scenes from the Middle Ages. His paintings had shown an influence of several other painters like Henri Leys, Peter von Cornelius, and Moritz Retzsch.
In the year 1860, the French Government had paid him 5000 francs for the painting," The Meeting of the Faust and Marguerite". It was also exhibited in the Paris Salon next year.
In the year 1862, Emile Pereire had supplied Tissot's famous painting, "Walk in the Snow", for the international exhibition in London. In the following year, Earnest Gambart had displayed three paintings created by Tissot at the London Gallery.
Till the year 1863, Tissot used to paint scenes from the middle ages but suddenly he started to paint contemporary life through his portraits. He had become extremely popular and had received critical acclaim for his paintings. He like his other contemporaries also explored 'japonisme', which are Japanese objects and costumes in his paintings.
Tissot started exhibiting his paintings in 1864 at the Royal Academy for the first time. As he had understood the importance of modern life he had started creating caricatures for the Vanity Fair Magazine.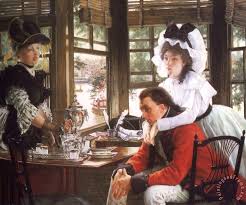 Tissot had also earned a great amount of wealth as his paintings were mostly brought by British industrialists. In the year 1875, he had met Mrs. Kathleen Newton, who decided to become a model for his paintings. He had first created her portrait and named it as "Portrait of Mrs. N", more commonly known as 'La frileuse'. They both used to live together in London for years.
Kathleen died in 1882 and then Tissot came back to Paris. In the year 1885, he had exhibited 15 paintings created by him called "La Femme a Paris". These paintings were of a different kind than he previously painted. He showcased in the pictures of different classes and types of women in different social and professional contexts. The influence of Japonisme was still present, but the framing and angles were absolutely different.
In the year 1885, Tissot decided to reconvert to Catholicism and spent most of his time illustrating the Bible. Tissot traveled to the Middle East in 1886, 1889 and 1896 to understand and create landscapes of people of the Middle East.
He had created 365 illustrations showing the life of Christ and he exhibited them in Paris, London, and New York. Finally, a museum in Brooklyn bought those illustrations from him.
During the last few years of his life, he was painting subjects from the Old Testament. The French government, in 1894 had awarded him the most prestigious medal, 'Legion d'honneur'.
Death of Jacques Joseph Tissot
Tissot had a sudden death while he was living in Doubs, France.
The Legacy of Jacques Joseph Tissot
Lemercier and Co. Had published a book of his paintings which he had also personally assisted them so that his works are published just like the way he wants them to be seen by his audience. Many volumes have been created.
Apart from this several museums had bought many of his paintings and many galleries still have his paintings today.