If any one faculty of our nature may be called more wonderful than the rest, I do think it is a memory. There seems something more speaking incomprehensible in the powers, the failures, the inequalities of memory, than in any other of our intelligence. The memory is sometimes so retentive, so serviceable, so obedient; at others, so bewildered and so weak; and at others again, so tyrannic, so beyond control.
Jane Austen: Probably to most famous woman writer?
Jane Austen is one of the celebrated writers of English literature. The theme of her books was the whims and fancies of English middle-class society. She successfully penned down the minute things concerning each middle-class family including their emotions like love, hatred, jealousy, pain and so on.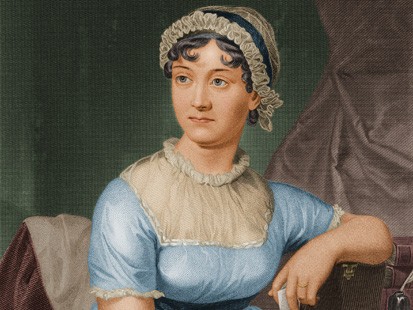 Jane Austen was born on December 16, 1775, in Stevenson, Hampshire. She was the youngest of the seven children. Her father, Rev. George Austen was a priest. Even when she was a child, Jane began writing short stories. She was blessed with a good collection of books, a possession of her parents. Her father encouraged her writing and helped her to get a publisher.
Jane Austen was taught by private tutors at home and later sent to school in Oxford and Southampton. It was around this time that Jane wrote the juvenilia which contained several parodies like love and friendship. As she was very well connected with the middle-class society of that period, she could portray the same in her works. Full of humour and wit, she described the way of life of middle-class women.
In 1800, Jane and her family moved to Bath. For five years, her family lived in Bath and she was working on a novel called the Watsons. In 1805, her father died.
Jane wrote a parody of History of England by Oliver goldsmith in 1791. But what is considered as her first serious work is Susan followed by another book Elinor and Marianne.
Famous works
Jane Austen completed only 6 works in her lifetime but made a name for herself.
Settled at a house in Chawton, Austen began to start her major works. Sense and sensibility was another hit among the readers. The earlier book Elinor and Marianne was rewritten as sense and sensibility. It was a story of two Dashwood sisters, Marianne and Elinor, who were in search of suitable husbands to secure their social position.
The book that helped Austen to make her own name in English literature was Pride and Prejudice. Published in 1796, its original name was first impressions. It was a story of Elizabeth Benet, the independent and intelligent daughter of a country gentleman, and Fitzwilliam Darcy.
Soon after pride and prejudice, Jane started working on Mansfield and the book was sold out in 6 months when it was published. Emma, her next book was published in 1815. Jane Austen remained unmarried throughout her life although she was active in social life and had male admirers.
Jane Austen died at the age of 41 in 1817. She was buried in the Winchester cathedral. Some of her works were published after her death.
Complete works list of Jane Austen
Novels
Sense and Sensibility (1811)
Pride and Prejudice (1813)
Mansfield Park (1814)
Emma (1815)
Northanger Abbey (1818, posthumous)
Persuasion (1818, posthumous)
Short fiction
Lady Susan (1794, 1805)
Unfinished fiction
The Watsons (1804)
Sanditon (1817)
Other works
Sir Charles Grandison (adapted play) (1793, 1800)[r]
Plan of a Novel (1815)
Poems (1796–1817)
Prayers (1796–1817)
Letters (1796–1817)
Juvenilia — Volume the First (1787–1793)[s]
Frederic & Elfrida
Jack & Alice
Edgar & Emma
Henry and Eliza
The Adventures of Mr. Harley
Sir William Mountague
Memoirs of Mr. Clifford
The Beautifull Cassandra
Amelia Webster
The Visit
The Mystery
The Three Sisters
A beautiful description
The generous Curate
Ode to Pity
Juvenilia — Volume the Second (1787–1793)
Love and Friendship
Lesley Castle
The History of England
A Collection of Letters
The female philosopher
The first Act of a Comedy
A Letter from a Young Lady
A Tour through Wales
A Tale
Juvenilia — Volume the Third (1787–1793)
Evelyn
Catharine, or the Bower
Famous Quotes
The person, be it gentleman or lady, who has not pleasure in a good novel, must be intolerably stupid.
I do not want people to be very agreeable, as it saves me the trouble of liking them a great deal.
A large income is the best recipe for happiness I ever heard of.
One half of the world cannot understand the pleasures of the other.
If I loved you less, I might be able to talk about it more.
It is a truth universally acknowledged, that a single man in possession of a good fortune, must be in want of a wife.
To be fond of dancing was a certain step towards falling in love.
For what do we live, but to make sport for our neighbors and laugh at them in our turn?
Ah! There is nothing like staying at home, for real comfort.
Selfishness must always be forgiven you know, because there is no hope of a cure.