Below is a detailed biography of Jerome Thompson, an American by birth painter and an exceptional artist. His works are well known and broadly recognized in England as well as America.
Early Life of Jerome Thompson
Jerome Thompson was born in a small town called Middleboro in Massachusetts, the United States in the year 1814. His father was a farmer by profession and was mildly into some portrait painting himself.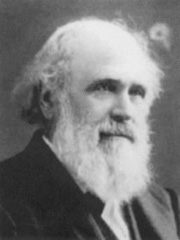 He wanted his elder son John to acquire these skills of painting and become a painter and wanted Jerome to be the one to take care of the farm and be a farmer.
Jerome Thompson Biography
He trained Jerome so but little did he know that Jerome was born an artist. He disregarded the idea of farming all his life and wished to pursue arts.
At a young age, he would draw signs, ornaments, etc. His father opposed the idea of Jerome becoming a painter and is known to have destroyed his paintings.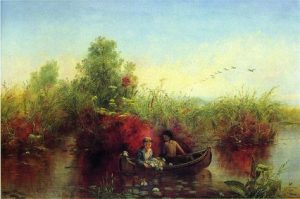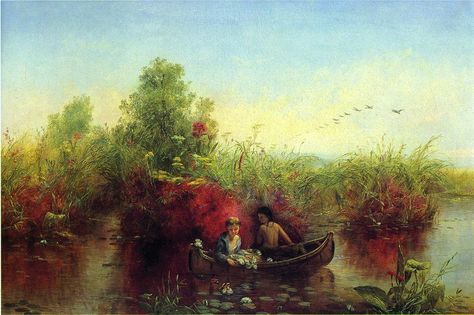 While he worked on the farms, he is known to have always carried a slate with him on which he would draw and kept this slate hidden in fear of his father.
He would do his painting work in a small attic room close to the farms where he was painting with his sister when his father broke in and destroyed the boy's artworks.
The Legacy of Jerome Thompson
Jerome Thompson took a stand against this and moved to Barnstable, Massachusetts, the United States with his sister as a young teenage boy thus beginning his career in art. He made a living by selling paintings of ornaments, signs and a couple of portraits.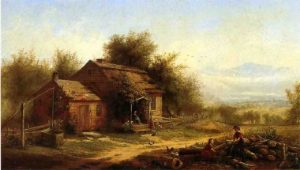 He was very much supported by his sister who he appreciated for always being there for him in good times and in bad.
Soon, he started a business by opening a studio in Barnstable, Massachusetts, the United States. He was applauded everywhere for his achievements and particularly appreciated in the newspaper of the city – The Barnstable Patriot.
Notable Works of Jerome Thompson
In the early 18th century, Jerome became a well-known artist in Massachusetts. He is known to have painted a portrait of Daniel Webster – a powerful American Politician and a US Senator. He has also painted the last Indian of the Nantucket Tribe – Abram Quary.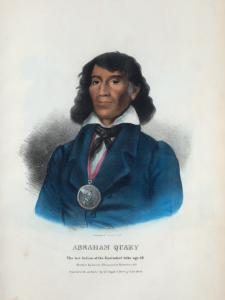 In 1835, he came up with his New York City portrait studio. Around the 1850's he became less known for portraits and greatly known for his landscape work.
Jerome Thompson Painting
In 1855, he exhibited the marvelous landscape work of "A Pic Nick in the Woods" at the National Academy of Design which not only created a huge demand but also acquired him a membership at the Academy.
The painting is a detailed demonstration of the picnics of people supposedly in England. Every person's activity in the painting has something to say about the medieval social life, mostly women, and their different portrayals.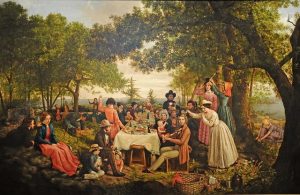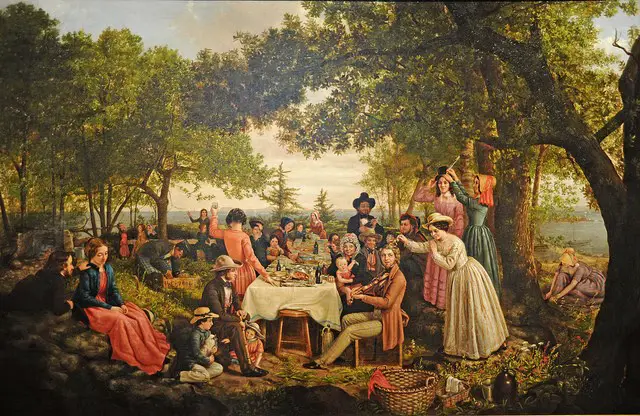 In 1852, he moved to England for his independent study and remained there for several years.
He was appreciated from all over for his works such as "The Haymakers" in 1859 and "Apple Gathering" in 1856 which currently hangs in the Brooklyn Museum of Arts.
Jerome Thompson Artist
He was known a the modern painter of the nineteenth-century art. Around the 1880s he is known to have moved back to the United States and was found living in Long Island,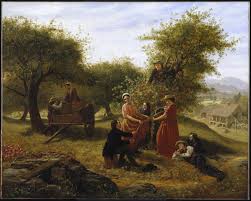 Where he painted the "Hiawatha's Homeward Journey with Minnehaha" and "Indian Prayer" in 1884.
Around the 1850's he came to be known as the artist of picnics and harvesting due to his extremely detailed works. He was excellent at capturing nature in his paintings and portraying them in absolute detail and skill.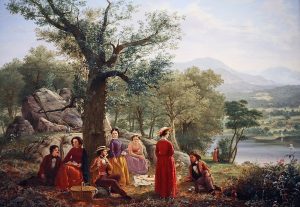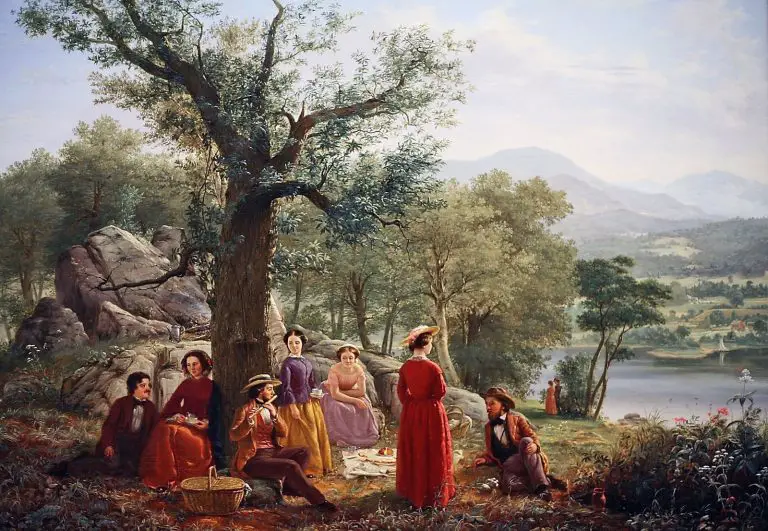 Some of his largely known paintings were the "Recreation" in San Francisco and "The Belated Party at Mansfield Mountain" which lies at the Metropolitan Museum of Arts, New York City, the United States today.
Jerome Thompson's Beautiful Works
The "Recreation" is a calm scenery of local women relaxing across a river with calm waters. "The Belated Party at Mansfield Mountain" is slightly threatening where the people might want to get off the mountain before the sun descends.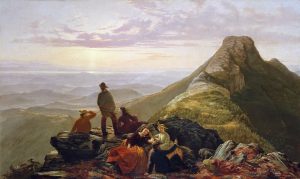 Some more beautiful works include "The Watering Trough", "October afternoon", "A picnic Scene at Vermont". The Cosmopolitan Art Journal spoke about "Going to Mill" which he dedicated to their collection in 1857.
Landscape Arts
In 1863, he painted the beautiful "Daily Chores on the Farm" which may have been an insight into Jerome Thompson's younger life. In 1866, came the "Flowering Field" which was another calm landscape art of the quiet nature.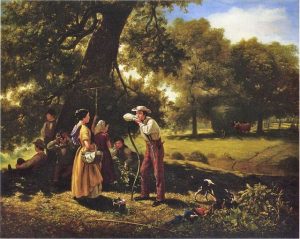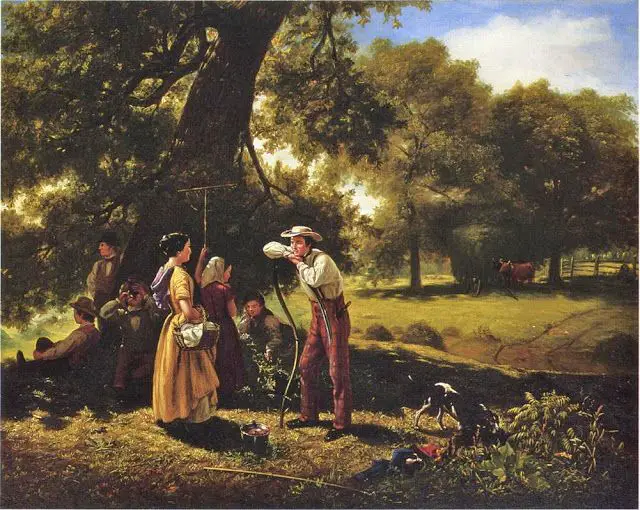 In the following year of 1867, he painted his "Gathering Waterlilies" which showed two little children on a boat playing with waterlilies. The best part of this painting is the reflection of the bushes in the calm waters.
Jerome Thompson Career As an Artist
In spite of troublesome family conditions, Jerome set off to chase his dreams and moreover his passion of becoming a successful artist. He was immensely applauded by the National Academy of Design, New York.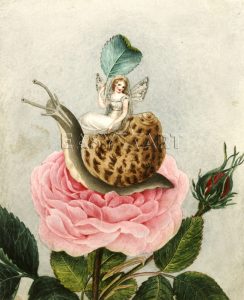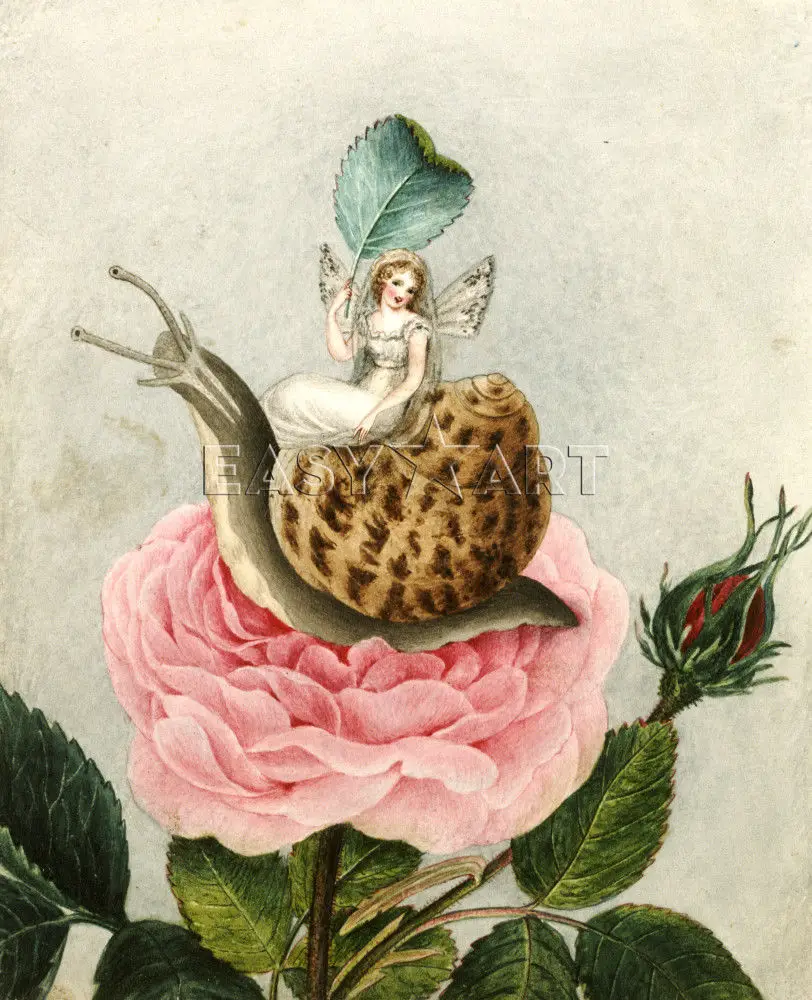 His paintings were bought by several museums and art halls across the United States and England as well. All his life, he dedicated to his career as an artist.
There is not much information on his personal life but only the mention of how much he appreciated his sister for all her support.
Isaac McLellan:
American author and poet wrote a few lines in Jerome Thompson's appreciation for his specific painting – October Afternoon. He said,
"Rare painter! Thanks to thee we tend
For scenes to nature's self so true
Thanks, that in natures frostiest time,
When tempests veil heavens glorious blue."
In the autumn of 1982, Lee M Edwards, an artist who studies the Victorian Era published in his fourteenth volume "The Life and Career of Jerome Thompson". It talks about his influential paintings and extremely detailed works.
More Info On- Charles Burton Barbe, Thomas Hardy, Benjamin Robert Haydon, John M Steele