John Ballantyne was one of the ten children of Alexander Thomson Ballantyne, who was a newspaper editor and manager, and Anne Randall Scott Grant, his wife. John was born in Kelso, Roxburghshire.
Both his parents were Scottish. His father is said to have copied some of Sir Walter Scott's early Waverley novels for the press.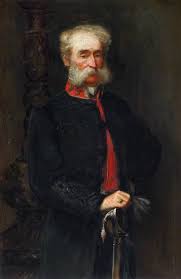 John Ballantyne's education was carried out at the Edinburg academy and he received artistic training from William Allan and Thomas Deccan at Trustee's Academy in Edinburg. To complete his student education he traveled to Paris, Rome, and London.
John Ballantyne Biography
John Ballantyne returned to Edinburg in 1839 and established himself as a portraitist even though he worked on still life paintings and historical genre subjects. From 1831- 83 his paintings were exhibited at the Royal Scottish Academy and from 1835 – 83 at the Royal Academy.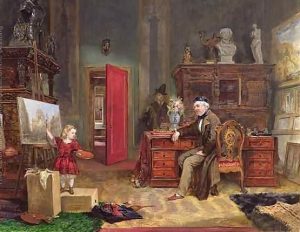 In 1841 he was elected as an associate member of the Royal Scottish Academy. In 1860 he became a full member. In fact, Ballantyne played a major role in the art world of Edinburg during the 1840s and 1860s.
In 1840 a sketching club named Smashers was started by the young artists of the city of which he was the founder and president. Even though Ballantyne actively participated in Edinburg's art gallery, he faced financial difficulty in the 1860s.
The Family of John Ballantyne
Since he had a family to support the financial pressure increased. He had married his second cousin in 1835 and they had three children. His brother Robert Michael Ballantyne supported him and his family till his death.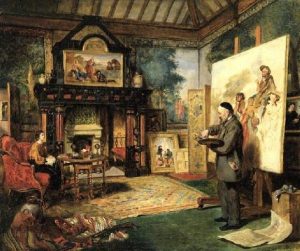 In 1863 Ballantyne moved to London with his family. Here he started taking in pupils with an intention of creating income and got in touch with his colleagues who had already moved to London by that time.
All these artists once again established their sketching group renaming it Auld Lang Syne Club. Ballantyne and his brother formulated a plan so that not just his income would revive, but also his reputation.
John Ballantyne's Early Life
However, in 1865 Ballantyne's paintings were exhibited and though they received a good press, they made little money. Today, these paintings are his most exhibited and most appreciated paintings.
These are the first visual records of the Victorian artists portraying at work in their studios. In fact, they articulately capture the style in which each artist worked. His artist series is most widely admired and even reproduced today whereas his other mediocre works are virtually unknown today.
The project proved to be Ballantyne's major and final effort. In the late 1860s, his eyesight began to fail which led to a drop in his productivity as well. He took to the position of curator in 1869 at the Royal Academy of Arts but was forced to leave because of his ill health.
He then retired and by mid-1880s he stopped painting altogether. This penniless artist had to live on a small pension and help from his brother until his death.
The collections at the National Portrait Gallery, London, and the Scottish National Portrait Gallery, Edinburg still possess his finest examples.
More Info On- Pierre Auguste Renoir, James Stark, Alfred Sisley, Empress Frederick