John Chapman was a popular American artist. He was born in the year 1808 on 3 December in Alexandria of Virginia. At the age of 16 years, he painted his first oil painting. He became a professional artist at the age of 19 years. After becoming a professional artist, he went to Winchester of Virginia. At the same time, he studied at the Pennsylvania Academy of Fine Arts. After that, he went to Rome and Florence for further studies with the help of his friends.
Life And Career of John Chapman
In Philadelphia, he studies Art for two years. After that, he departed for Europe. In Europe, he stayed in Italy. "Hagar and Ishmael Fainting in the Wilderness" was one of his popular paintings. It was the first in the category of American painting which was engraved in Italy.
In the following year, John Chapman Artist returned back to America. In Alexandria, he conducted the exhibition of his original pictures along with the copied one. It was a big hit. Apart from this, he Salso exhibited his artwork in Richmond, Washington D.C. and Philadelphia. Soon, he moved to New York and started working over there.
In the year 1832, he was honored by joining the National Academy as an honorary associate. He became the full member of National Academy in 1836.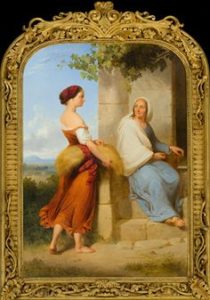 In 1846, he painted many portraits, made around 1400 drawings and practiced wood-engraving. All of these work got published in Harper's Bible.
In 1847, he published  "The American Drawing Book,". It was considered as the finest drawing book ever. This one was reprinted several times. Around the same period only, he painted Baptism of Pocahontas. It is one of his famous and notable work. The United States Congress commissioned this one. He also painted history paintings along with the portraits of American heroes.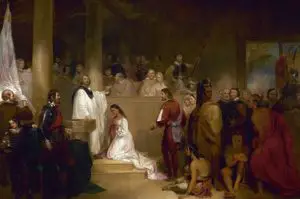 End Days of Chapman's Life
His success leads him to move to Rome with his family. He made his earning by selling his paintings of Rural Campania to visitors of America. However, as the American Civil War began, the tourist industry died. It has affected the fortunes of Chapman.
He continued to live in Rome only but Conrad Wise Chapman, son of Chapman returned to America. He fought from the side of the Confederate States of America.
John Chapman Artist was living under the kindness of his fellow expatriates. Finally, he decided to move back to America. In his last days, he was with son, John Linton Chapman. He was in Brooklyn.
In 1889, he took his last breath as a pauper.
The Baptism of Pocahontas
This painting showcase the ceremony of the baptism of Pocahontas who was the daughter of the influential Algonkian chief Powhatan took place. She was given the name Rebecca.  It occurred around 1613 in Jamestown of Virginia. This ceremony was an important event in establishing peace between Tidewater tribes and colonists.