John Frederick Lewis, a well-known Orientalist painter belonging to the English background. John Frederick Lewis was born in 1804 on the 14th of July in London, England. He was a painter who specialised in Mediterranean scenes with an Oriental element and would be strongly based on detailed water colours. Many Orientalist painters took interest in painting women from the middle-eastern countries. However, John Frederick Lewis tried to differ and never painted a nude.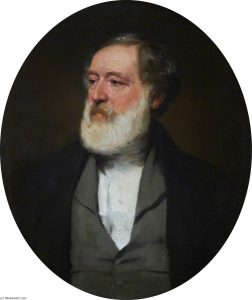 John Frederick Lewis
Early Years of John Frederick Lewis
John Frederick Lewis was born to Frederick Christian Lewis, who lived worthily for several years from 1779 to 1856. Frederick Christian Lewis was a landscape painter as well as an engraver. Edwin Landseer was the neighbour and a very close friend of John Frederick Lewis. John Frederick Lewis and Edwin Landseer both attended the workshop held by Sir Thomas Lawrence and also undertook training together at the same workshop.
Edwin Landseer was an animal painter and many of his paintings were based on the similar genre and category. John Frederick Lewis, at his early stages as a painter was into animal painting as well, like his friend. This was also reflected in the later stages of his paintings, where he often included animals in his paintings as the main subjects. He published two of his great works in painting, based on animals.
These works were, "Prints of the Big Cats" in the year 1826 and another, "Twelve Domesticated Animals" again in the year 1826. John painted two wide scenes, which were centrally focused on animals, that is, the "Windsor Great Park" (which is now under the known "Royal Collection" by John Clarke) and the "Tate Britain". In the year 1847, John Frederick Lewis got married to Marian Harper in Alexandria, Egypt.
John Frederick Lewis's Travels
John Frederick Lewis started his painting based on watercolours in the year 1827. This is also the year in which John toured around Europe. After completing his Europe tour, he travelled to Spain and then to Morocco in between the years 1832 and 1834. John Frederick Lewis himself along with other artists turned many of his drawings, which were made by him into 'lithographs'. These drawings which were first made by John Frederick Lewis and then turned into the lithographs were published in a sequence which was divided in two halves. They were first published as the known "Sketches and Drawings of the Alhambra". This was published in between the years 1833, 1834 and 1835 at a time of residence in Granada.
The second half of these sequences were published as the very well-known "Lewis's Sketches of Spain and Spanish Character". This was published in the year 1836. John Frederick Lewis's brother, Frederick Christian, travelled to India in the year 1834 and earned the tile to be known as the 'Indian Lewis' before he passed away at a very young age. After John Frederick Lewis's second publish in the year 1836, he earned the title to be known as the 'Spanish Lewis'. This title was given to him with an intention to create a distinction between John Frederick Lewis and his brother Frederick Christian.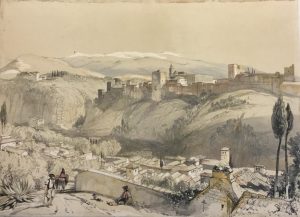 Sketches and Drawings of the Alhambra
John Frederick Lewis was considered as one of those early travellers on the well-trodden route for artists from the English background. His travel on the concerned path was somewhere around ten years behind from another very famous artist, David Wilkie, who was in Spain. Another very well-known artist to travel the same path was David Roberts. David Roberts was another amongst the top painters based on Oriental specialisation from Britain and was also known for the lithographs published under his name.
According to the timeline, David Roberts and John Frederick Lewis travelled the path around the same time and both were of a very common origin as British painters, but hardly met each other in their entire span of life. No other artists from England back then had such a period which was highly sustained during the Ottoman Empire, when compared to the sustained period which John Frederick Lewis held during the same Ottoman Empire.
In between a time period from 1837 to 1840, John Frederick Lewis travelled to three places, starting from Italy, followed by Greece and finally Constantinople in 1840. For a period of about 10 years, from 1841 to 1851, John Frederick Lewis travelled to Cairo and lived a luxurious life.
Famous Works of John Frederick Lewis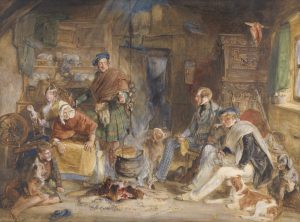 John Frederick Lewis has numerous numbers of famous and known paintings which has an integral position amongst artists worldwide. But, to name some of his great works as a painter during his entire career course, there are 4 paintings which are known worldwide. They are, "Highland Hospitality" in the year 1832, "Roman Pilgrims" in the year 1854, "And the Prayer of Faith Shall Save the Sick" in the year 1872 and lastly, "On the Banks of the Nile" in the year 1876.
John Frederick Lewis lived famously for 72 years until his sad demise took place on  the 15th of August in 1876.