John Fredrick Kensett (1816-1872) was an American Painter who was famous for his serene landscape painting with radiant and vivid coloring. He was called to be master of luminous.
Early Life of John Fredrick Kensett
John F Kensett was born in Cheshire, Connecticut in 1816. His father was Thomas Kensett who trained him as an engraver after which he became to work in the trade in New Haven and also was introduced to the landscape engraving. He was also then trained as a banknote engraver under his uncle Alfred Daggett. In the year 1838, Kensett worked for a bank note company in New York.
After that, he decided to choose his career in painting. So in the year 1840 along with his friends Asher Durand, Thom Rossiter and John William Casilear, he traveled to Europe for the study of Painting. While his travel he met artist Benjamin Champney, visited different art galleries and museums, thus improvising his talent and sketches of paintings. He roamed around France, Italy, England, Germany, Switzerland sketching their art but they did send them back to America for various exhibitions and to be sold.
Kensett and Champney traveled together and while their travel Kensett developed his fondness and affinity for 17th-century landscapes painting of Dutch. They both brought their trip to an end in 1847 after returning to Europe back almost after 7 years. He already had established his reputation by exhibiting his art which he sent from his travel. He later inaugurated his studio of art in the New York University Building and succeeded in the same.
John Fredrick Kensett's Famous Works
After he got settled in New York and inaugurating his studio, he traveled widely through rocks of Colorado and to the region of Northeast. Despite focusing most of his attention on the displaying of lights, use of color to depict minute details of intensity, he never lost his draftsmanship sense of engraving. Most of his work has a touch of silver paleness.
In the year 1851, John painted a monumental oil painting which became the icon of the art of White Mountain.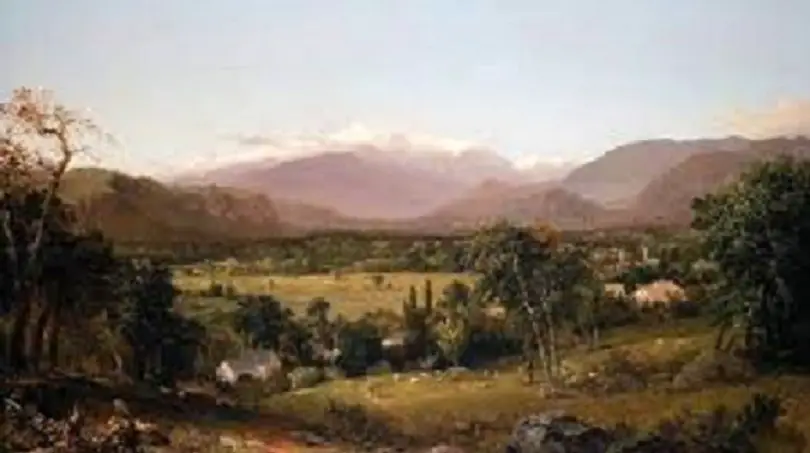 His painting "Mountain Washington From the valley of Conway" was purchased by American Art Union which was subscription based union at that time, providing knowledge of the latest trends for the art of America. It was then engraved and were sent throughout the country to almost 130000 subscribers. After this painting, the Mountain of New Hampshire became famous as a tourist destination for the people. He went on painting expedition to Scotland and England in the year 1854.
Some of his prominent works are:
Mountains in Colorado


Mountains-In-Colorado

Western Landscapes


Western Landscapes

Along with Hudson

Along With Hudson

Forest Interior with the Stream


Forest Interior with Stream
John Fredrick Kensett's Achievements
John Kensett was related to the Hudson River School's "Second Generation" of artists that comprised Jasper Francis Cropsey, Martin Johnson Heade, Fitz Henry Lane, and Sanford Robinson Gifford. They all became famous as luminists of oil paintings that were distinguished by invisible brushstrokes. The paintings conveyed the atmospheric qualities of light and its effects.
Kensett was elected as a member of the National Academy in the year 1849. He was also associated with Select Century Club through which he came in contact with many people in touch with literature and art. Later he was also designated to the National Advisory Committee for Capitol Decoration. Kensett was chosen as one of the prime members of the first Metropolitan Museum of Art Board of Trustees on January 17, 1870.
The painting style of Kensett became simpler consequently and had taken the form of airy composition and a glimpse of meditation for which he became well-established to a newer generation. Throughout his career, he never got bored of painting the effects of weather and light on the atmosphere. His paintings became transparent strips of art that separated land, sky, and sea.
Death of John Kensett
Kensett died on December 14, 1872, on Sunday in his studio in New York. The reason behind his death was declared as pneumonia and heart disease which he received while trying to save a lady named Mrs. Vincent while she was drowning in the ocean Inlet of Contentment Island in Connecticut.
He left almost 600 paintings behind him which can still be found in many art museums.