John was a Swiss painter and was active in England. His parents were of French origin.
He was born in Geneva. His paintings were of a wide range including subjects like landscapes, marine scenes, animal life, and figure pieces.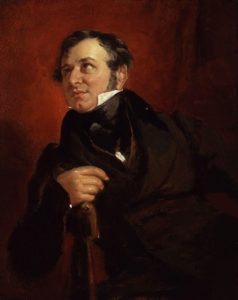 John James Chalone's early life
His family was a refuge in England after the Revocation of the Edicts of Nantes. His father became a professor at the Royal Military Academy. This academy was at Sandhurst. He went to the school of Academy in 1796. He along with his brother Alfred studied at the Royal School of Arts, in London.
"Banditti at their Repast" was his first picture. It appeared in 1800. John along with his brother Albert and a few friends started the Sketching society. He joined the watercolor society in the same year. However, in 1813 he withdrew himself from the Water Colour society.
After this, he devoted himself to paint pictures in oil for the Royal Academy. In 1827, he was appointed as an Associate of the Royal Academy. He became an Academician in 1841 by exhibiting eighty-six works at the Academy.
 John James Chalone's Style
The scenery of Switzerland fascinated John. His finest paintings were of the landscapes with mountain and lakes. He preferred scenes from his immediate surroundings. At the same time, he did not forget his youth and recreated the scenery of Switzerland.  "Castel of Chillion" was one of his wonderful works.  This picture depicts the white background with the dark mountains in a contrasting manner and the clear blue lake.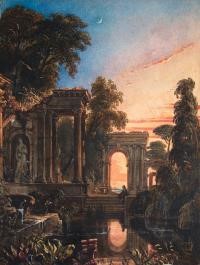 John James Chalone's Work
In 1816 he painted "Napoleon On Board the Bellerophon". This painting is in the Old Royal Naval College. Sheepshank was a British
Manufacturer and art collector. John's "Village Gossips" painted in 1815 is in Sheepshank's collection at South Kensington Museum. In 1819 he painted "Hastings Fishing Boat's Making the Shore in a Breeze". In 1820, few humorous sketches titled "Sketches from Parisian Manners".
In 1843, his work was titled "Gil Blas in the Robbers' Cave". In 1844 his other work "Arrival of the Steamer at Folkestone" was completed.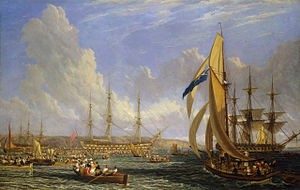 He got an attack of paralysis in 1847. It was very painful and he suffered for a long time. He died in 1854 in Kensington. Most of his paintings are currently at the Victoria and Albert Museum, the National Maritime Museum and the National Gallery of Ireland.