Below is a short biography of John Philip who was popularly known as 'Spanish Philip' because of his paintings that portrayed the Spanish Life. He was inspired by Sir David Wilkie and William Hogarth.
John Philip Biography
John Philip was born into a poor family in Aberdeen, Scotland. He was born on the 19th of April to an old soldier. He showed his interest in art at a very tender age. He used to work as an errand boy to a tinsmith with whose colors he would paint coarse pictures.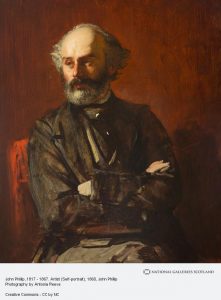 At the age of fifteen, he apprenticed with 'Spark', an artist of his time who lived at Wallace Nook in the same town.
John Philip Paintings
He developed his likenesses whilst learning from him. He painted a signboard for a basket maker which was the source of his first ever earning.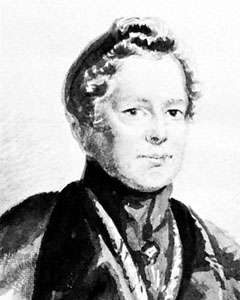 Lord Panmure, the 11th Earl of Dalhousie recognized his talent and paid for his training under Thomas Musgrave Joy that took place in London.
John Philip Sousa Facts
In 1836, he went to the Royal Academy of Arts which was also paid for by Lord Panmure. In the academy, he was an active learner. He became a member of 'The Clique'.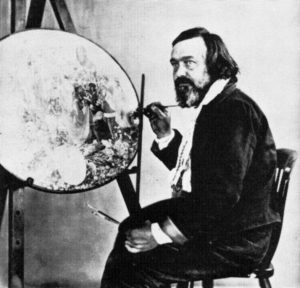 It was a group of aspiring artists at the academy which was led by Richard Dadd. Richard Dadd was known for his beautiful paintings of supernatural objects like the depiction of fairies.
Early Life of John Philip
'The Clique' were followers of Hogarth – a famous English cartoonist and Wilkie – a Scottish painter. Philip himself studied Wilkie's work very carefully in order to learn to detail like him.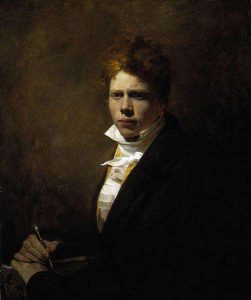 As David Wilkie painted Scottish life and people, Philip decided to paint scenes of the lifestyles and people of Spanish cultures. He is known to have been influenced by Murillo and Velazquez.
John Philip's Career as an Artist
Most of John Philip's early work depicted Scottish families and their lifestyles. But, in 1851, he visited the south of Europe and went to Spain for medical treatments of his own. There he was inspired by Spanish living and lifestyle. He started painting Spanish festivals, people, foods and other things.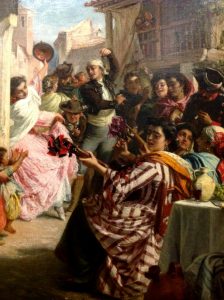 In the beginning, he was known to oppose the Pre Raphaelite movement along with the entire group of the Clique. However, he was friends with John Everett Millais, the founder of the Pre Raphaelite Brotherhood.
Carnival Time by John Philip
He was highly influenced by travel and travel art and encouraged many painters to involve themselves in travel art. Edwin Long was inspired by John.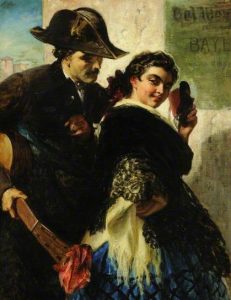 La Gloria  by John Philip
In 1864, he painted 'The Early Career of Murillo' and 'La Gloria' in the following year. These were exhibited at the National Gallery of Scotland. He also painted the royal wedding of Princess Royal to Prince Frederick William of Prussia.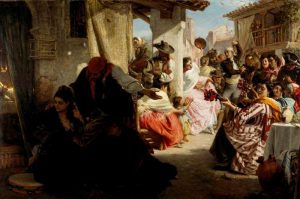 Evil Eye By John Philip
John painted his self-portrait and called it the 'Evil Eye'. It was bought by Patrick Alan Frazer and still hangs at the Hospitalfield House in Arbroath, Scotland along with portraits of other members of the Clique.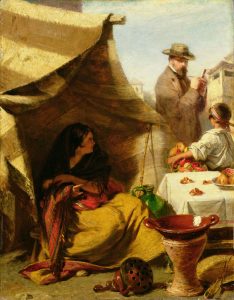 Personal Life
John married the sister of Richard Dadd. She had a mental disorder just like her brother Richard.
Death of John Philip
John Philip died on 27th February 1867 out of a stroke at the age of 50. He died in Kensington, on his way to visit William Powell Frith. He is still respected for his accurate portrayal of the Spanish Culture and traditions.
More Info On- John Brett, Frank Dicksee, Edward Moran