Birth and Death
Jonathan Pratt, a boy from Northampton was born on the 27th of April in the year 1835. He passed away in the year 1911.
Early life of Jonathan Pratt
As a boy who went to Lancastrian School at Northampton, Pratt was quite a jewel. His knack in paintings and drawings made him take them up as a matter of school-boy fun and it turned out that his teachers were quite impressed with his work. He would please them easily with his simple tools like a pen and a pencil, with which he would draw beautiful things. His inclination towards paintings resulted in him being placed under a professional at the age of eleven.
However, unfortunately, his tutor only guided him towards commercialization rather than honing his skills. Nonetheless, little Jonathan never gave up. He would return home exhausted but would still make up for whatever he should have learned at his master's but did not. He studied and toiled for art. He would apply his knowledge to paintings and work hard to create original ones. He practiced diligently, which ultimately ensured his brilliance as an artist. Unfortunately, he stayed under the same teacher for nine years.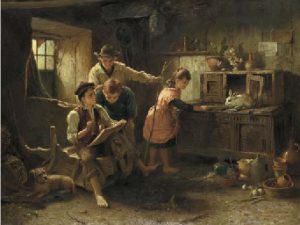 Later life of Jonathan Pratt
Jonathan Pratt finally moved to Birmingham in the year 1863, after changing his location quite a few times. Here at Birmingham, he concentrated on portraits of subjects. His progress, owing to his excellence at work, escalated swiftly. Soon, in the year 1871, his works were accepted by the Academy. His painting called "Latest Intelligence", which depicted the Franco-Prussian War was sold at the private view. Needless to say, this painting was a work of brilliance and did not fail to escape the eyes of critics and the press.
It was heavily covered by the media and received appreciation from one and all. He also held a few posts and his rank escalated the way his fame did. His studio, which was designed by the famous architect Mr. J. H. Chamberlain, was artistic and wonderful to lay eyes upon. A place very close to his heart was Brittany. Given the landscape and the culture there, it was but obvious for an artist to fall in love with it. This love has produced many notable paintings. In fact, all of Pratt's paintings have been delightful.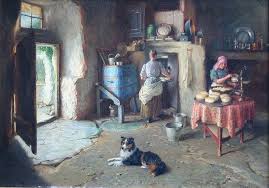 The posts held by Jonathan Pratt
The year 1872- Jonathan Pratt became an elected member of the Royal Birmingham Society of Arts.
The year 1873- Pratt became the Director of the Costume Academy.
The year 1875- Pratt was handed the post of the Honorary Curator of the Society.
The year 1880- Pratt was an elected member of the Committee of the School of Art.