Early Childhood
Virginia Woolf's mother was Julia Prinsep Stephen. Julia was born in Calcutta, India. Dr. John and Maria Pattle Jackson were her parents. They had three daughters and Julia was the youngest. Julia Margaret Cameron, a famous Victorian photographer was her aunt. In 1848, she along with her mother and sister moved back to England to live in Hendon. Her father joined them after a few years.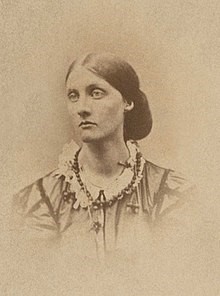 Sarah, Julia's sister was married to a Victorian politician and historian Henry Thoby Prinsep. Their home was at Little Holland House. It was an important place of meeting for writers, painters, and politicians. Julia became a famous society beauty, visiting her brother- in- law's house. She was a model for painters like Edward Burne Jones, George Frederick Watts, and William Holman Hunt.
She was married to barrister Herbert Duckworth, in1867. They had three children. Their youngest child Gerald later established Duckworth Publishing Company. Julia was happily married. In 1970, her husband died suddenly. This left her in a state of shock.
She met the biographer and essayist Leslie Stephen, through her friend Anne Thackeray. Leslie was married to Thackeray's daughter, Harriet, at that time.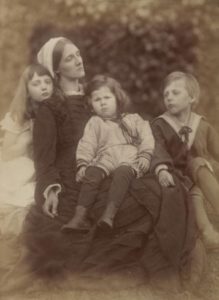 Leslie Stephen's writings were agonistic, which influenced Julia. In 1875, Stephen's wife died suddenly. He moved to Hyde Park Gate in Kensington, which was near Julia's home. She helped him move to the new place. In 1877, Stephen declared his love for Julia. But she dint wished to get married again and so agreed to remain good friends.  However, they both married after she changed her mind a year later. They had four children- Vanessa (1879), Thoby (1880), Virginia (1882) and Adrian (1883). They all lived together with her three children from her first marriage.  She took interest in her daughters' home education. At the same time, she spent a great deal of emotional energy to support her husband Leslie. He was suffering from depression. She took care of her parents until their death.
Julia as a model
Julia was a model for Pre-Raphaelite painters. But she was her aunt, Julia Margaret Cameron's favorite model. Cameron has made more than 50 portraits of Julia in different moods.
Julia's contribution to society
Apart from being a model, she dedicated herself to look after people who are sick and were dying. She visited hospitals and warehouse in London. Her book "Notes from Sick Room" was published in 1883. It discusses good nursing practice. The book portrays the discomfort caused by crumbs in bed in a very witty manner. In 1889, despite these humanitarian activities, she filed a petition against female suffering. She believed that a woman's role in society should be limited to philanthropy and the domestic sphere.
Julia's Death
Julia died in 1895 after suffering from influenza. At the time of death, she was in Hyde Park Gate. She was buried in High gate cemetery.