Below is the detailed biography of Lilly Martin Spencer was a female American Painter of the Victorian Era.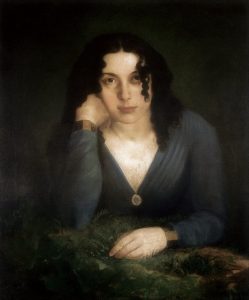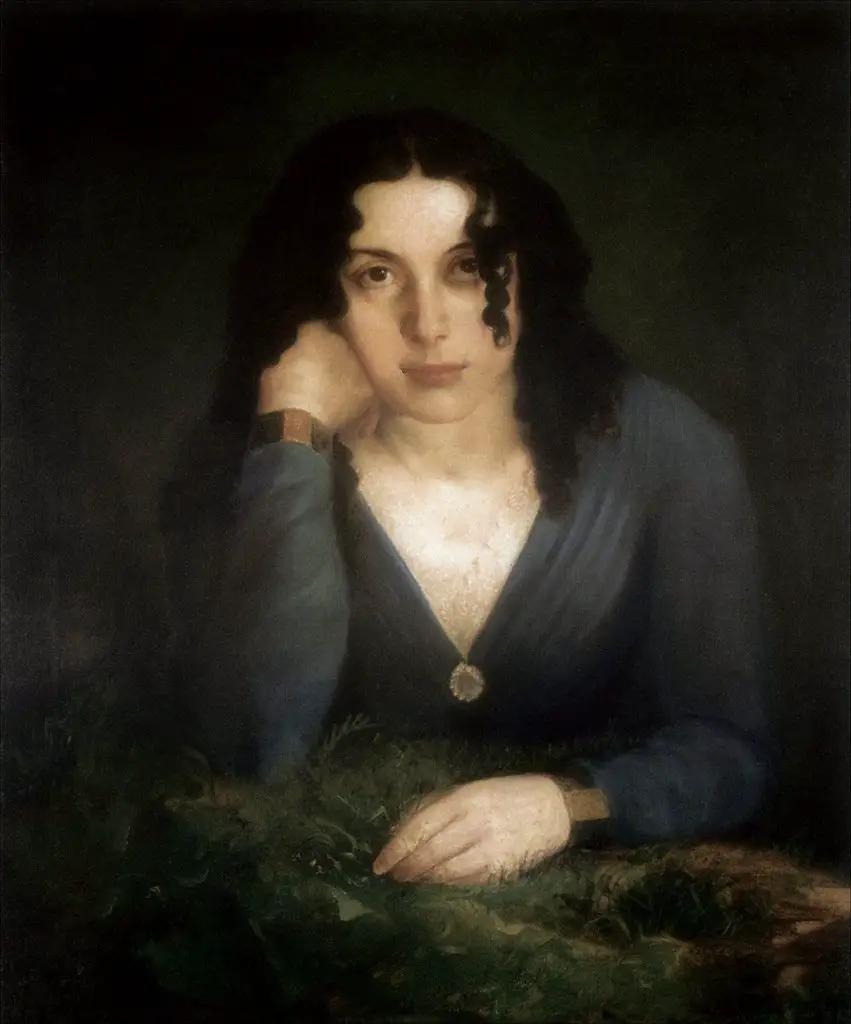 She was known for painting cheerful paintings of children and families, domestic animals and bright paintings in vibrant colors.
Early Life of Lilly Martin Spencer
Lilly Martin Spencer was born in Exeter, England. Her parents were of French origin – Gilles Marie Martin and Angelique Perrine LePetit Martin.
She was born on the 26th of November, 1822. After 8 years, the family moved to New York, United States and lived there for three years. They moved to Ohio in 1834.
Lilly Martin Spencer Kiss Me and You'll Kiss the Lasses
Lilly was educated at home by her highly educated parents. She knew she would become an artist at a very young age. She would draw on the walls of her home, exact replicas of her surroundings.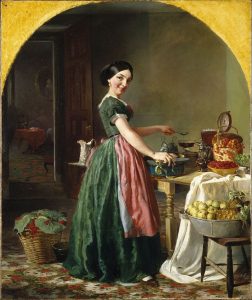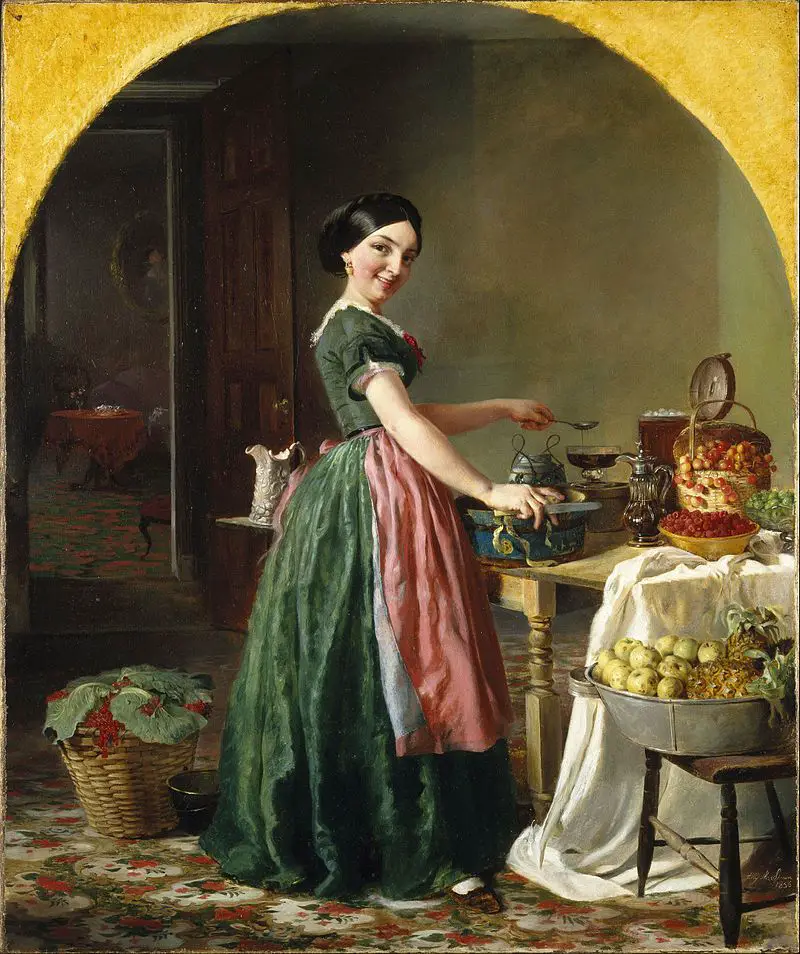 She was encouraged by her parents to use colors and draw and paint as much as she could. Admiring comments from her parents and neighbors helped her become an artist and improve as one too.
Lilly Martin Spencer Biography
Soon, she was discovered by the local artists of America. Not only her color paintings were appreciated, but her charcoal drawings were applauded too. She was mentored by Sala Bosworth –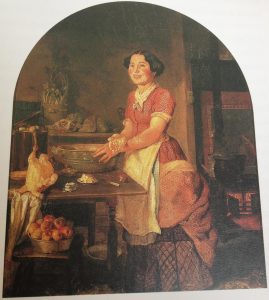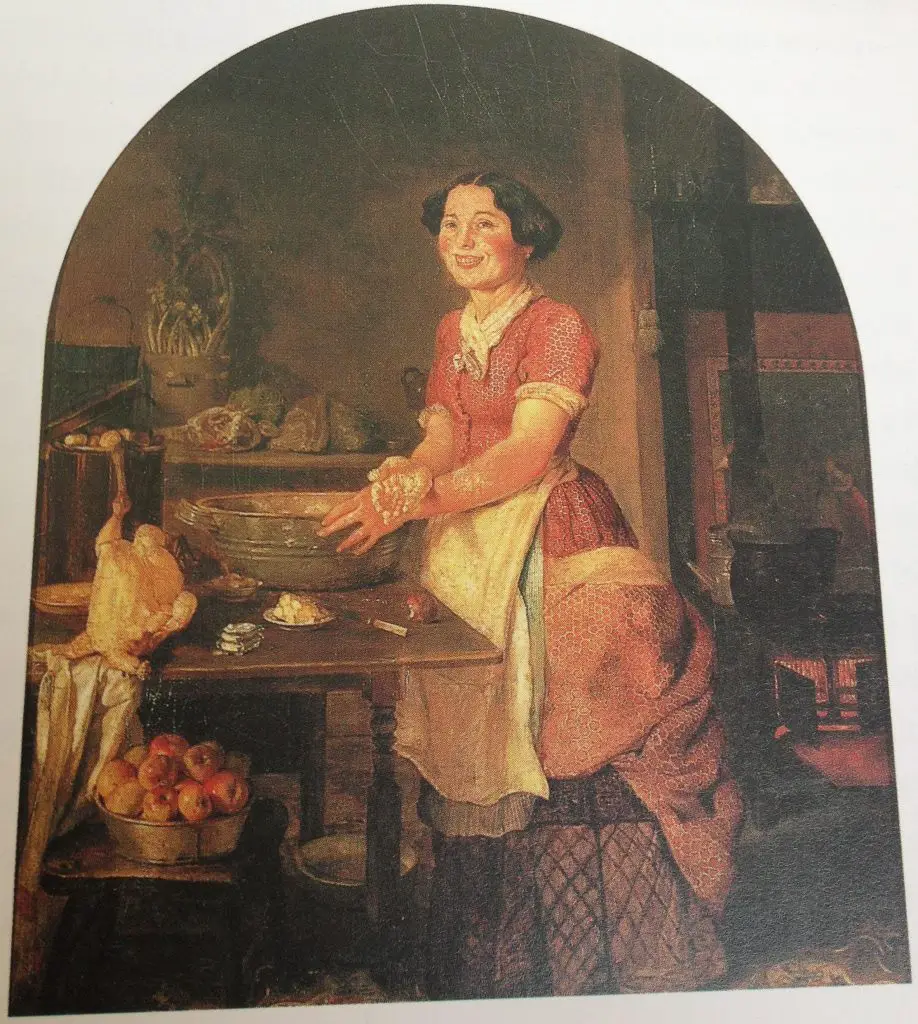 An Art trainer at the Pennsylvania Academy of Fine Arts who recognized Lillys talent. She was also mentored and encouraged by Charles Sullivan – a trained painter from the Pennsylvania Academy of Fine Arts.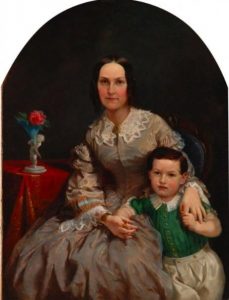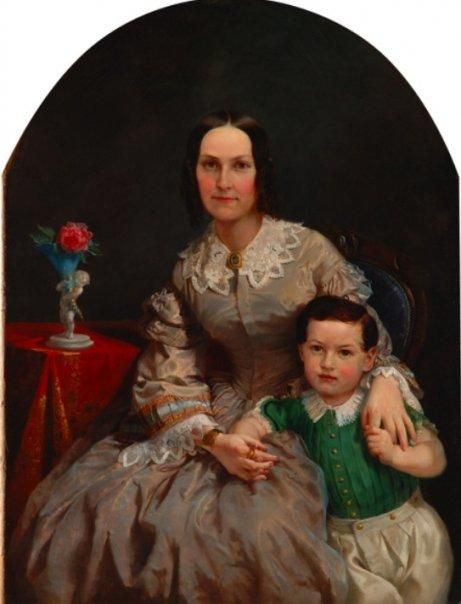 Her first exhibition was held at a clergy house in August 1841. All her paintings were quite admirable. She was noticed by Nicholas Longworth,
An American Republican politician who was also the Speaker of the United States House of Representatives. According to Longworth, Lilly was a self-taught artist who excelled in attitudes and designs.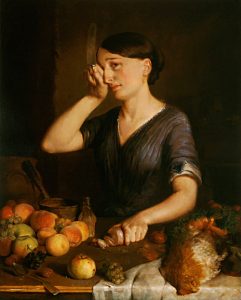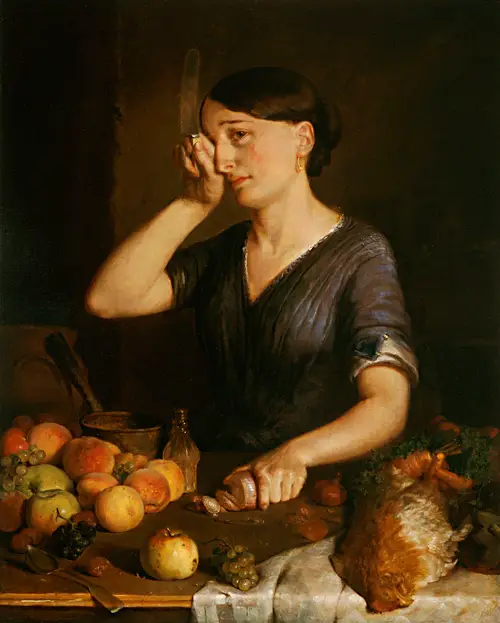 Longworth was so impressed by Lilly that he offered to lend some financial help if she was willing to undergo more training. But Lilly did not avail this offer. She in fact, with her father traveled to Cincinnati, a city in Ohio.
Lilly Martin Spencer Arts
There was an art exhibition where she exhibited her paintings in the autumn of 1841. This was a time when Cincinnati was the home to a number of upcoming artists.
Therefore, she found herself to be living with her 'kind'. She ended up living in Cincinnati for the next seven years.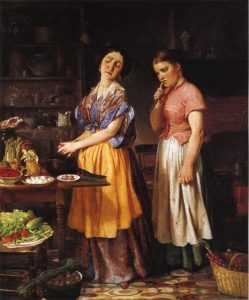 She gained fame here and spent the most successful time in her career here at Cincinnati which she became accustomed to.
Works and Artistic Career of Lilly Martin Spencer
She turned down Longsworth's offer to move to Europe and pursue Arts but instead stayed in the United States and received training from a portrait artist – James Beard and some more local artists of Cincinnati.
She became well known in the United States from 1848 to 1858. In her time, women painted only as a hobby and for the purpose of gaining some appreciation but Lilly chose to make art her career and followed her passion.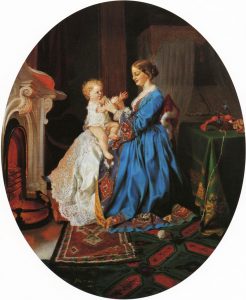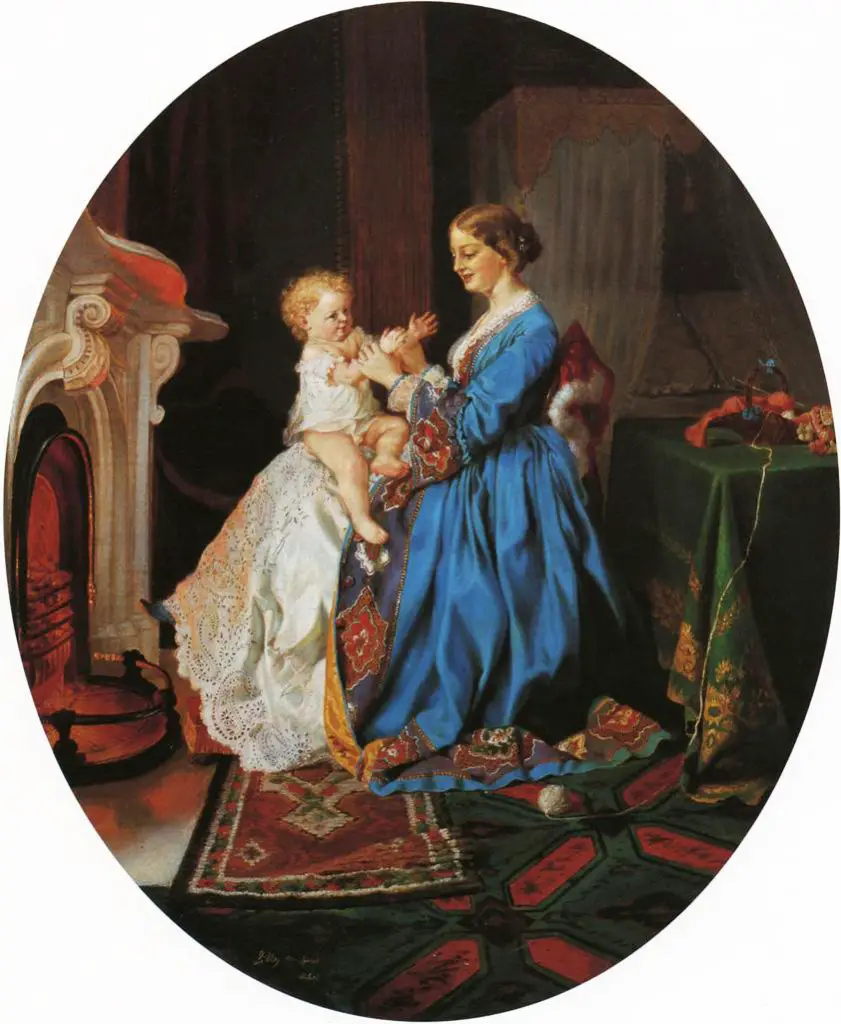 Due to ill financial conditions in the family, the Spencer family moved to New York City in 1848. At this time, Lilly Martin Spencer was the only earning member of the family.
She was a well-known painter in the National Academy of Designs and American Art Union because of her previous exhibitions.
Lilly Martin Spencer Paintings
During this period, people paid more affinity towards the type of Art that came from a middle-class origin. Paintings of domestic places and local people were being sold faster.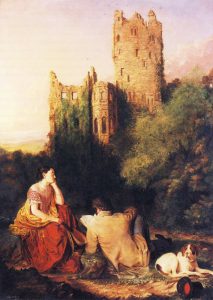 Lilly being a good painter in this genre made a good fortune during this time. She used her own family members, and pets as models for her paintings. Her painting 'Life's Happy Hour' was her first very successful piece of work was produced in the year 1849.
Her works vibrated positive energy since they were simple painting that lacked anything unhappy or tragic.
The Downfall in the Career of Lilly Martin Spencer
All her works were full of enthusiasm and positivity but somehow Lilly experienced a downfall in her art career. This was because most of her paintings were sold at the American Art Union and other Art Unions.
Due to the number of increasing artists that possessed high skills and accuracy, the membership rates of the subscription to the Art Unions increased rapidly. This largely affected her sales.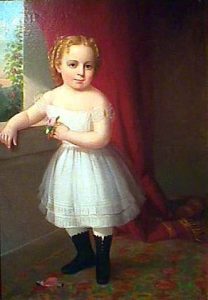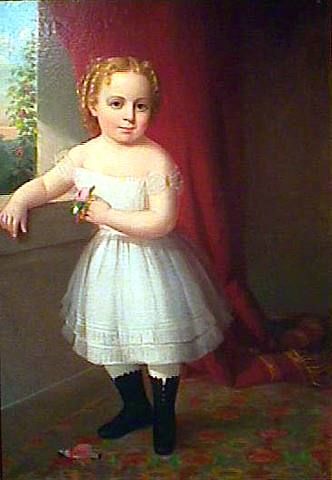 She even made illustrations like 'Women of the American Revolution' and 'Godey's Lady's Book' but only made a meager profit from the sales of the rights to the painting.
This adversely affected her career and the Spencer's had to move to Newark, New Jersey from New York City. There, the family raised farm animals and planted vegetables to prevent starvation.
Lilly Martin Spencer's Portrait
She still made portraits and paintings for the locals and earned a commission but this money would not suffice her huge family. In the 1850s, she added some changes to her characters in her paintings.
As a sales strategy, she started adding sexual factors to the women in her paintings with respect to their hair, and dresses. This added a European touch.
Keeping into consideration, the Civil War in the 1860s, most paintings of artists during that time had patriotic themes.
Lilly Martin Spencer War Spirit at Home
Lilly also adopted this strategy. This is demonstrated in 'War Spirit at Home' in 1866 and 'We Both Must Fade' in 1869.
She became one of those painters that depicted the beauty of a woman in their paintings and conveyed the importance of a woman in the society.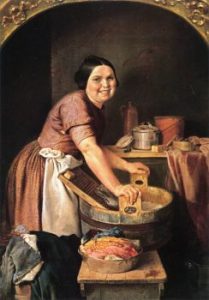 This was considered to be her masterpiece. This painting depicted an angelic blonde woman who is shown to destroy a monstrous woman from destroying a helpless baby and to the other side is a beautiful and innocent woman nursing a child.
'Truth Unveiling Falsehood' by Lilly Martin Spencer
This painting can have many interpretations. One such interpretation is the angelic blonde woman is 'Truth' unveiling the monstrous woman that is 'Selfishness' or 'Falsehood'.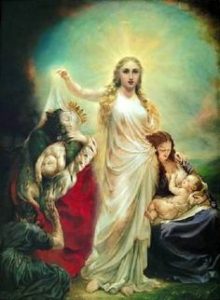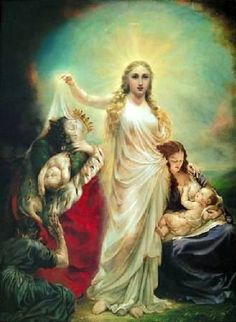 Lilly herself was very ambiguous about this one but she too considered this painting a special one. Even in her tough financial conditions, she refused to sell or accept any commission for this masterpiece. It is believed that she was offered more than 20000 dollars but refused to sell.
Personal Life of Lilly Martin Spencer
After moving to Cincinnati in 1841, in the third year of living there, she married Benjamin Rush Spencer on 24th August 1844.
He was an Englishman who worked at a tailoring business. After the marriage, he left his career and made Lilly's his own. He was a great source of encouragement to her.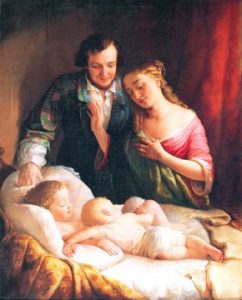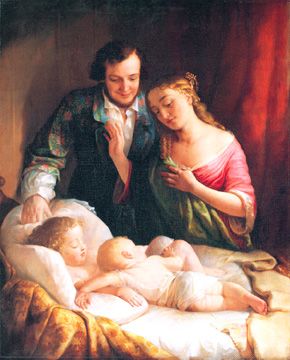 He supported her Art career and took care of household chores as well. They had 13 children together but only 7 of them survived until adulthood. She had a big family and was the only breadwinner.
This was the main reason for her poor financial conditions because whatever she earned would never be sufficient enough.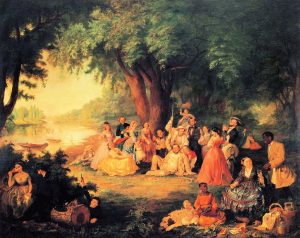 Benjamin Spencer died in February 1890 that left Lilly to be a widow with seven children. Her financial conditions worsened and she was forced to sell her farm again. However, she maintained a studio downtown.
Death of Lilly Martin Spencer
Lilly worked until she was old and still remained the earning member for her family. She worked until the day she died, 22nd May 1902.
She is a wonderful example of a hard-working woman in her time when the society was male dominant. She painted influential people of her time such as the First Lady – Caroline Harrison and Elizabeth Stanton – a social activist who fought for women rights.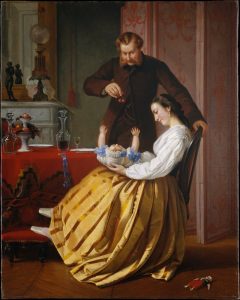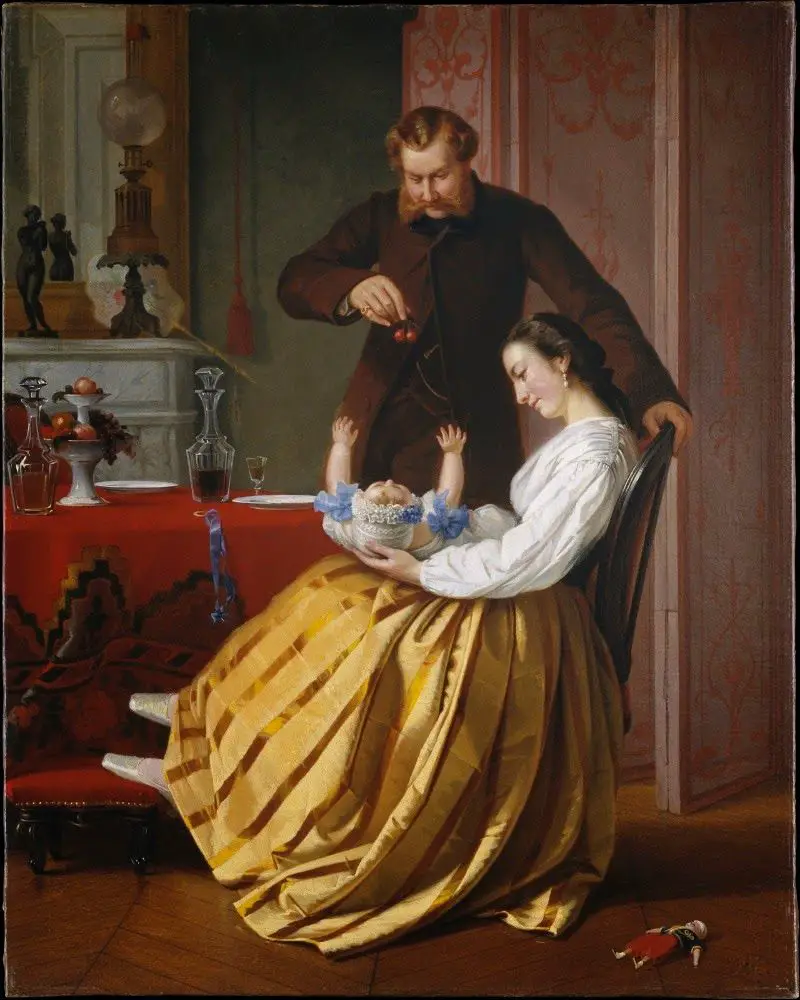 Lilly Martin Spencer is greatly known for her smooth finished works and wonderful oil canvas with short and catchy titles.
Her paintings are found at National Museum of Women in the Arts – Washington DC, Metropolitan Museum of Art – New York, NY, Detroit Institute of the Arts and other famous museums of the 18th-century Artists.