Lucy Maud Montgomery, was a Canadian regional romantic novelist, who was best known for Anne of Green Gables(1908), a charming story of a spirited, unconventional orphan girl who finds a home with an elderly couple. She was a journalist and schoolteacher, she achieved international success with both adults and children after the publication of Anne of Green Gables. The book became a classic of children's literature and led to several sequels. 
Montgomery was an only child living with older people and found companionship in her imagination, nature, books, and writing. When she was nine, she began writing poetry and keeping a journal. She was a very sensitive and intelligent woman who suffered deeply from events that affected her personally and the world, of which she wrote in her journal. But despite these problems, she did not stop writing and expressing her love of life, nature, and beauty in her fiction, journals, and letters. 
About Anne of Green Gables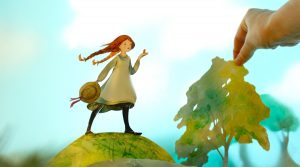 Matthew Cuthbert and his sister, Marilla, live in Avonlea on Canada's Prince Edward Island. They need help on their farm, Green Gables, which is why they apply to adopt a boy from an orphanage. By mistake, however, a red-haired, freckle-faced 11-year-old girl named Anne Shirley is sent to the siblings. The cheerful and highly imaginative Anne gradually transforms the joyless lives of shy Matthew and prim Marilla, and they come to view her as a daughter. Impulsive and sometimes mischievous, Anne has many misadventures, such as accidentally dyeing her hair green.Montgomery put some of her own girlhood experiences in the book. Anne of Green Gables was inspired by a newspaper story, and although it was initially rejected by several publishers, the novel was a huge success upon publication. Prolific writer, Mark Twain called Anne "the most lovable child in fiction" since Lewis Carroll's Alice. The novel was later adapted for film, stage, and television.