Margaret Sarah Carpenter was a British painter who painted portraits in the style of Sir Thomas Lawrence. She was a Victorian painter active in the 1840s.
Margaret Sarah Carpenter Biography
Margaret Sarah Carpenter was one of the most distinguished portrait painters of the Victorian era. Her leading points were firmness in touch and brilliancy of colouring, be it in water or in oil colours.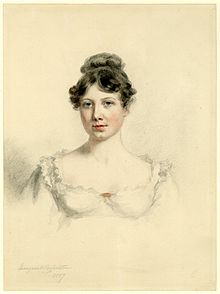 Early days
Margaret Sarah Carpenter was born in 1793 in Salisbury. She was the daughter of Captain Alexander R Geddes. She was taught figure drawing and painting by a resident master.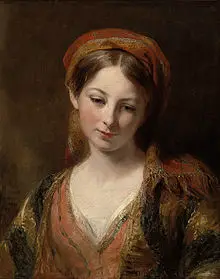 Lord Radnor gave permission to Miss Geddes to copy in his gallery. She sent pictures to the Society of Arts for three years continuously. She was acknowledged for her talent and industry. She was awarded gold a medal for "Study of Boy's Head".
Life in London
She arrived in London following the advice of Lord Radnor in 1814. With a well-merited reputation, she immediately threw an exhibition at the Academy,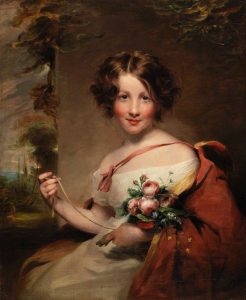 The portrait of Mrs. Sparkes and at the British Institution, "A Fortune Teller" and "Peasant Boy".  Every year she organized exhibitions on portraits and fancy subjects, which were admirable paintings and this continued till 1866.
Margaret Sarah Carpenter Paintings
Her paintings follow the style of Sir Thomas Lawrence, but some painters like Wood find them more fanciful and feminine especially when portraits of children are taken into account.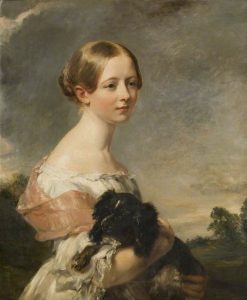 She was at her peak during the 1830s and 1840s. As a child, Margaret was in demand for drawing portraits from families in the surrounding areas. Apart from some limited instructions, she developed her art on her own. She was self-taught and was admired for her outstanding skill.
Margaret's determination and ambitious nature along with her talent helped her acquire a high and admirable position throughout her life.
Marriage Life Of  Margaret Sarah Carpenter
She was married to William Hookham Carpenter in 1817. He was the keeper of prints and drawings in the British Museum. In spite of marriage and several children, her professional output was rarely flagged.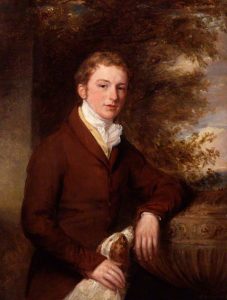 As a woman, she could not call upon nobility and gentry, but even after that, her account list showed more than 600 clients from all walks of life. Carpenter had to support her poverty-stricken parents and her own family. This means money was a crucial factor for her.
After the death of her husband in 1866, she received £100 as pension from Queen Victoria. This was due to her husband's service as well as recognition for her artistic merits. She died on 13th November 1872 in London. She was in her 80s.