Martin Johnson Heade Biography: He was born on August 11, 1819, in Lumberville, Pennsylvania. The American painter is known for his seascapes, landscapes and still life paintings. During his youth,
Martin Johnson Heade Biography
He trained under Edward Hicks who was widely known as a primitive artist and also happened to be his neighbor and his cousin, Thomas Hicks, another painter.
Notable paintings can be Sam Houston, an American military and political leader in 1847 and the Reverend Noah Hunt Schenck.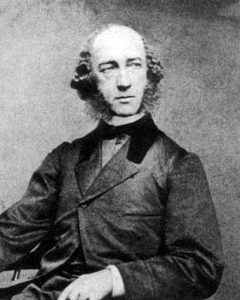 Heads traveled to Rome to hone his skills as a painter and all learn new techniques. Over there, he spent two years painting several portraits
which were later exhibited at museums in New York City and Philadelphia. Till 1859 Heade traveled through the United States and Europe.
Martin Johnson Heade Artworks
It was in 1841 that Heade publicly displayed his work for the first time at the Pennsylvania Academy of Fine Arts.
This put him on the map and he continued to exhibit his artwork at the Academy frequently from then on. It was in during the mid-1850s when Heade catered painting landscapes.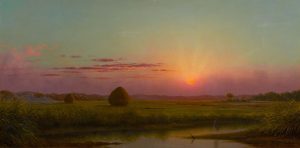 His seascapes which he started to paint during the 1860s consisted of dark coastal lines and angry horizons. They were famous for portraying storms. Approaching Thunder Storm (1859) and Approaching Storm, Beach near Newport (1861–62) are examples of seascapes with a storm theme.
From the storm theme, Heade then moved on to the Civil War theme and his later painting was less menacing and morbid.
Martin Johnson Heade Book
In containing his travels Heade went to Brazil where he created numerous illustration for a book on birds and made 20 small paintings.
He named these paintings 'The Gems of Brazil'. The Emperor of Brazil was very impressed with his work and honored him with the Order of the Rose and made him a Knight.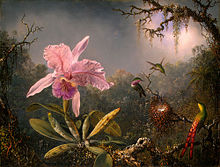 However, fortunately for Heade, the book never got published due to financial reasons and Heade was also concerned about the plagiarism of his illustrations in the book. This did not deter him and he visited the tropical region twice after that to paint the flora and fauna of the area.
Martin Johnson Heade Magnolia
See of the paintings during this time are Passion Flowers and Hummingbirds (1873–80) and Orchids and Spray Orchids with Hummingbirds (1875–90), Magnolias on Gold Velvet Cloth (1888–90)
Heade's style kept changing according to the place he was residing at the time. During 1857, Heade became enamored by the salt marshes in New England.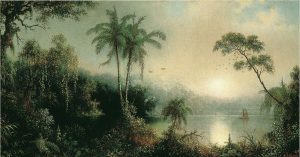 Contrary to the works his peers across the globe at that time, Heade's paintings of the marshes had no grandeur or frivolity in it. He instead brought out the scenery with subdued colors.
Instead of focussing on the subjects, Heade concentrated on the depiction of light and atmosphere. During Heade's life as a painter, he struck up acquaintances all over the country.
Martin Johnson Heade Facts
Around 1857, when he was in his landscape phase, Heade met John Frederick Kensett and Benjamin Champney.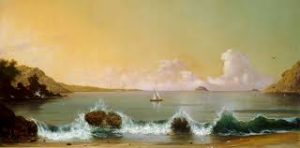 After his move to New York City, He moved into a building which rented out to aspiring artists. It was there when he met Frederick Erwin Church with whom he became professionally and socially acquainted.
Martin Johnson Heade Paintings
By 1883, Heade moved to St. Augustine in Florida where he got married for the first time and spent the rest of his life there. It was during later auctions that there was a renewed interest in American painters and their works and his works were brought out and sold for exorbitant prices.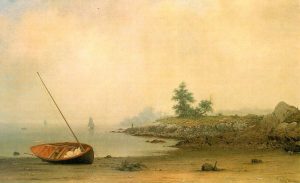 Heade was honored in 2004 with a stamp by the US postal service. The stamp featured his oil painting,'Giant Magnolias on a Blue Velvet Cloth'.
More Info On- Richard Redgrave, Aubrey Beardsley, William Leighton Leitch, Patrick Bramwell Brontë, Sophie Anderson